Deepwater exploration and drilling have shown a remarkable increase over the past few years. This is due in part to the development of new technologies which have reduced operational costs and risks, as well as the finding of reservoirs that will produce high production wells. There are many zones throughout the world that possess the potential for high quality production wells that not so long ago were "out of reach."
Oil and gas service companies such as Halliburton (NYSE:HAL), National Oilwell Varco (NYSE:NOV) and Baker Hughes (NYSE:BHI) have pushed the envelop with their engineering and technological advancements. Many of these advancements have opened up a greater amount of opportunities in areas such as the Pre-Salt region off the coast of Brazil and the U.S. Gulf of Mexico.
The Pre-Salt region off the coast of Brazil is a "hot spot," opening up many opportunities for oil and gas companies like Petrobras (NYSE:PBR) and OGX Petroleo e Gas (OTCPK:OGXPY). As stated in my article "Diamond Offshore Drilling: Brazil, Pre-Salt And Growth" the Brazilian Government is looking to develop this region. The Pre-Salt region off the coast of Brazil has massive recoverable oil and natural gas reserves. Estimates are that there are more than 50 billion barrels of oil equivalent (BOE) in the Pre-Salt region alone.
As the U.S. Gulf of Mexico has produced over four billion barrels of oil in the past eight years, this area remains one of the world's most prolific producing regions as well as one of the most challenging. According to the EIA the Gulf of Mexico federal offshore oil production accounts for 23 percent of total U.S. crude oil production and federal offshore natural gas production in the Gulf accounts for 7 percent of total U.S. dry production. This region has proven to be and will maintain its significant importance to U.S. economy. Also stated by the EIA, the U.S. Gulf Of Mexico will have the second highest production increase over the next eight years. As the chart below indicates, the Gulf of Mexico will be second only behind tight oil in production increases.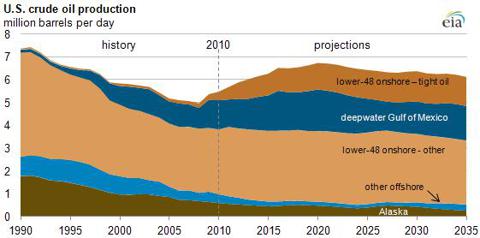 As both Brazil and the U.S. are looking to increase domestic oil production over the next 10 years, this will provide many opportunities for deepwater drillers. One company that is modernizing its fleet while focusing on deepwater drilling is Noble Corporation (NYSE:NE).
Noble Corporation is an offshore drilling contractor for the oil and gas industry. As a part of its ongoing fleet renewal strategy, Noble is building 11 of the world's most advanced drilling units. These units, comprised of six high-specification jackups and five ultra-deepwater drillships, that will begin entering service in 2013. These units will offer Noble's customers a new standard in drilling capabilities. (company website)
As Noble Corp. has focused on expanding offshore drilling and deepwater capabilities, they have done so through the construction and acquisition of new rigs as well as upgrades on current assets. In 2012, Noble commenced operations on three new ultra-deepwater, harsh environment drillships. The two Bully-class drillships are in the U.S. Gulf of Mexico and Brazil, while the Globetrotter-class drillship is operating in the U.S. Gulf of Mexico.
Capitalizing on Brazil and the U.S. Gulf of Mexico has been a focus for Noble Corporation. Over the past three years revenues in the U.S. and Brazil have increased significantly. In 2010, Noble reported U.S. based revenues of $550.683 million while in 2012 the company reported U.S. based revenues of $1.061 billion. This represents an increase of 92.67%. In 2010, Noble reported Brazil based revenues of $527.678 million while in 2012 the company reported Brazil based revenues of $714.789 million. This represents an increase of 35.46%.
Because of the increase production in the U.S. and Brazil, Noble has noticed an increase in three major metrics of the business. These metrics are the rig utilization rate, operating days and average dayrates. According to the company's 10-K report, the rig utilization rate has increased from 72% in 2011 to 78% in 2012, while operating days have increased from 17,254 in 2011 to 19,137 in 2012. The average dayrate has also increased significantly - this metric has increased from $148,185 per day in 2011 to $172,904 in 2012.
As deepwater drilling is a very competitive business the company has spent a very large amount of money to keep up with the competition. According to the company's 2012 Annual report, Noble has had significant capital expenditures over the past couple of years. In 2011, Noble had $2.621 billion in expenditures while in 2012 the company had $1.669 billion in CAPEX. In 2013, Noble Corp. has estimated spending $2.7 billion for CAPEX. The anticipated CAPEX breakdown is as follows: $1.5 billion for newbuilt expenditures, $870 million for major projects and $320 million for sustaining capital projects. This increase in spending is designed to compete with other offshore drillers such as Diamond Offshore Drilling (NYSE:DO) which has 18 rigs in Brazil and the U.S. Gulf of Mexico, Hercules Offshore (NASDAQ:HERO) which currently has 39 assets deployed in the Gulf zone, and Transocean (NYSE:RIG) which currently has 16 rigs in these regions.
As Noble Corp. continues to expand and upgrade offshore drilling and deepwater capabilities, they will find themselves more attractive to operators such as the Petrobas, Shell (NYSE:RDS.A) and BP p.l.c. (NYSE:BP) which have significant operations United States Gulf of Mexico and the Brazilian Pre-Salt region.
Analysts' Estimates
Analysts at MSN Money are estimating significant growth for Noble Corporation in 2013 and 2014. EPS estimates for FY 2013 are $3.06 while estimates for 2014 increased to $4.67 per share. Bloomberg Businessweek supports this idea as they expect revenues to be approximately $4.3 billion for FY 2013 and increase to $5.4 billion for FY 2014.
Price Targets
Finviz has a price target for Noble Corporation is $45.03.
Recently analysts at FBR Capital gave Noble a price target of $48.00 to $50.00.
As the demand for deepwater capabilities increases, technological advancements that reduce costs, improve safety and make it easier to access the oil and gas will lead the way. As Noble Corporation is in the process of purchasing new rigs and upgrading its current fleet, this will provide its customers with the latest capabilities to access these challenging regions. Two deepwater regions that are in the process of increasing oil and gas production are the U.S. Gulf of Mexico and Brazilian Pre-Salt regions. Both of these regions have provided and will continue to provide Noble Corporation with many opportunities for growth. Over the past few years Noble Corp. has significantly increased its revenues in these areas, day rates, rig utilization rate and operating days. Focusing and capitalizing on these two regions will drive Noble Corporations earnings, revenues and day rates up, which will create significant shareholder value into the future.
Disclosure: I have no positions in any stocks mentioned, and no plans to initiate any positions within the next 72 hours. I wrote this article myself, and it expresses my own opinions. I am not receiving compensation for it (other than from Seeking Alpha). I have no business relationship with any company whose stock is mentioned in this article.