In my article from April 25, about the set-up for a long position in VIX-futures, ETF/ETNs or VXX (options) a number of readers warned me about 'contango.' In my explanatory set-up I figured contango would make things a little too complex, but nonetheless: contango is, especially for investors who are looking at longer-term positions, a serious problem.
What is contango?
Contango is the market condition wherein the price of a forward or futures contract is trading above the expected spot price at contract maturity. The futures or forward curve would typically be upward sloping, since contracts for further dates would typically trade at even higher prices. For investors who want a longer-term position in the VIX Future, or in a commodity, the risk is that if they trade (monthly) future contracts, upon expiry they have to roll over their position to the next month. If a future is further in time, the price is higher when a market is in contango. This happens often when for example commodities have high storage or insurance costs. The opposite situation, when the spot price is higher than the future price, is called backwardation.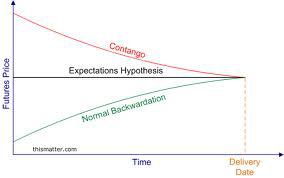 For example: suppose the spot price is $24. Nearest future, let's say June 2013, is traded at $27. When the spot price is still at $24 by the end of June, investors will lose $3 with an unchanged market. If they want to keep their exposure to the underlying commodity or index, they have to buy the July contract, which is again priced at $27. In a market in which virtually nothing happens, investors could end up losing a lot of money.
Now in the case I presented last week, contango could be a problem when positions are being held for longer term. However, the idea of buying VIX futures when the VIX index trades at extraordinary low levels is to get out once the volatility is jumping to more normal levels. Even recent history shows us unexpected events always occur, which causes the volatility to return to more 'normal' levels.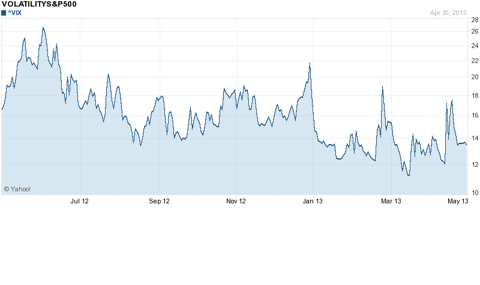 Click to enlarge
If we look at the chart of the VIX Index above, we see that it tends to go lower and lower in time, but every once in a while it spikes up. Now in the current economic situation stock prices slowly rise further because smart money has no alternatives, the TINA-effect, which I described earlier last month. On the other hand, the risks and uncertainties in the financial markets are still there. The last three months we've seen all kinds of events triggering higher volatility:
disappointing non-farm payrolls
Cyprus and its aftermath
the fake Obama-tweet attributed to AP (press agency)
the Boston bombings
downgrading of Germany by a minor credit rating agency
As I stated earlier, two main reasons convinced me to use VIX futures for hedging short-term positions:
The VIX is, in my opinion, unusually low for these kind of market circumstances;
There will always be an unexpected event, which causes the VIX to spike.
Now contango may be a costly side-effect on longer-term VIX investment, but if we choose to buy VIX futures (or similar products like VXX) at extremely low levels, and sell every time a hiccup occurs, it is very well possible to end up with a nice result.
Disclosure: I have no positions in any stocks mentioned, and no plans to initiate any positions within the next 72 hours. I wrote this article myself, and it expresses my own opinions. I am not receiving compensation for it (other than from Seeking Alpha). I have no business relationship with any company whose stock is mentioned in this article.