By Serkan Unal
Utility stocks paying respectable dividends are generally considered defensive investments with low volatility of returns relative to those of the overall market. Utilities are the least sensitive to economic cycles, as evident by their stable revenue and cash flows over time. They also have low operational risk. In the yield-starved environment, utility stocks paying respectable dividend yields are especially attractive.
Citi analysts have developed a list of large-cap stocks with dividend yields at least 100 basis points above the median-yielding stocks, positive dividend momentum per consensus forecasts, and solid financial strength as indicated by low CDS spreads. Among the 26 U.S.-based equities comprising the list, there are seven utility stocks paying respectable dividends. Here is a closer look at the seven featured dividend-payers.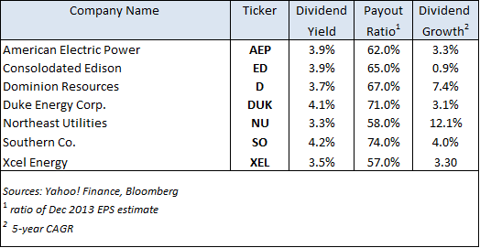 American Electric Power Company (NYSE:AEP) is one of the largest U.S. electric utilities, serving 5.3 million customers in 11 states. The company has paid dividends for 413 consecutive quarters. The company sustained and, periodically, raised its dividend over the past five years, despite its EPS contraction at an average annualized rate of 1% over that period. Analysts forecast its long-term EPS CAGR at 3.6%. Jim Cramer recently hosted the company's CEO, discussing the company's operations with him and praising the company's shareholder returns, calling the stock "still cheap." The company is in the process of splitting its Ohio operations into two parts, one that generates power and the other that distributes it. This would mean that some 9,200 MW will be transferred from generation owned by AEP Ohio to a new unregulated generation company, AEP Generation Resources. AEP is trading at 16.0x forward earnings, slightly below the industry multiple of 16.7x. Based on the last available 13-F disclosures, AEP was popular with Cliff Asness and Clint Carlson.
Consolidated Edison (NYSE:ED) is one of the largest investor-owned utilities in the United States and the only utility company in the S&P 500 to raise dividends for 25 or more consecutive years. In fact, ConEd has raised dividends for 39 consecutive years, which makes it the third longest streak in the electric utility business. The company realized an EPS CAGR of 5.8% over the past five years. Analysts forecast its EPS CAGR at about 2% for the next five years. The lion's share of the company's operations is regulated, which provides for the stability of earnings and cash flow, especially relevant for the dividend stability. The company expects to take an estimated charge of between $150 million and $170 million (after-tax) in the first quarter of 2013 (read more about it here). Excluding this charge, the company expects its EPS from ongoing operations in 2013 to be in the range of $3.65 to $3.85 per share, versus $3.75 per share in 2012. ED is trading at 16.7x forward earnings, on par with its industry. Among hedge funds, Winton Capital held $43 million in this stock in the fourth quarter.
Dominion Resources (NYSE:D) is also one of the largest producers and transporters of energy in the United States. The company targets operating earnings growth of between 5% and 6% annually, which it missed last year due to unseasonable weather. However, this year, Dominion Resources anticipates operating earnings in the range of $3.20 and $3.50 per share, compared to $3.05 per share in 2012. This rate of growth will be supported in part by the company's new $1.5 billion midstream joint venture with Caiman Energy II LLC to provide midstream services to natural gas producers operating in the Utica shale in Ohio and portions of Pennsylvania. According to its regulated growth plan, the company plans to invest more than $10 billion through 2017. Last December, Dominion Resources replaced its 2-year-old policy aimed at achieving a dividend payout ratio of 60%-65% with a new policy that aims to achieve a 65%-70% payout ratio. Dominion Resources is trading at 18.2x forward earnings. It was also popular with Winton Capital in the last quarter of 2012.
Duke Energy Corp. (NYSE:DUK) is the largest electric power company in the United States whose regulated utility operations serve 7.2 million electric retail customers in six states in the Southeast and Midwest U.S. The company has paid dividends for 87 consecutive years. The company has achieved a 6% CAGR in adjusted EPS since 2009, and a 2% dividend CAGR over the same period. Its target EPS CAGR for the period 2013-2015 is between 4% and 6%. The company's dividend growth is guided by a policy that aims to grow dividend, but at a lower rate than growth in adjusted diluted EPS, within a target payout ratio of between 65% and 70% of adjusted EPS. A RBC Capital Markets analyst recently upped her rating on the stock to "outperform" from "sector perform," saying that the stock "is a core holding for utility investors and deserves a premium valuation due to its above-average earnings growth, high yield and a stable regulatory environment." DUK is trading at 17.4x forward earnings. It was a new holding in billionaire Stanley Druckenmiller's fourth-quarter portfolio (check out Druckenmillers top picks here).
Northeast Utilities (NU) is New England's largest utility serving more than 3.6 million electric and natural gas customers in Connecticut, Massachusetts and New Hampshire. The company has paid dividends since 1966. Northeast Utilities sees its long-term EPS CAGR at 6%-to-9%, above the industry average. This EPS CAGR will be driven by continued transmission investments ($3.9 billion in capex through 2017), increase in gas conversions, and cost savings. Moreover, its long-term dividend growth is expected to match the long-term EPS CAGR, with a 7.1% increase effective as of the first quarter of 2013. Given the plunge in natural gas prices, NU's natural gas business has seen a pick-up in new customer additions since 2010. The company sees the shale gas boom as a "game changer for the region," amid "very attractive opportunities for NU due to natural gas' low saturation, cost and environmental advantages over competing fuels." NU is trading at 17.7x forward earnings. Last quarter, billionaire Israel Englander was bullish about the stock.
Southern Co. (SO), serving 4.4 million customers, has paid a dividend since 1948 (262 consecutive quarters) and has raised it for 12 consecutive years. Over the past five years, the company has consistently maintained a dividend payout ratio in the range of between 70% and 75%. The company sees dividend growth in line with that achieved over the past several years. SO is projecting its fiscal-year 2013 EPS in the range of between $2.68 and $2.80, consistent with its long-term EPS CAGR target of between 4% and 6%. Analysts are projecting a 5% EPS CAGR for the next five years. The company expects to invest some $14 billion in the period 2012-2014, and is currently constructing two nuclear power plants that are scheduled to come online in about five years. SO is trading at 17.4x forward earnings. The stock was Druckenmiller's new holding in the fourth quarter of 2012.
Xcel Energy (NYSE:XEL) serves 3.4 million electricity customers and 1.9 million natural gas customers. The company has increased dividends for nine consecutive years now. Its long-term targets include EPS CAGR of between 5% and 7% and an annualized dividend growth rate of between 2% and 4%. Since 2005, Xcel Energy's EPS CAGR averaged 6.8% per year. However, the company's projected 2013 EPS of between $1.85 and $1.95 implies a below-target growth of 4.4%, based on the guidance midpoint. The company's low payout ratio, which is not bound by any targeted range, leaves room for dividend growth in the future. In early April, Goldman Sachs analysts raised its rating on Xcel Energy to "buy" from "neutral," citing expectations of above-average EPS growth following the company's rate case resolutions. XEL is trading at 16.5x forward earnings. Billionaire Israel Englander was bullish about the stock in the fourth quarter.
Disclosure: I have no positions in any stocks mentioned, and no plans to initiate any positions within the next 72 hours.
Business relationship disclosure: Dividendinvestr is a team of analysts. This article was written by Serkan Unal, one of our writers. We did not receive compensation for this article (other than from Seeking Alpha), and we have no business relationship with any company whose stock is mentioned in this article.