Thursday S&P futures headed higher as markets rallied on positive news releases. Futures spiked higher after an ECB rate cut fueled a sell-off in the euro. Additionally, drops in jobless claims also fueled the rally as new filings fell to 324,000, the lowest figure since January 2008. Tomorrow, German services PMI and the U.S. non-farm payrolls/unemployment rate are set to be released, both of which are sure to move the market. Again, we continue to push near this 1600 level, and a successful breakthrough could take the markets quickly to 1620-1625. Only time will tell, but for now it appears we continue to be in full bull mode.
Volatility for Thursday began to drift slightly lower as those May VIX bulls have all but disappeared. Today a large May 17-27 call spread was sold 37.5K times as call sellers again returned back to the VIX futures. The spot VIX followed lower as the market closed in on the 1600 mark, moving from a high of 14.48 below 13.70 with just over two hours left to trade. Volatility ETFs (NYSEARCA:VXX) and 2x ETF (NYSEARCA:UVXY) were crushed today as front-month futures just fell off a cliff. As I pointed out earlier, the call selling has resumed and today VIX futures saw more than 2.9M in net call selling as the futures continue to go lower with the market at all-time highs.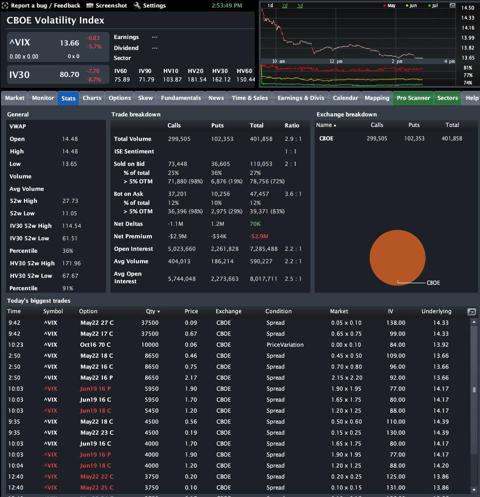 Statistics and Screenshot Provided by LiveVol.
VIX futures are listed below.
Yesterday:
May VIX futures 15.20
June VIX futures 15.93
July VIX Futures 16.63
Today:
May VIX futures 14.55
June VIX futures 15.45
July VIX Futures 16.25
Options Paper
On twitter today I flagged a seemingly crazy bullish trade on Oil States International (NYSE:OIS). OIS saw a massive 5K-10K-5K December call butterfly trading for 2.35 net debit. This means someone just spent 1.175M believing OIS is headed to 115 between now and December expiration. There has been talk of possibly converting this stock to a REIT. This has some analysts bullish as they could see as much as $40.00 of upside if this event occurs, but this trade would only be looking for a $20 to $30 move. This call butterfly would see massive gains if this came to fruition, as the butterfly could expand to 15.00 on a December 115 pin and would make 6.3M in profit on such a move for this investor.
Regardless, this trade had the stock off to the races early moving from 91.00 to almost 96.00 after the trade went off just after 10:00 in today's trading. Today OIS traded almost 44x average daily volume with calls outnumbering puts 78 to 1 on the trading day. This is a name I would look to leg into if possible, buying the 100-130 calls and then selling the 115 calls 2x for a low or even zero-cost play to the upside after a move is made higher. Regardless, this name is now firmly on my radar as any weakness could be a good long-term bullish buying opportunity.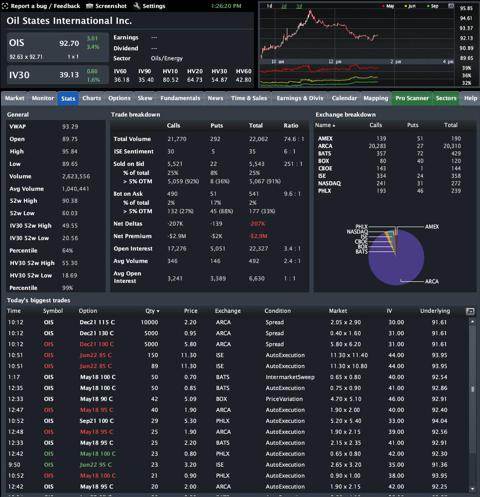 Statistics and Screenshot Provided by LiveVol.
In the sonar report yesterday, I mentioned going short Facebook (NASDAQ:FB). As it turns out, investors went opposite of this move as FB ripped higher today against the option activity. I have since closed this short at a loss, and actually followed some bearish activity today in Lexmark (NYSE:LXK). LXK today saw one single bear come in buying more than 1.1K of the January 30 strike puts, buying them for 4.70. This pushed the implied volatility higher toward 38% as put buyers were out in full force in this name today.
Laying down almost 500K in net put premium today, bears are getting into this name looking for a long-term pullback. Although there's not overly crazy volume in this name, the fact it is a long-term large bet has my ears perked especially going into the typical "summer swoon." I followed this trade and will look to adjust the trade and sell downside puts to reduce cost of further volatility spikes. Puts outnumbered calls almost 20-to-1 on the trading day.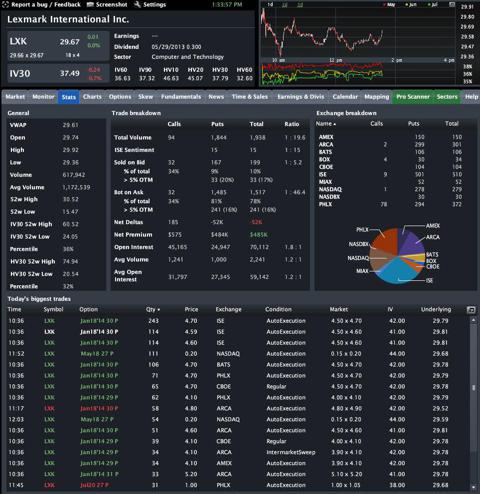 Statistics and Screenshot Provided by LiveVol.
Popular ETFs and equity names with bullish/bearish paper:
Bullish Option Flows -- ISE and % OTM Calls Bought on Offer
Bearish Option Flows -- ISE and % OTM Puts Bought on Offer
Weatherford (NYSE:WFT) 83% -- 11.7K OTM puts bought
Fifth & Pacific (FNP) 75% -- 5K OTM puts bought
Morgan Stanley (NYSE:MS) 56% -- 9.7K OTM put rolls
Disclosure: I am long AGNC, BA, BAX, CBB, CIM, CONE, DNDN, DRYS, HEK, IOC, LNG, NFLX, NQ, TLM, and WMB, and I am short ARO, ASH, EA, HPQ, LULU, PH, SPY, ZION.
Trades Today: Rolled short BA calls, Short LXK, Long WMB, Closed short FB.
Portfolio Exposure:
Long: 23.5%
Short: 22.5%
Cash: 54.0%
Disclosure: I have no positions in any stocks mentioned, and no plans to initiate any positions within the next 72 hours. I wrote this article myself, and it expresses my own opinions. I am not receiving compensation for it (other than from Seeking Alpha). I have no business relationship with any company whose stock is mentioned in this article.