In light of the recent dramatic drop in precious metal spot prices concerns about the profitability of gold and silver miners have been raised. While some commentators see the yellow and white metals rebounding to previous levels others are not so optimistic and predict a further decline. For example, on April 25 ABN Amro published a press release predicting a gold price of $1000 per ounce for 2014. We decided to use publicly available financial data and perform a back-of-the-envelope stress test of selected gold and silver mining companies.
In the present article we will be examining Coeur D'Alene Mines Corp. (NYSE:CDE).
We used data for the past three years as filed on the SEC website. The table below gives an overview on revenue and cost positions for the past three years.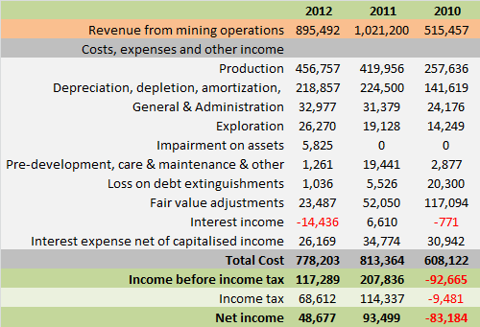 (all values in 1000$)
For 2012 revenue amounted to $895M and cost positions added up to $778M leaving income before tax of $117M. Quite a decrease from the previous year, but still considerably ahead of 2010 where a loss had been recorded.
For our stress test we first took a look at the cost positions. We considered three scenarios for our 2013 cost predictions as detailed in the table below. We assumed no impairments and no gains on acquisition for either scenario. The three scenarios can be briefly described as follows.
Scenario 1: Cost remains the same as in 2012.
Scenario 2: Cost follows the trend of the past three years. We computed a trend line using the data points provided by the three previous years and extrapolated to 2013.
Scenario 3: Costs are cut in relation to 2012 levels where this could be reasonably assumed (Exploration 50%, and G&A 80%). All other cost positions remained on 2012 levels or were averaged over the past three years as indicated in the table below.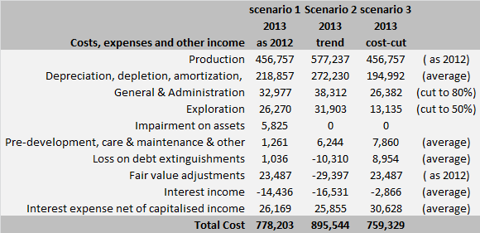 (all values in 1000$)
As can be seen from this table, predictions for the total cost for the three scenarios range between $759M and $895M.
In turning to the revenue side of the equation we note 2012 production and 2013 forecast for gold and silver, and associated realised spot prices as listed in the 2012 annual report and shown in the table below.
We considered three realized spot price scenarios for our study:
Scenario 1: Realized spot price for 2013 remains the same as 2012.
Scenario 2: Realized spot price is equal to the closing spot price on April 15 2013, the bottom of the year so far. It is important to remember that more than three months have already passed in 2013 with significant higher spot prices. For the April-low price to become the average realised price for the year a prolonged period of time below that level would be necessary.
Scenario 3: The spot price drops again by the same margin as on April 25. The values after such a drop are used as assumptions for the realized spot price in this scenario. The same comment as above applies.

Production and sales for 2012 are listed in the table above. We noted, that multiplication of the sold metals with the realized price yields a value 2% greater than the stated revenue. We assumed, that this 2% discrepancy is caused by various fees and used the same 2% discount in our considerations.
Revenue predictions for the guidance range and the three spot price scenarios are given in the table below.

The diagram below illustrates these results. The three horizontal lines show the three cost scenarios. The inclined range shows revenue for the three scenarios and guidance ranges.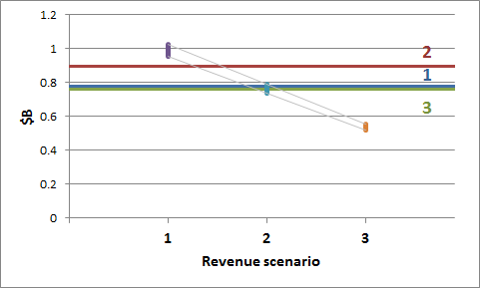 Observations
Depending on the revenue scenario and the assumption on production numbers within the given guidance the computed revenue ranged from $516M to $1.02B.
Depending on the cost scenario the computed sum of costs ranged from $759M to $896M.
The assumed cost cutting measures have very little bearing on the total cost. This total cost is driven by production cost, and also by financing cost items.
If cost positions remain at the 2012 level a realized spot price at the April-low level would lead to an income before tax around zero.
Spot price scenario 3 would cause revenue to fall below our cost-cut scenario by $260M. Such a dramatic drop in spot price would wreak havoc on the balance sheet and would call for drastic action.
If cost trends of the past three years are followed only a spot price at 2012 level will generate enough revenue to offset costs for CDE to just remain profitable.
In conclusion, we observe that spot prices as recently witnessed can be absorbed by Coeur d'Alene. Controlling production cost and cost of various financing items appears to be of importance. A further drop in spot price will necessitate strong cost cutting measures beyond those envisaged in our model.
It is also important to remember that none of our scenarios included room for impairments.
Disclosure: I have no positions in any stocks mentioned, and no plans to initiate any positions within the next 72 hours. I wrote this article myself, and it expresses my own opinions. I am not receiving compensation for it (other than from Seeking Alpha). I have no business relationship with any company whose stock is mentioned in this article.