Credit card providers took sixth place out of 12 industries included in Forrester Research's Customer Experience Index (CxPi), ending up with an overall "okay" rating of 68%.
The average score for credit card providers increased by one percentage point compared with last year.
USAA came out on top with an "excellent" rating of 91%, followed by two
firms with "good" ratings: American Express (NYSE:AXP) and Discover (NYSE:DFS). At the other end of the spectrum, HSBC (HBC) received a "very poor" rating, while Washington Mutual and Bank of America (NYSE:BAC) ended up with "poor" ratings.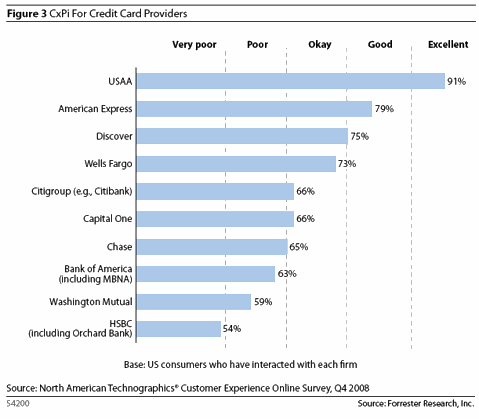 Most firms meet consumers' basic needs, Forrester says in Customer Experience Index 2008 Snapshot: Credit Card Providers. When it comes to meeting needs, USAA ended with a near perfect score. American Express also ended up with an "excellent" rating, and five other firms wound up with a "good" rating. HSBC was the only credit card provider with a "poor" rating.