One of the better income stocks with exposure to rising natural gas prices would have to be Vanguard Natural Resources (NYSE:VNR). Vanguard has made recent substantial investments in natural gas oriented acquisitions. Like nearly all upstream MLPs, Vanguard offers a high yield. Vanguard has recently raised its monthly distribution to $0.2050 per unit. At current prices, Vanguard yields about 8.80%.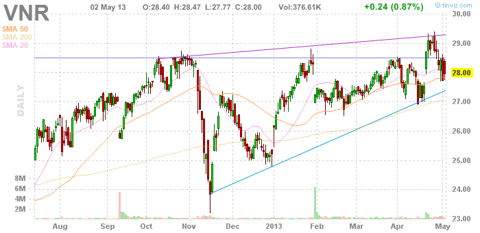 On April 30, Vanguard Natural Resources reported its Q1 2013 results. During the quarter, Vanguard reported adjusted EBITDA of $72.4M, up 36% from the $53.2M reported in Q1 201 and 9% from Q4 2012. Adjusted net income was $16.9M, or $0.26 per unit, compared with $$21.6M, or $0.41 per unit in Q1 2012. Vanguard reported production of 33,122 BOE/D, an increase of 144% from Q1 2012 and 45% from Q4 2012. On a BOE basis, Vanguard's production mix during the quarter was 24% oil, 67% natural gas, and 9% natural gas liquids.
Due to hedges, Vanguard's average realized price for natural gas was $3.52 per Mcf, which was $1.22 per Mcf, or 53%, more than the unhedged price of $2.30 per Mcf. The hedged average realized price for crude oil was $79.29 per barrel, 1.8% lower than the unhedged price of $80.67 per barrel. The hedged average price for NGL was $41.44 per barrel, in line with the unhedged price of $41.38 per barrel.
During the quarter, Vanguard's capital expenditures were about $14.6M, compared to $8.2M for Q1 2012 and $10.1M for Q4 2012. The capital expenditures in Q1 exceeded Vanguard's projections by $5.0 million due to projects planned for Q2 2013 being accelerated. Therefore, Vanguard plans that its capital spending in Q2 2013 will be less than the $19.0M that it had originally guided. These accelerated projects were primarily several non-operated wells in the Bakken and some operated wells in the Woodford being drilled ahead of schedule. Vanguard anticipates a capital budget for the remaining period of 2013 of approximately $40.4M.
On April 1, 2013, Vanguard completed the acquisition of natural gas, oil and NGLs properties in the Permian Basin in southeast New Mexico and West Texas from Range Resources Corporation for an adjusted purchase price of $268.8M. Vanguard funded this with borrowings under its reserve-based credit facility. Based on Vanguard's internal reserve estimates, the interests acquired have estimated total net proved reserves of 22.8 MMBOE, of which, 43% is natural gas and 78% is proved developed.
For the quarter, Vanguard's distributable cash flow, or DCF, was just over $41M, or $0.61 per unit. The distribution coverage ratio was about 1.00X the current distribution of $0.2025 per month or $60.75 per quarter.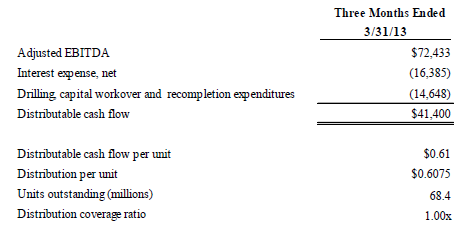 However, the recent acquisition has a significant amount of accretion for Vanguard, and should increase EBITDA by approximately $25M to $30M for the nine months it contributes in 2013. Vanguard anticipates that its distribution coverage will improve to between 1.15X and 1.2X versus the 1.11X it had previously guided in March. Due to this, Vanguard increased its dividend 1.2% to $0.205 per month, or $2.43 per year.
As of quarter end, Vanguard had about 94% of its 2013 expected natural gas production hedged, 86% in 2014, 93% in 2015, 95% in 2016, and 48% in the first half of 2017. The weighted average prices is about $4.62.
For its oil production, Vanguard has about 100% of its 2013 expected oil production hedged, 88% in 2014, and 36% in 2015.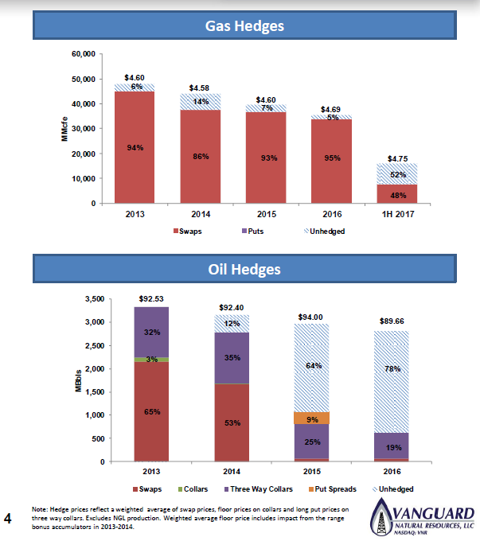 During the Q1 2013 conference call, CFO Richard Robert mentioned that Vanguard still has some upside related to its hedges:
As I regularly note, we still have significant upside potential as we utilize both traditional collars and three-way collars, which constitute a relatively large portion of our overall hedged portfolio and has been a reason in the past why our cash flow can vary from quarter-to-quarter even though we are as well hedged as we are.

Three-way collars and traditional collars as a percent of our hedged portfolio comprise approximately 35% in 2013 and 40% in 2014. As this shows, we still have a significant portion of our portfolio that will allow us to have the ability to participate in upside above our weighted average floor price of approximately $92.47. So bottom line, we like higher oil prices as long as they are being offset by higher negative oil differentials.
Also during the quarter, on April 11, 2013, Vanguard announced the transfer of its stock exchange listing from the New York Stock Exchange to the NASDAQ Global Select Market. Vanguard units commenced trading on the NASDAQ on April 23, 2013, and remain listed under the ticker symbol VNR.
Conclusion
Vanguard is once again benefiting from its acquisition policy. During 2012, Vanguard purchase a large amount of natural gas properties at discounted prices. Vanguard was able to then hedge most of the production and "lock in" the resulting margin. This margin is what has allowed Vanguard to increase its distribution. Since its 2007 IPO, Vanguard has increased its distribution 42%, or 7% annually. While this growth has slowed in recent years, it is still impressive growth from a high-yield stock.
Vanguard is the definition of an income stock, so I would expect very little to no capital gains from owning its units. However, Vanguard does provide a decent stream of monthly income.
Disclaimer: The opinions in this article are for informational purposes only and should not be construed as a recommendation to buy or sell the stocks mentioned. Please do your own due diligence before making any investment decision.
Disclosure: I am long VNR. I wrote this article myself, and it expresses my own opinions. I am not receiving compensation for it (other than from Seeking Alpha). I have no business relationship with any company whose stock is mentioned in this article.