Since being spun off from Sara Lee in 2006, shares of Hanesbrands (NYSE:HBI) have shot up 124%. The company is a category leader in many consumer brands and continues to strengthen itself through new initiatives and product launches.
Company
Hanesbrands owns the following brands:
· Hanes, Champion, Playtex, Bali, L'eggs, Just My Size, Barely There, Wonderbra, Duofold
The company ranks first in market share for:
· T-shirts
· Fleece
· Socks
· Men's Underwear
· Kids' Underwear
· Sheer Hosiery
Hanesbrands also has the number two market share position in both bras and panties.
Shareholder Returns
Hanesbrands is focusing on three aspects to drive shareholder returns:
· Strong consumer franchise
· Innovate-to-elevate strategy
· Strong cash flow
One of these three things might be a big reason why investors are about to pour into Hanesbrands shares. Recently, the company initiated a quarterly dividend of $0.20. With an annual payout of $0.80, shares currently have a dividend yield of 1.6%. However, Hanesbrands is only paying out 20% of their free cash flow.
Hanesbrands started the payment out small, but has already talked about raising it each year, as earnings increase. Hanesbrands has also discussed acquisitions and share buybacks as other ways to use that free cash flow to help boost earnings per share.
Hanesbrands' management received many questions during the conference call and investor day on acquisitions. These questions asked if Hanesbrands was looking for large rivals or bolt-on acquisitions. The company said it will target the Americas and Asia, and gave Brazil as an example. Due to an acquisition 10 years ago in the South American nation, Hanesbrands was able to get its own brands into the country quicker and is the number one brand of men's underwear now.
This answer from an investor's perspective signals that international acquisitions could be in the near future. This could have a big impact on Hanesbrands as well, as international sales made up only 11% of fiscal 2012 sales.
New Retail Deals
Apart from acquisitions, the retail shelf space for Hanesbrands is increasing dramatically. This will be a huge boost for revenue and earnings for Hanesbrands. Here is a look at several new retail platforms:
· The company launched its X-Temp brand at Kohl's (NYSE:KSS) stores. The shirts are designed with moisture wicker to keep the shirts dry and are reportedly selling well in stores.
· C9 (a Champion brand) has an exclusive deal at Target (NYSE:TGT) stores. The clothes fall into the company's activewear sales and could boost that category and help gain market share against national competitors.
· Wal-Mart (NYSE:WMT) is devoting more space to men's underwear. Gaining more shelf space at the largest retailer is always a positive and should help Hanesbrands keep its market lead and also boost other products through cross selling or promotional deals.
· Macy's (NYSE:M) is adding Hanes products to its stores in June. Management had this to say of the newest retailer, "Macy's sets in June, and that -- we're just very proud that Macy's wants to put the Hanes brand in their shops, have America's leading brand being -- the opportunity to buy that at Macy's now."
First Quarter Earnings
In the first quarter, sales were hurt by delayed tax refunds and cooler weather. The company estimates that these two items costs it $20 million and $10 million, respectively. Sales were down 3% to last year with a reported $945 million. Gross profit had a huge improvement to 34.6% during the first quarter.
New Products
Hanesbrands continues to focus on its three new innovative platforms:
· Tagless
· Comfort Blend
· Smart Sizes
These new initiatives had a huge impact on first quarter sales and will continue to guide the company going forward. In the first quarter, sales of Bali brand were up double digits, thanks to the new smart size development. In fact, smart size bra sales across all brands were up 30%.
Michael Jordan
Hanesbrands is also investing large amounts on adverting, something it had previously shied away from. In the last six years, the company has now spent $0.75 billion on advertising and research & development. One of the bright spots to the company's advertising has been Michael Jordan.
Jordan has appeared in over 30 commercials for Hanes products. His relationship with the company began back in 1989, and he has stuck with Hanes the entire time. In fact, Jordan is used as one of the key people to introduced new Hanes products to consumers. He has appeared in commercials promoting "lay flat collar," "no ride up boxer briefs," and most recently, the "tagless" shirts.
While Jordan has been the star of the company's commercials, Hanes has gone out and got other celebrities like Charlie Sheen, Cuba Gooding Jr., and Jackie Chan to appear alongside the former Chicago Bulls superstar.
The partnership with Hanes has paid off for Jordan as it is one of several endorsements that still net him over $80 million a year in earnings. For Hanes, the partnership continues to pay off. As a leader in men's shirts and underwear, the company went after someone who is known to almost all men. Jordan was the answer then and is the answer now to introduce new products.
The newest commercial featuring Jordan also stars the man in the photo below wearing kittens as a shirt. The commercial, which has gone viral, is used to demonstrate that consumers don't have to wear kittens to get a soft feel, but can instead buy Hanes new Comfort Blend shirts, their softest line ever. Once again, Hanes uses Jordan to introduce a new line of product.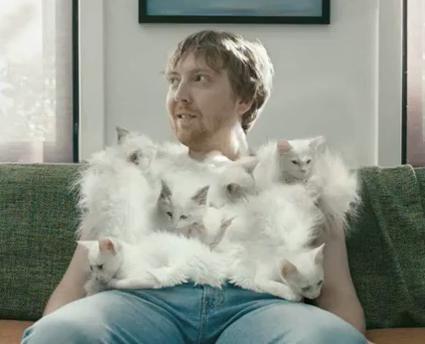 Management even discussed Jordan during their first quarter earnings:
"We increased our media in Q1, and many of you probably saw our ComfortBlend and TAGLESS ads featuring Michael Jordan that ran during the NCAA basketball tournament. And as a reminder, we still plan to spend an incremental $30 million to $40 million on media this year. And that should only enhance the performance of these platforms."
Analyst Coverage
An article in Barron's boosted shares of Hanesbrands recently. Barron's thinks there is at least 20% of upside in shares, due to increased shelf space at Wal-Mart and Macy's. Back in March, Goldman Sachs (NYSE:GS) raised shares to a "Conviction Buy" rating with a new price target of $50.
Guidance
Analysts on Yahoo Finance are predicting Hanesbrands to earn $3.45 per share in the current fiscal year 2013. This gives shares a current price to earnings ratio of 14.2, based on Thursday's share price of $49.30. Going forward, shares trade at only 12.3 times the analysts' expected $4.00 per share in fiscal 2014. In my opinion, analysts may be underestimating sales estimates. Analysts expect sales to grow only 1.3% to $4.59 billion in 2013 and 3.1% to $4.73 billion in 2014.
Hanesbrands' own guidance called for fiscal year sales of $4.6 billion. This comes in a shade higher than the $4.59 billion projected by analysts. Hanesbrands sees full year earnings per share in a range of $3.25 to $3.40. Shares of Hanesbrands are approaching the $50 mark and are just shy of all-time highs. In 2013, shares are up 39%. I would try to wait and buy on any dips, but am unsure if there are going to be many more opportunities under $50. Don't be left out of an additional run.
Disclosure: I have no positions in any stocks mentioned, and no plans to initiate any positions within the next 72 hours. I wrote this article myself, and it expresses my own opinions. I am not receiving compensation for it (other than from Seeking Alpha). I have no business relationship with any company whose stock is mentioned in this article.