Here is a sample report from our AFG 50 model portfolio. The AFG 50 model portfolio provides institutional investment firms access to a devoted research team and investment process with the specific goal of consistently beating the S&P 500. The AFG 50 leverages our client's investment process and enables them to focus on their core strengths. Below is a sample equity research report updating our thoughts on FCX:

FCX was added to the AFG 50 portfolio when at $24.44 per share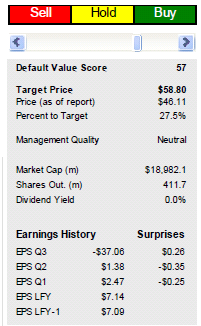 FCX Investment Summary:
Freeport McMoRan (NYSE:FCX) reported a 94% drop in Q1 09 adjusted earnings of $67 million, or $0.17 per share, surpassing analysts' estimate of $0.13 per share. Sales declined 54% to $2.6 billion, missing the consensus estimate of $2.7 billion. Although copper and gold sales volumes grew 10% and 95%, respectively, the company's average realized selling price for copper dropped 53% to $1.72/lb, while its gold selling price was 3% lower at $904/oz. Moreover, margins suffered tremendously as production curtailments were not sufficient to moderate the disparity between the cost of production and selling prices. Production costs only declined 38% to $0.66/lb per unit of copper produced, while the price of copper fell by more than half, resulting in a drastic compression in EBITDA margin to 36.4% from 49.6% in the year ago quarter.

Copper prices recently improved to about $2/lb, due to record level purchases from China. Ultimately, copper prices will not realize a significant upward trend until construction markets recover, especially in the U.S. FCX projects 5% lower copper sales volume in 2009 vs. a year ago, while gold sales volume is expected to double, mostly due to the higher grade ore from Grasberg. Assuming that the copper price remains at $2/lb and gold remains at about $900/oz for the rest of the year, management expects its unit production cost this year to approach $0.70/lb of copper, up sequentially from Q1, but 40% lower than in 2008. The company expects to aggressively manage costs by curtailing production and limiting capexto $1.3 billion in 2009 and $1.0 billion in 2010, less than half of what was spent in 2008. A large portion of the capex is going to be utilized to complete the Tunke Fungurume development project and ramp up production in H2 09.