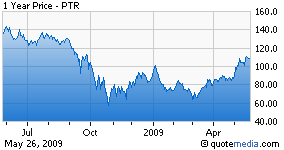 Buy-recommended PetroChina (NYSE:PTR) offers unlevered appreciation potential of 64% to a McDep Ratio of 1.0 and levered appreciation potential of 76% to Net Present Value (NPV) of $150 a share. NPV is supported by projected cash flow capitalized at unlevered multiples (PV/Ebitda) related to reserve life (Adjusted R/P) for natural gas and oil.
Limited first quarter results released on April 27 implied higher cash flow than in our half-yearly projections. Since results by segment may not be available until mid-year, we conclude that the relaxing of price controls on refined products accounted for most of the positive surprise. Natural gas volume growth continues and price is increasing gradually from a low level.
Pointing to expected oil price recovery, futures prices for the next six years averaged $66 a barrel recently. We believe PTR stock represents solid participation in the likely continued higher economic growth of China.
Originally published on April 28, 2009