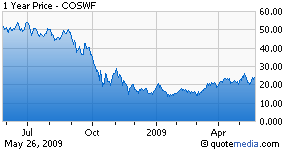 Buy-recommended Canadian Oil Sands Trust (OTCQX:COSWF) offers unlevered appreciation potential of 83% to a McDep Ratio of 1.0 and levered appreciation potential of 92% to Net Present Value (NPV) of US$42 a share. During the first quarter, according to results released today, COSWF generated unlevered cash from oil and gas production of about US$12 a barrel as the difference between price of about US$44 and cash operating costs of about US$32.
Disclosed just before the market close on April 29, the quarterly distribution continues at the nominal rate C$0.15 a unit. The rate is only 28% of our projected cash flow (Ebitda minus interest) for the four quarters ended March 31, 2010. Our projections are consistent with new guidance from management with the exception that we do not reduce cash flow for Non-Production costs and changes in working capital. Rather than distribute more cash to unitholders, management is applying the withheld funds to finance capital expenditures while credit markets are unsettled. M
eanwhile, Syncrude production is expected to jump again in the warmer months as has been the case for the past four years. Pointing to expected oil price recovery, futures prices for the next six years averaged US$66 a barrel recently. Among other points he made at the annual meeting today in Calgary, Chief Executive Marcel Coutu stressed that particularly after Suncor (NYSE:SU) and Petro-Canada (PCZ) are merged, COSWF is the only pure play on Canada's oil sands.
Originally published on April 29, 2009