Some Sirius XM (NASDAQ:SIRI) investors are fond of saying, "never a dull moment in SIRIland." That seems to hold true unless you count the last few months. It seemed many investors were, quite frankly, getting sick and tired of the range bound activity.
I get it. It's nice to peek at your accounts at the end of the day and see gains, especially as the market is appreciating in the background. It's frustrating to see your account stagnant for months on end.
But as I have said repeatedly, patience is a virtue and those who have a long-term horizon will be justly rewarded with their investment in Sirius XM. With recent moves taking shares up to $3.39, and a bit of a pullback returning shares to $3.28, some news has just come through that might give investors something to cheer about, and might give the stock that extra kick it needs to pop up yet again.
What news is this? Sirius XM first released on Wednesday that it had made an offering of $500 million in notes due 2020, and then in a one two punch at the end of the day released that a second block of $500 million in notes would be offered due 2023.
The following should be music to the ears of investors:
The Senior Notes due 2020 will bear interest at an annual rate of 4.25% and the Senior Notes due 2023 will bear interest at an annual rate of 4.625%.

Sirius XM intends to use the proceeds of the offerings of the new Senior Notes for general corporate purposes, which may include, from time to time and as market conditions warrant, share repurchases and the repurchase, redemption, defeasance, tender or repayment of its outstanding indebtedness. Specifically, the company intends to repay all outstanding drawings of $150 million under its revolving credit facility with a portion of the proceeds from the offerings.
With $1 billion about to flow into the company in cash from the bond offering, and $150 million of that used to repay the revolver, that leaves $850 million available plus the full $1.25 billion revolver for Sirius XM to draw upon for buybacks. That's $2.1 billion. Sirius XM has already repurchased 209 million shares. Sirius XM has now made it patently clear that it is serious about these buybacks.
The cost of this debt is a pittance to what I expect the return will be on Sirius XM's investment in itself. I modeled returns previously at a modest 15% per year appreciation of Sirius XM, and 5% debt cost. Using the equation from that article it's easy to see the benefit of borrowing today to buy back shares by plugging in the new interest rates and repayment deadlines.
$500 million at 4.25% interest after 7 years and 15% per year appreciation of Sirius XM should yield a gain of $665 million after interest costs over that 7-year period. You can see the equation used in the image below, and you can change the expected appreciation of Sirius XM to suit your liking by replacing each instance of "0.15" with the percentage per year you are expecting.
Y= Value in millions.
X= Years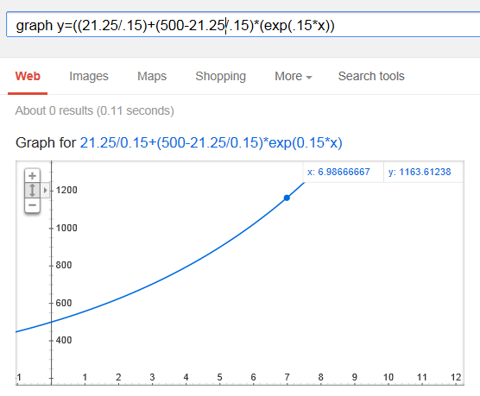 What about the 10-year notes at 4.65%? After 10 years, $500 million should yield a gain of $1.2 billion.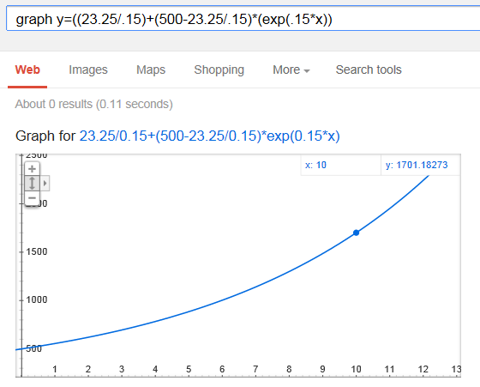 It should be plain to see, though, that the variance in interest rates has a very minor effect here, and that when all is said and done, the result is a doubling just about every 6 years. The more that Sirius XM is able to buy back now, the better off investors are.
But that's only as long as Sirius XM can service that debt. That's very important to consider and for investors to watch. Investors do not want Sirius XM to over leverage themselves today at the expense of credit downgrades or worse, future inability to pay off the notes. While I do not expect Sirius XM to do this, it is worth noting, and worth watching.
From a share price perspective, investors should expect Sirius XM to appreciate as shares are bought back. It's not about immediate gain in value, but rather what one perceives as future return. Buying back shares and taking on debt is a zero sum game today, but over time rewards should grow and compound. That's where the value lies.
Coupled with this good news comes a few key technical notes I'd like to point out. Consider the following chart.

Two important things in this chart.
First, the previous trend line that Sirius XM had been following until recently which is shown in green in the above chart should again provide support for Sirius XM going forward. Prices below this line, currently near $3.28, should be attractive to investors.
Second, a "golden cross" where the 20-day average moves sharply up over the 50-day average, will happen on Friday as denoted by the red arrow. While this is not a guarantee that buying pressure will come through, it typically signals a trend change that traders will use to initiate long positions. Thursday's pull back to support coupled with a golden cross may send shares ratcheting higher from increased interest.
Add everything together, and throw in continued strong performance as exhibited in Sirius XM's Q1 conference call, and you have a recipe for a continued run in share price. I would not be surprised to see $3.50 or beyond in the next several sessions, and that puts the equity well on its way to my end of year $4.25 target.
Disclosure: I am long SIRI. I wrote this article myself, and it expresses my own opinions. I am not receiving compensation for it (other than from Seeking Alpha). I have no business relationship with any company whose stock is mentioned in this article.
Additional disclosure: I am long SIRI January 2014 $2 and $2.50 calls.