When I was a kid I loved magic tricks. My favorite trick was pouring water into a hat and then creating the illusion that it had vanished in thin air. Then I would pull a toy rabbit out of my hat and scream "I am Houdini, the Greatest Magician of all time."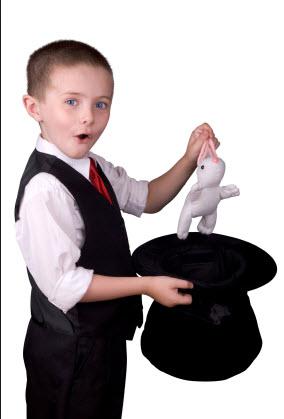 In REIT-dom there is no better magician than Nicholas Schorsch, Chairman and CEO of ARC Properties Advisors. The veteran non-traded REIT financier has put together a string of full-cycle liquidity events that has a created magical kingdom in which individual investors have gained access to real estate in an illiquid but less volatile format.
Lately, the Non-Traded REIT sector has seen considerable growth as explained by Bruce Kelly (in an article in Investors News):
Since 2000 Non-Traded REITs have seen phenomenal growth. The number of registered offerings has increased to 62 from 11 over that time, and the dollar amount in these offerings totaled $93 billion at the start of this year.
Kelly went on to explain:
Investors buy Non-Traded REITs - blind pools of capital - to invest in commercial real estate, typically for $10 per share. How to place a per-share or per-unit value on that investment has been problematic. That was seen when some of the largest Non-Traded REITs saw sharp drops in value as commercial real estate prices struggled during and immediately after the credit crisis.
Without a doubt, Nicholas Schorsch has made a name for himself as the king of full-cycle liquidity as I explained in a previous article:
Schorsch has certainly mastered the art of creating full-cycle market liquidity for non-traded REIT investors. In fact, I would go as far as saying that he has "schooled" the other non-traded REIT peers by setting the bar for both record liquidity execution and best practices.
Andrew Osterland (with Investors News) explains (in Investor News):
He has undeniably delivered for his investors. In the space of 18 months, Mr. Schorsch has executed three transactions. He helped with the roadshow for Healthcare Trust of America (NYSE:HTA), a non-traded REIT for which he served as broker-dealer and raised nearly $1 billion. He also listed American Realty Capital Trust (NASDAQ:ARCT) for public trading and merged ARCT III with his own American Realty Capital Properties (ARCP). The three deals netted investors internal rates of return of 11%, 14% and 33%, respectively, according to company data. In the meantime, publicly traded shares of ARCP have increased 60% - to $16, from $10 - since last July.
Today, the public REIT markets are flowing strong as evidenced by a number of new mergers, rollups, listings, and IPOs. As I wrote in a previous article, Spirit Realty Capital (NYSE:SRC) has announced its plan to acquire Cole Credit Property Trust II, Inc. (CCPT2) - a non-traded REIT with over 40,000 investors. With around 822 properties, CCPT2 will soon combine with Spirit (with a $1.82 billion market cap) to create a $7 billion enterprise with over 2,000 properties.
Also, in another article I wrote about the merger of Cole Credit Property Trust III (CCPT3) and Cole Holdings. In yet another liquidity event, CCPT3's $7.4 billion (in assets) portfolio of 1,014 properties (in 47 states) will merge with Cole Holdings' advisory management platform to create a beastly dividend paying operation (ticker name will be COLE).
Thanks to the wave of public capital chasing REIT-dom and specifically the increasing number of defensive Triple-Net REITs, it seems that the number of players has multiplied like rabbits. Nick Schorsch, the crowned Houdini, has collectively raised an extraordinary amount of capital that has spawned a flood of investor interest on Wall Street to Main Street.
Indeed the Triple-Net REIT spigots are flowing strong, and the demand for high-quality stand-alone assets can be found on just about every street corner. In just about 18 days, there will be another bunny popping out of the magical liquidity hat and investors will be able to tap into this new Triple-Net REIT known as Chambers Street.
A New REIT Called Chambers Street
Chambers Street is a Non-Traded REIT located at the intersection of Chambers Street and Hulfish Street in Princeton, New Jersey. Originally established on July 2, 2004 as CB Richard Ellis Realty Trust, the company commenced as an externally-managed REIT with an initial $55 million private placement (common shares placed by Wells Fargo).

In 2006, the predecessor, CB Richard Ellis Realty Trust, commenced an IPO offering by raising around $607 million from its non-traded listing. In 2009, the company commenced a follow-on offering and raised another $1.9 million.

On July 1, 2012, the company internalized management operations and changed the name from CB Richard Ellis Realty Trust to Chambers Street (simply named for the side street of its corporate office building). On May 21st, Chambers Street plans to list its shares (under the symbol CSG) on the New York Stock Exchange.
Chambers Street has a portfolio that consists of 129 properties and around 34 million square feet. Around 75 percent of the portfolio is industrial and around 25 percent is office. A majority of the portfolio (86 percent) is single tenant and the properties span 22 states and 3 countries.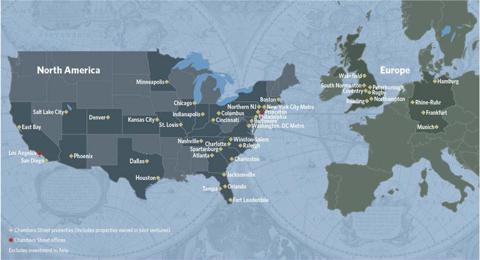 Chambers Street has around 9 percent of its portfolio in Europe - 4.1 percent in Europe and 4.9 percent in Germany. The combined European portfolio has 13 properties valued at around $335.8 million.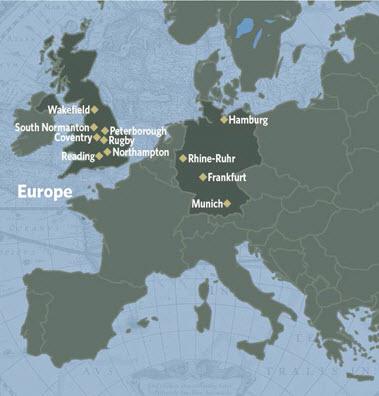 No market represents more than 10 percent in the company's portfolio, and many of the properties are located in gateway markets such as NYC metro and DC metro.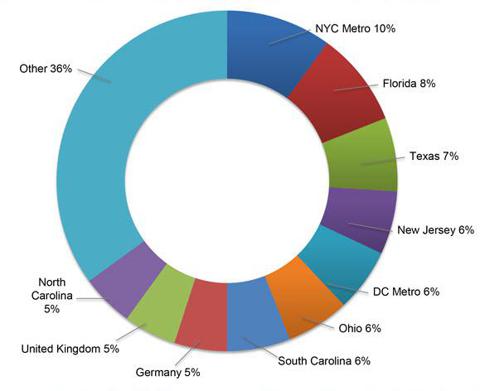 Chambers Street's largest tenant (by exposure) is Amazon (NASDAQ:AMZN) with around 6.6 percent concentration. The company has many nationally recognized tenants that conduct operations in 25 distinct industries. This diverse tenant base provides for an attractive mix of defensive industries including pharmaceutical & healthcare, consumer products, and defense & aerospace. Also, Chambers Street has invested in facilities leased to companies with significant growth operations such as internet retail and logistics/distribution. This limited concentration is indicative of the maximum 14 percent exposure (based on revenue) to any one industry.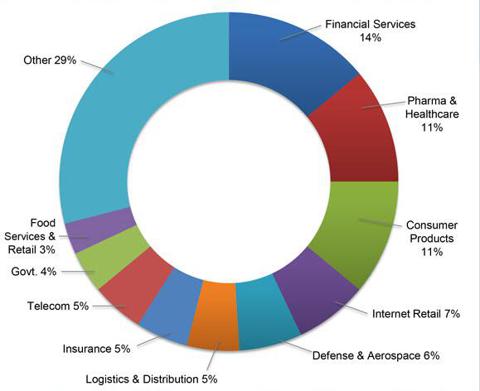 As mentioned above, Amazon is the largest tenant (by exposure), and Chambers Street has a roster of many high-quality tenants such as Barclays Capital, Raytheon, and JPMorgan Chase.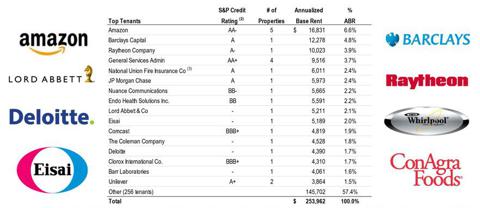 This Is Not an IPO, It's a Listing
Remember, Chambers Street commenced as a REIT back in 2004, so the company has a track record that spans almost 9 years. From 2004 through 2012, Chambers Street has grown from $47 million to over $3.14 billion today. Most of the growth (89 percent) occurred after 2007 when the company acquired around $2.8 billion in assets.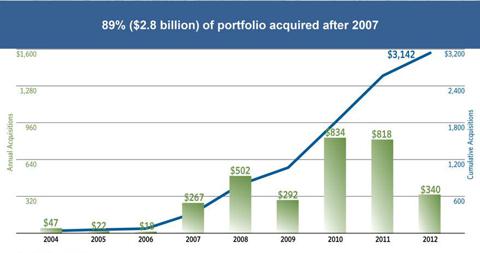 Chambers Street has staggered lease expirations that reflect a weighted average lease term of 7.3 years. In addition, over 84 percent of the company's leases expire after 2015.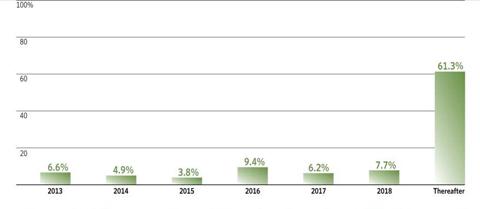 Another consideration for Chambers Street is the fact that the company has previously demonstrated its multi-disciplined approach to creating value - by acquisitions, expansions, and build-to-suits.
As noted above, Chambers Street has a strategic relationship with Amazon that has led to strong value creation. As illustrated by the snapshot below, Chambers Street has invested in Amazon owned assets in a period in which the tenant-based fundamentals have improved considerably over the previous four-year period.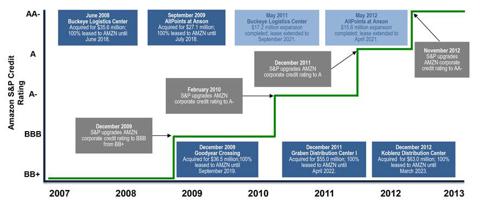 Also, Chambers Street has proven that the company can create value by way of expansions. In my home town of Spartanburg, SC, Chambers Street recently expanded a 100,606 square foot facility leased to Sally Beauty Holdings (NYSE:SBH). By increasing the overall space by 90,000 square feet, Chambers Street was able to extend the primary lease term (now expiring May 31, 2013) and generate an accretive 12% return on the $3.4 million expansion.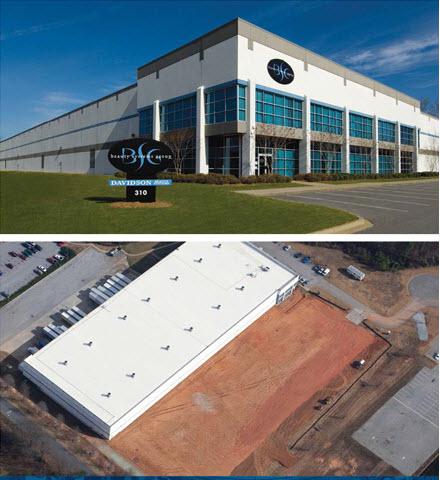 Compared with the public REIT peers, I believe that Chambers Street will compare favorably to W.P. Carey (NYSE:WPC) and Lexington Realty Trust (NYSE:LXP). Both of these REITs own larger box assets and they both have conservative and well-positioned balance sheets. Here is a snapshot of Chambers Street's capitalization: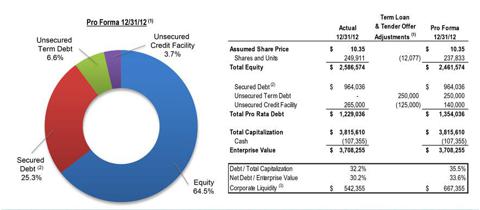 In preparation for its public REIT listing, Chambers Street has structured its debt with well-laddered debt maturities.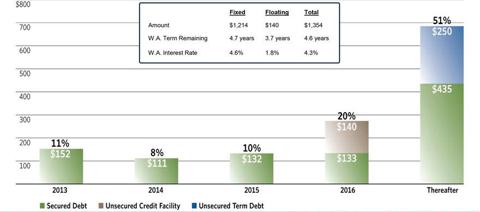 In addition, Chambers Street has limited (31 percent) leases expiring through 2017.

Also, based on a mid range listing price (of $10.35), Chambers Street's Net Debt + Preferred / Total Enterprise Value (or TEV) should be below the peer group average.

Welcome to the Big Leagues
Chambers Street has built out a sound management team that consists of veteran founder, President and CEO, Jack Cuneo. Formerly, Cuneo was Chairman and CEO of Merrill Lynch Hubbard ('97 - '00) and Managing Director of Merrill Lynch Global Real Estate and Hospitality Group ('00 - '02). He was also Executive Managing Director with CBRE Global Investors ('03 - '12) and President and CEO of CBRE Advisors ('04 - '12).
Other notable Chambers Street executives include Philip Kianka, EVP and COO. Kianka has public REIT experience as he was previously VP and Senior Asset Manager with Lexington Realty Trust ('97 - '05). Also, Martin Reid, EVP and CFO, was with Interstate Hotels and Resorts ('10 - '12).
Chambers Street is a Sound New REIT
On May 21st Chambers Street plans to list a $125 million tender offer that is expected to last a minimum of 20 business days. The price for the shares should be settled at a price between $10.10 and $10.60. There will be no lock-up and the modified "Dutch auction" tender offer should pay a dividend in the range of 4.75% to 5.0%.

I expect Chambers Street to trade similar to Healthcare Trust of America in that HTA entered the public markets in a similar "Dutch auction" format, and the Scottsdale-based health care REIT is set to unleash its 3rd round (75 percent) of shares in June. The following and final shares will be unlocked in December 2013.
All new public companies must get institutional research support, and unless you are Houdini (The Mighty and Wonderful Nick), Chambers Street will need to get traction over time. Cuneo has a track record and I think because of his retail background, Chambers Street will focus its dividend policy on the retail investor base - that means growth!
Assuming Chambers Street gets to its mid range ($10.35), I think that the dividend yield will be compelling. This is not a STAG play (B market REIT), instead Chambers is more closely aligned with Lexington and W.P. Carey.
My recommendation: I would grab shares in the low 9's ($9.00 - $9.25). That would be a bargain. However, you must remember that Chambers Street will likely follow a similar path of HTA and I believe it will take time. But, who knows, Houdini was able to pull off some magic and American Realty Capital Properties has been one of the luckiest rabbits in REIT-dom (ARCP reports earnings Monday, May 6th).Chambers Street could be the next REIT-extraordinary...stay tuned!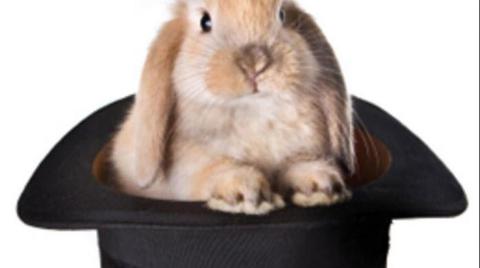 Source: Chambers Street 8K
Other REITs mentioned: (NYSE:O), (NYSE:NNN), (NYSE:STAG), (NYSE:DCT), (NYSE:EGP), (NYSE:PDM), (NYSE:DRE), (LRY)
Disclosure: I have no positions in any stocks mentioned, and no plans to initiate any positions within the next 72 hours. I wrote this article myself, and it expresses my own opinions. I am not receiving compensation for it (other than from Seeking Alpha). I have no business relationship with any company whose stock is mentioned in this article.