Neutral Tandem Inc. (NASDAQ:TNDM) has been kind to investors over the last 6 months. The stock is currently up 126% above its low from November as the company continues to post extremely competitive returns on a quarterly basis. The company provides the switches which rout voice traffic between carriers. The beauty of this business is the fact that all three of the major voice mediums (wire-line, wireless, and cable) all use the company's services.
The last quarter's earnings release was particularly exciting as TNDM posted revenues of $38.2 million which was 45.8% above the first quarter of 2008. Net income was $9 million (or 27 cents per share), up a full 125% over last year's profits. The strength was largely attributed to an increase in minutes carried over the network which came in at 19.7 billion minutes. At least part of this increase was due to the 9 new markets opened in the first quarter. TNDM now operates in 109 markets and continues to increase that number.
Growth is particularly impressive given the economic weakness faced over the last few quarters. Tandem offers investors a chance to participate in a growth story which has very little correlation to the broader economy. After all, unless pricing methods change it is unlikely that consumers will cut back on the number of minutes they spend on the phone regardless of the economic condition. In fact, one could make an argument that higher levels of unemployment may actually increase the number of minutes used for certain demographics.
Tandem is actively growing its number of markets served. At the end of the first quarter 2008 the company served 71 markets. The report for Q1 2008 showed 109 markets served with guidance for a full 30 additional markets during fiscal 2009. Expanding to new markets certainly takes a fair amount of capital and TNDM is guiding for $18 to 20 billion in capital expenditures this year.
Many technology companies are struggling to find the capital to actually spend as credit and liquidity issues make it difficult to find expansion dollars. But TNDM shouldn't need to rely on any outside capital as the company finished the quarter with $128.6 million in cash and no long-term debt. It's certainly nice to have the financial flexibility during a time where opportunity is prevalent but competitors are facing capital challenges.
Looking towards the rest of the year, management is guiding for revenue of $158-165 million (which is an increase from previous guidance of $151-158 million). Management also increased the guidance for total minutes in 2009 and is now expecting to handle 83 to 87 billion minutes over its network.
Analysts are expecting a 72% increase in earnings for the second quarter which would put EPS at $0.29. For the full year the company is expected to earn $1.17 and then in 2010 we should see growth of 22% to $1.43. At this point most analysts appear to be filtering earnings expectations through conservative filters across their list of covered stocks. If TNDM continues its pattern of surprising to the upside, we could see the stock continue its strong run.
Investors definitely have to pay extra for the growth and stability of TNDM. Currently the stock price is roughly 23 times expected earnings for 2009 which is higher than many peers. But on the other hand, there aren't many peers who are posting the same kind of solid gains seen with TNDM.
In a more constructive market it is not abnormal for growth companies like this to trade for 30 to 35 times forward earnings. If this market eventually begins to revert to historical trends, we could see TNDM trade at 30 times 2010 expectations. This trend would have the ability to cause the stock to trade above $42 even with no adjustment to 2010 expectations. At this point it appears that despite the premium multiple, TNDM can be a strong component of a growth stock portfolio.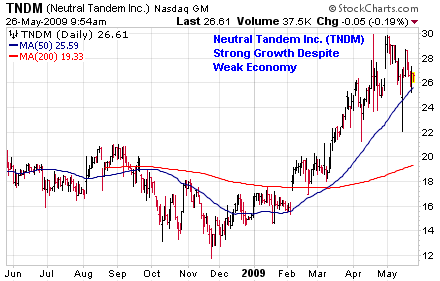 Disclosure: Author does not have a position in TNDM.