Continental Resources (NYSE:CLR) engages in the exploration, development, and production of crude oil and natural gas properties in the United States (primarily in Montana, North Dakota, and Oklahoma).
As of December 31, 2012, its estimated proved reserves were 784.7 MMboe, with estimated proved developed reserves of 317.8 MMboe.
Market and Multiples
Market cap
$14,150
Enterprise value
$18,050
Shares out.
184
LTM EBITDAX
$1,963
Closing price per share 5/01/13
$77.47
EV/EBITDAX - 2013E
7.0x
PEG ratio
0.42
Peer group
6.8x
Share sold short / Days to cover
2.19 / 3
EV/EBITDAX - 2014E
5.8x
ROE
~27%
Peer group
6.0x
Reserves
PDP PV-10 / share
$41.90
EV / Proved BOE
$22.99
Total Proved PV-10 / share
$72.10
Total Proved PV-10 net debt / share
$53.12
(in millions, unless otherwise stated or on a per share basis)
The latest
CLR to announce is set to announce earnings on May 8, 2013.
On April 2nd, CLR announced the pricing of a $1.5 billion offering of New Senior Notes due 2023. Capital will be used to pay down current revolver balance and general corporate purposes. This will provide it ample liquidity to achieve its project growth over the next couple years.
During 4Q earnings call, management provided current (February) production levels of 120 Mboe/d which shows a 13% growth rate in production over Q4 which reaffirms management's production growth guidance of 35-40% for 2013.
Production mix stands at 26% natural gas and 74% liquids.
U.S. Geological Survey estimates the Bakken and 3-Forks formations to contain ~7.5 Bbbls of undiscovered, technically recoverable oil. This is a three-fold increase from the last survey released by the USGS in 2008. While the estimate for the Bakken remains the same as in 2008, you must consider the fact that this number remains at ~3.5 Bbbls despite millions of barrels of oil that have been produced since 2008 from the Bakken formation.

Outlook
3-Forks: Recent completion of the Angus 2-9H-2 McKenzie county was a major success with an IP rate of 1,556 boepd. This well is 27 miles away from the first exploratory well in the 3-Forks, which was also a success. This will be a key part of reserves growth going forward as it increases production, proves up leases, and increases drilling inventory.
Bakken: CLR is drilling wells and growing production faster than any other competitor in the Williston Basin.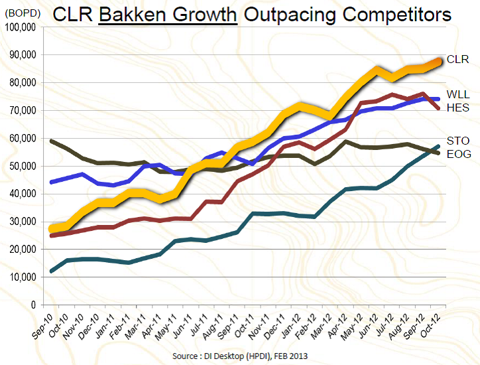 At year-end 2012, CLR had 546 MMboe of proved reserves in the Bakken formation which is a 92% increase from year-end 2011. The company has3,439 potential drilling locations remaining in its current acreage (based on 320-acre spacing). Its daily production of 68 Mboepd represents 13% of the basin's total production. All this to say, the company knows what it's doing and it's executing its production plan with ease and improving efficiencies to lower LOE (infrastructure) and CapEx (pad drilling).
SCOOP: Continental's South Central Oklahoma Oil Province (SCOOP) has proven to be a solid asset, but recent revisions of production profiles/mix of recent wells has lowered potential returns due to lower percentage of crude (24% versus previous estimates of 40-50%). CLR plans to scale its rig count up from 6 operated rigs to 12 by 2014. This is will be a great asset for the company especially if natural gas pricing recovers and as it better understands the reservoirs it is targeting.

Bottom line
CLR has grown production and reserves very effectively over the past five years and its stock price reflects that.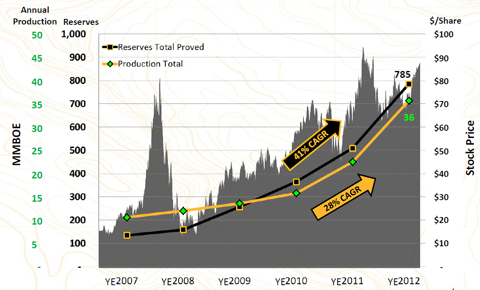 I don't foresee CLR having in any major price drops or fluctuations going forward, but if you can catch it on a down day due to industry news (i.e. falling oil prices) or when someone is taking gains and selling off their position then jump on the stock quickly.
Analysts seem to have price points for CLR around $100. I see no reason why that won't become a reality as the company continues to grow its reserves. You can also count on the natural gas upside from its SCOOP assets, so start accumulating your position when you feel comfortable with the company.
Disclosure: I have no positions in any stocks mentioned, and no plans to initiate any positions within the next 72 hours. I wrote this article myself, and it expresses my own opinions. I am not receiving compensation for it (other than from Seeking Alpha). I have no business relationship with any company whose stock is mentioned in this article.