Bank of America's (NYSE:BAC) turnaround efforts have been well publicized as 'Project New BAC' has been undertaken by CEO Brian Moynihan. A major part of the turnaround effort is in deleveraging the giant bank, lowering debt, increasing equity and trying to make money the "old fashioned" way. The turnaround is working, with BAC expected to make about four times as much money in 2013 as it did in 2012. This article will examine the deleveraging efforts of the bank and the implications the turnaround may have on earnings over the next three years.
To do this, we'll take a look first at the bank's long-term debt and the ratio of equity to total assets.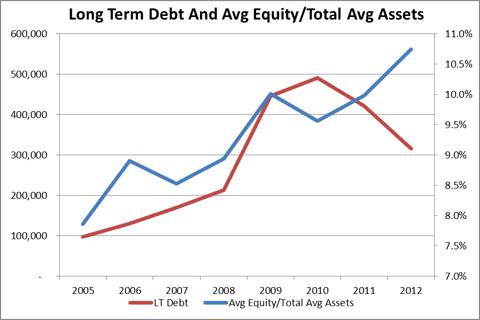 In the past eight years, BAC has taken its long-term debt from about $100 billion in 2005 to a staggering $500 billion in 2010 and finally just over $300 billion at the end of last year. As a result, we see the average equity divided by average total assets ratio rise from 8% in 2005 to nearly 11% last year. This is a monumental improvement in terms of deleveraging for BAC. While $300 billion in long-term debt is still huge, the sheer size of the decline in that balance over the past two years is astounding by itself. This means that BAC is financing more and more of its assets with equity and deposits instead of borrowing in order to acquire more assets. The strategy of leveraging up is part of what got BAC into immense trouble during the financial crisis, eventually requiring a government bailout.
The main point of this chart is that both of these numbers are moving quite swiftly in the right directions. It is desirable for obvious reasons to have less long term debt as it is relatively expensive to service in terms of possible financing vehicles for a bank. In turn, this increases the average amount of assets that are financed with equity as the amount of assets financed with debt decreases. This means that, all else equal, BAC should see more money accrued to earnings as it is not paying enormous amounts of interest anymore.
In terms of what this could mean for earnings, we'll take a look at the amount of tangible common shareholders' equity, or TCSE, and the return on that metric, the ROATCE.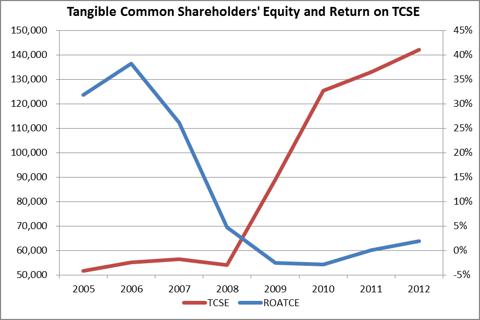 Here we can see what BAC has accomplished over the past eight years. The red line, tangible common shareholders' equity, shows enormous increases around the time BAC began issuing massive amounts of stock during the financial crisis. In fact, TCSE has nearly tripled since 2008 to settle at about $145 billion last year. Since BAC stopped its extraordinary dilution of shareholders in order to raise capital, the increases have been largely due to the bank actually making money and accruing capital that way.
The return on TCSE shows a very interesting story. First, we can see the metric was nearly 40% prior to the financial crisis. This implies BAC was making loads of money from loads of debt. Equity was quite low so every dollar that was earned on the very small amount of equity was magnified. Fast forward to the financial crisis and the ratio plummeted over 4,000 basis points to -247 basis points in 2009 and -287 basis points in 2010. The upside to this metric is its move up since then, settling at 189 basis points last year. While this is an atrocious ROATCE, based on BAC's projected earnings for 2013 and my estimation of average TCSE, the ratio should be somewhere in the neighborhood of 889 basis points for 2013. This is still not great, but it is a long way from 189 basis points.
Now we will determine where BAC's ROATCE may go in the next three years and what it would mean for earnings.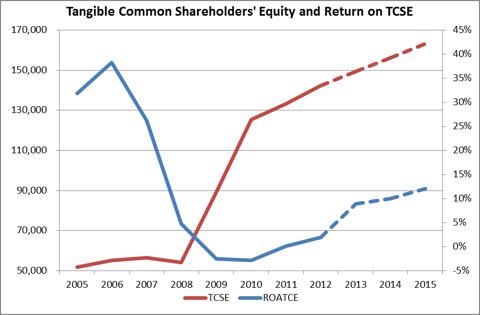 This is the same graph except I've appended estimates for 2013 through 2015 (the dashed lines). This more conservative scenario shows ROATCE at 8.89% in 2013, 10% in 2014 and 12% in 2015. Given competitors' values in this metric, that is still well within what BAC should be producing once the turnaround is complete. With my estimates of TCSE increasing by about $7 billion per year, a value of $163 billion is implied for 2015.
The implications of these estimates on earnings can be seen below.
| | | | |
| --- | --- | --- | --- |
| Year | ROATCE | TCSE | Net Income |
| 2013 | 8.89% | 149,249 | 13,261 |
| 2014 | 10.00% | 156,249 | 15,625 |
| 2015 | 12.00% | 163,249 | 19,590 |
We see that BAC is projected to make something like $13.3 billion this year and according to my projections, should make almost $20 billion in 2015. If this proves to be correct, BAC is currently trading for only 6.7 times 2015 earnings.
Under a more aggressive scenario where BAC increases its ROATCE more quickly to reach industry norms, net income rises even more quickly on the same TCSE base.
| | | | |
| --- | --- | --- | --- |
| Year | ROATCE | TCSE | Net Income |
| 2013 | 8.89% | 149,249 | 13,261 |
| 2014 | 11.00% | 156,249 | 17,187 |
| 2015 | 14.00% | 163,249 | 22,855 |
If BAC can increase its ROATCE by 2% in 2014 and 3% in 2015, earnings of $22.9 billion are implied. This would value BAC at only 5.7 times 2015 earnings.
The point of this analysis is to show that BAC's attempts to deleverage while still operating profitably are working. Indeed, I maintain that these two things go hand in hand. Even if BAC doesn't achieve my ROATCE targets, the bank is still cheaply priced. Given that BAC is currently miles away from an industry standard ROTCSE, I think it's a long shot that it doesn't rise dramatically in the next couple of years, producing massive earnings in the process. Project New BAC is working and the proof is in the numbers we've just seen. If you wait for ROATCE to rise to industry standards, you will have missed the move up.
Disclosure: I am long BAC. I wrote this article myself, and it expresses my own opinions. I am not receiving compensation for it (other than from Seeking Alpha). I have no business relationship with any company whose stock is mentioned in this article.