Background:
Aaron's Inc. (RNT) is a NYSE-listed company, founded in 1955 in Atlanta, GA. Formerly known as Aaron Rents, the company operates 1,053 franchises and 504 consumer electronics, appliance, and residential/office furniture sales/lease stores in the U.S.A. and Canada.
Outlook:
Are the fundamentals strong enough for this stock to possibly move higher? I would have to say yes. EPS in the past four quarters has been growing at a 24%, 31%, 50%, and 55% pace, respectively. During the past eight quarters sales have been just as steady with 4%, 5%, 7%, 14%, 16%, 16%, 11%, and 15% growth, respectively. The steady growth is expected to continue with 2009 and 2010 YOY EPS estimates are looking for a 29% and 12% return, respectively.
This EPS and sales growth, on top of the 12% ROE, debt of only 15%, cash flow of a remarkable $10.38 a share to .65 in the most recent quarter, and an EPS growth rate of 12%, gives the stock plenty of reasons to rally as long as the smart money continues to invest in it. Both growth and value funds can find something to like in this stock, with these numbers.
For those that think the stock is too expensive remember it has a P/E ratio of 16 which is in the middle range of its five-year historical range of 9-26. It isn't cheap but it isn't expensive either and based on forward numbers the P/E is pretty darn cheap. Another reason for value/income funds to find interest in this stock is the current yield of .2% on each share. It isn't much, but it's better than nothing-- and you are getting a strong growth company that is paying out some income.
Institutional investors:
When we look at the number of mutual funds investing in this stock over the past four quarters, it becomes clear that the smart money is indeed still interested. Mutual fund growth has gone from 111 to 126 to 135 funds the past four quarters, showing steady growth in the mutual fund community. These 135 funds now own 27% of the float. Management only holds 6% of the shares outstanding but Aaron's Inc. is no IPO and to expect management to own a lot of this old company is a bit much.
Fundamentals:
To confirm the fundamentals, let's take a look at Investor's Business Daily for company rankings versus other stocks out there in the market.
The EPS rating is a very high 94 (top 6% of all stocks listed)
The RS is a strong 83
The group RS needs some work coming in only at 62
An SMR (sales, profit margin, ROE) rating of A, an ACC/DIS rating of A-
A composite rating of 98
A timeliness rating of A
An earnings stability of 8 (1 is the best).
The only weak rating is the sponsorship rating which is a lowly D, but that is due to the punishment of growth funds the past year.
Technical analysis:
Savvy investors know that the fundamentals are not the only thing you need to rely on. You also need to do some technical analysis to maximize your potential gains while reducing your risk. AAN is bouncing right off very strong support at the 50 day moving average. The stock has been in a new strong uptrend off the October lows with very strong accumulation coming in from February to May. After announcing earnings on April 28 the stock exploded higher on huge accumulation. Since then it has pulled back on very light volume (indicating no sellers) to the 50 DMA. The bounce off the 50 DMA on Tuesday came on much heavier volume with the stock putting in a very bullish intraday move.
Sadly there are no positive technical divergences on the indicators that I use but indicators are just indicators. The true tell of a stock is the price and volume action and that action has been spectacular recently. If you go long AAN here, make sure you cut your loss with a close below the 50 DMA. This stock should move higher right away, with the market.
Timing:
If it does not continue to follow-through from Wednesday's bounce, I would love to see it continue to move sideways and have another bounce off the 50 DMA that would see price also make a new recent high. If that move happens with very heavy volume, I will definitely be going long AAN. If AAN would have had more volume on Tuesday I would already be going long AAN. However, if you go long, I sure can't blame you.
Click to enlarge: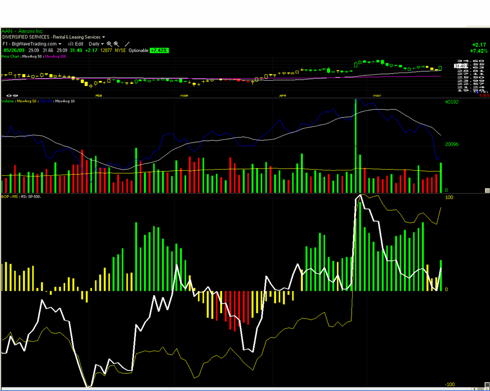 Disclosure: At the time of publication, Joshua did not have any positions in Aaron's Inc.