With gold at a two-year low, miners are getting no love from Wall Street. Second largest by market cap, Barrick Gold Corporation (NYSE:ABX) has been treated like an ugly duckling with bird flu. Its shares have been hammered so badly that on April 23, it was trading at just 0.78 times its book value. This is a company that during the past decade grew revenue 615% from $2.04 to $14.55 billion. Naturally, I had to take a closer look to see if the Barrick beatdown is warranted or an overreaction.
The Pascua-Lama mine on the Chile-Argentina border that Barrick has already invested $4.8 billion into, will overrun to an estimated $8 or $8.5 billion. Compounding the problem at the high altitude mine is a recent court order to halt operations on the Chilean side. Apparently, Chile didn't realize that gold and silver mining would be bad for the local environment when the project was initially approved.
Barrick continues to shuffle management at Pascua-Lama, but it's unlikely that the project will begin in 2014 as planned. This leaves Barrick saddled with debt for the project, which if retreating gold price trends continue might not prove profitable in the first place.
In the Dominican Republic, recently elected President Danilo Medina is trying to boost his popularity ratings by moving the goalposts after the game started. Barrick has a 60% share of the Pueblo Viejo mine that cost about $3.7 billion. Goldcorp (NYSE:GG) holds the other 40%. Medina doesn't like the 3% tax on the operation's profits and wants to raise it. Of course, he didn't offer to share any more of the project's financial risk.
The Dominican Republic's increasing resource nationalism isn't an isolated event. Years of enticing investors by emphasizing "cash costs" has had an unexpected effect. During the decade long commodities boom that now appears at an end, politicians in South Africa, Zimbabwe, Indonesia, Brazil, and Vietnam have all boosted their popularity by imposing export levies on unrefined ore. I doubt any of them will be quick to roll back those levies now that it appears the boom is over.
For a bit of perspective, let's have a look at Barrick's operating margin from 2003-2008 versus the price of gold during the same period. Although its operating margin stayed positive throughout the period, it hardly grew as fast as the market price of its end product. When gold peaked in 2011 Barrick's operating margin neared 50%, but has fallen into negative territory in the past two quarters and will most likely remain there for the rest of the year.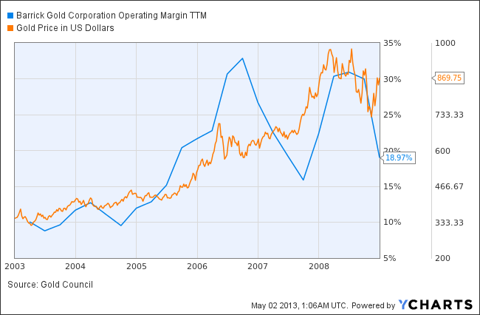 Click to enlarge
If gold hovers near the current $1,450 mark, a combination of capex reductions and asset sales in Australia, and Tanzania will more than likely keep Barrick afloat, but severely hinder growth. During the Q1 earnings call, Barrick Gold CEO Jamie Sokalsky was confident that the Cortez, Goldstrike, Veladero, Lagunas Norte, and previously mentioned Pueblo Viejo mines are profitable enough to keep the company solvent if prices retreat further. I'm not as optimistic.
Seeking Alpha contributor, Hebba Investments, did an excellent job of estimating the true costs of producing gold, which is a bit frightening. If gold can't hold at current levels and retreats another 20%, Barrick will be left with a staggering pile of debt and very little income to pay it down with. About a week ago both S&P and Moody's lowered Barrick's credit rating to BBB and Baa2 respectively. It was able to raise $3 billion in a mixed term bond offering to refinance existing debt, but it is hovering dangerously close to another downgrade.
At just 0.8 times book value, opening a long position on Barrick is tempting. A return to 2011's prices within the next few years would lead to legendary returns. But that's hardly likely. Even in a somewhat optimistic scenario with gold hovering near $1,450 for several years then slowly rising, the returns just aren't exciting enough to warrant the risk.
If, like me, you find the extraordinarily low valuations of well run mining companies tempting, there are plenty opportunities in the industry that carry less risk. At about 1.15 times book and a trailing twelve P/E of about 9.9, Newmont (NYSE:NEM) isn't as cheap as Barrick, but its stronger balance sheet makes it much more tempting. Also, Freeport-McMoRan Copper & Gold (NYSE:FCX) presents a similar opportunity. The more diversified giant has explosive growth potential, and is currently trading at a similar valuation to Newmont.
Disclosure: I have no positions in any stocks mentioned, but may initiate a long position in NEM, FCX over the next 72 hours. I wrote this article myself, and it expresses my own opinions. I am not receiving compensation for it (other than from Seeking Alpha). I have no business relationship with any company whose stock is mentioned in this article.