Over the last few months, some features of the global economy appear to have evolved. The chart below highlights this: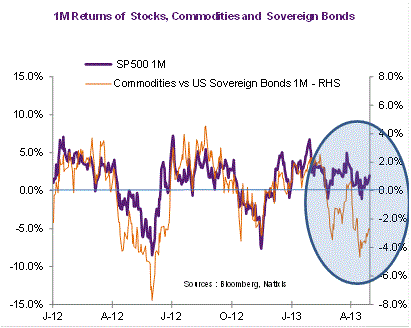 Periods when stock returns were positive used to come along with an outperformance of commodities against the U.S. sovereign bond market. This is no longer the case. This is related to the failure of the so-called great rebalancing but also to the relative isolation of the commodity markets.
What would a New New Normal look like?
1. After more than a decade-long demand pushed market, commodity prices are supply driven. The message on the state of the global economy is no longer straightforward (see copper prices disconnecting with almost everything), while the oil market is supply driven (U.S. oil, Angola, Iraq via Kirkuk, Vankor Field in Russia, Brazilian Pre-salts…);
Oil prices may be depressed by a very high level of refineries maintenance and copper and china PMI may have recoupled recently. But this is not enough to rule out the fact that the commodity space has structurally changed.
2. Sovereign bond yields remain capped by central banks. This is not really new, but contrary to late 2012 expectations, advanced countries' CB balance sheets continue to soar with no genuine exit in sight:
a. In Europe, falling non-core spreads are not a reflection of better growth ahead, nor of strong improvement of the eurozone governance;
b. In spite of early warnings by the IMF and even some Fed members, central banks continue to pour huge amounts of liquidity;
c. Forward guidance is no longer a Fed story as the ECB is also ready to leave accommodation for "as long as needed."
3. Gold prices suggest that the inflation risk is better understood (read: lower);
a. CPI trends in advanced countries are a good example.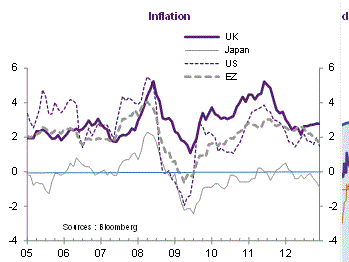 4. Emerging markets may complain about the impact of global liquidity on their economies and domestic (+FX) markets, but most of their problems are caused by their growth model: higher labor costs, dependence on OECD's demand and, in some cases, commodity prices. We can stress several idiosyncratic risks:
Overvalued exchange rates, with currencies pegged to the dollar ; Rapid monetary base and credit growth ; the emergence of large current account deficits, and lastly, the financing of these external deficits by short-term capital inflows. I see ominous signs in India, Turkey and Brazil mostly.
a. The main outcome is that discrimination matters when it comes to emerging markets, something that can explain the disconnect between the S&P 500/MSCI Emerging relative performance and ADXY (ADXY increases when Asian currencies appreciate).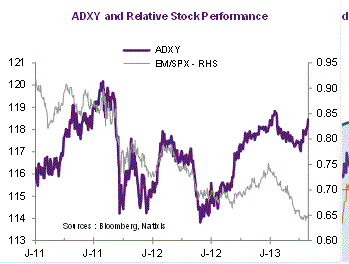 b. For example, Brazil is struggling with an overvalued currency, which will begin to negatively impact its domestic manufacturers, while Mexico is thriving on the manufacturing/energy renaissance.
As with any "new normal," it may change by tomorrow, but I do believe that some patterns are here to stay. For that reason, it is too early to play some basic risk on / risk off trades. Stay long stocks AND long sovereign bonds. Stay short commodities and long stocks. Do not see a stronger USD as the signal of forthcoming weakness for U.S. stocks.
Disclosure: I have no positions in any stocks mentioned, and no plans to initiate any positions within the next 72 hours. I wrote this article myself, and it expresses my own opinions. I am not receiving compensation for it (other than from Seeking Alpha). I have no business relationship with any company whose stock is mentioned in this article.