The U.S. housing market has been recovering. The average selling price has been steadily rising by almost 10% YOY. Housing starts have been up. Will the current housing market growth continue, slow down, or reverse? Let's examine the current state of the U.S. housing market to find out.
The positives
1. Rent to ownership ratio favors buying over renting
At current home prices, it is still approximately 20% cheaper to buy a house than to rent it. Historically, this ratio usually stays below 100%, whereas now it is at 120%. This gives roughly 20-30% upside to the price of U.S. homes from the current levels. Demand for house ownership is therefore expected to remain strong until this ratio falls back closer to historical levels.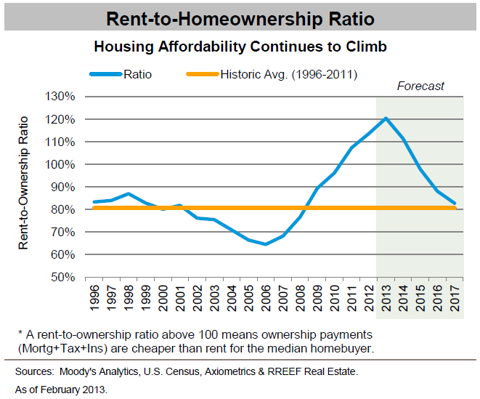 2. Housing starts
Monthly housing starts have been steadily rising for the last two years. They also have plenty of room to grow to roughly 1.6 M per month if we put the numbers into longer-term historical perspective. The trend in the past few months has not been slowing down. Nevertheless, demographic shifts of aging population and slower population growth will put a limit on the speed of growth of the housing starts in the long run.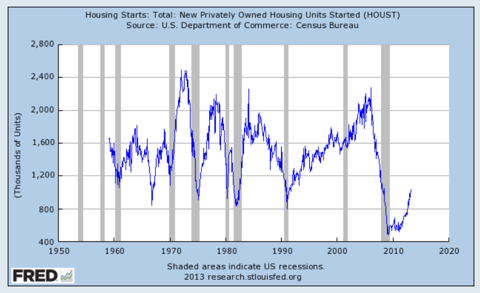 3. Home prices have been steadily rising
For the past 12 months, the National Home Price Index is up by a robust 9.3% YOY. However the number is still 29% below the 2006 all-time peak.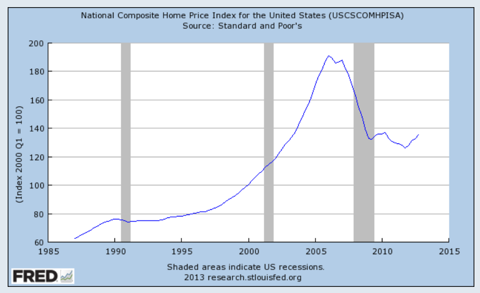 4. Existing home sales have been rising
Although flattening in the last couple of months, existing home sales are up YOY, hovering just below 5M units sold per month. This could signal a topping of the index.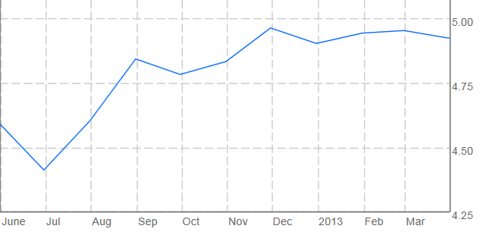 5. New home sales have been climbing
New home sales are still historically low. But have been rising since 2011 and have plenty of room to grow to historical levels, provided that there is enough demand.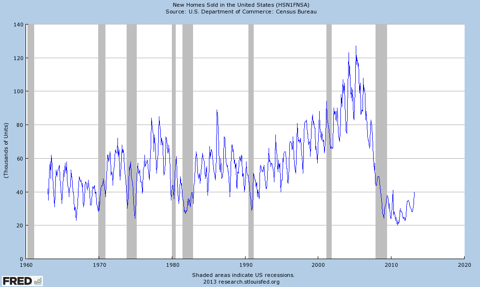 6. Existing homes inventory
This figure has hit a 13-year low in January 2013 at 1.74M homes available for sale on the market. However, the number has increased from its January lows and now hovers just below 2M units. The inventory in 2013 has been approximately 10% up over last year, which sported record low numbers. This indicates that the market may have reached a bottom in the number of existing homes available for sale. If the inventory keeps rising, house price increases might start slowing down.

source: Ycharts.com
The negatives
1. Total household debt is still very high
If we include all household liabilities and not just mortgage debt, households are still highly indebted. Room for more debt-taking is limited. Although an increase in houses purchased without taking a mortgage is possible, such increase would probably not be enough to meaningfully bid up the market.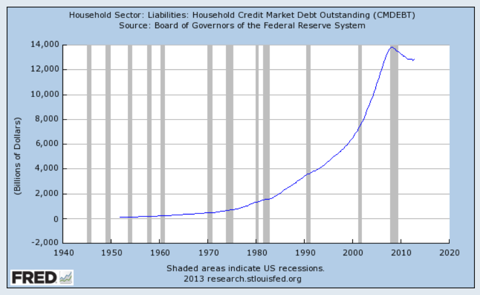 2. Risk of rising interest rates
The total household debt has started to recede slowly. However, the ultra-low interest rates accounted for virtually all of the positive change in lower household liabilities as a percentage of their disposable income. If the interest rates rise to their long-term natural mean, this would immediately put an end to the current residential housing rebound.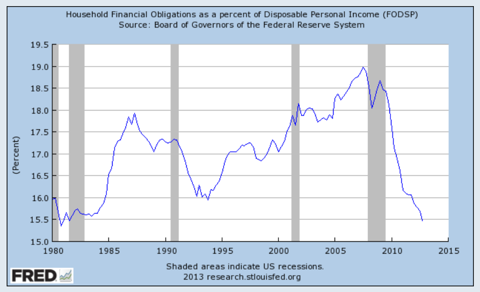 3. Younger generation is already heavily indebted
Current younger generation is heavily burdened with other types of debt, such as student loans. Due to this factor, coupled with stagnant real wages, higher unemployment and lower starting salary, the current generation of potential first-time home buyers is likely to either put off the first purchase to a much higher age or stay as renters for a lifetime. Total disposable income accumulated over their lifetime is very likely to be lower than what the current baby boomers were able to secure.
4. Higher employment will require more mobility
Especially the younger generation, but also general population, finds it increasingly hard to secure a stable long-lasting career. With jobs ever more scarce, the working population is more likely to stay in a rented place to be more flexible and prepared to move more often around the country to chase available jobs. Not only to secure higher average annual salary increases and career prospects, but to be able to find a suitable job in the first place.
Homebuilder valuations
The prices of U.S. Homebuilders Index (NYSEARCA:XHB) is up over 40% in the past 12 months. Many individual stocks have either suspiciously high valuations or severely adverse financial results and seem to be overvalued:
| | | | |
| --- | --- | --- | --- |
| Stock | 12 months | YTD | P/E ratio |
| US Homebuilders index | 35.6% | 13.2% | N/A |
| Lennar Corporation (LEN) | 47.3% | 13.2% | 12.3 |
| Ryland Group (NYSE:RYL) | 99.1% | 23.8% | 32.2 |
| PulteGroup (NYSE:PHM) | 118% | 20.8% | 26.9 |
| KB Home (NYSE:KBH) | 173.4% | 46.9% | loss |
| Toll Brothers (NYSE:TOL) | 33.3% | 8.1% | 11.8 |
| D.R. Horton (NYSE:DHI) | 56.5% | 33.6% | 8.4 |
| Beazer Homes USA (NYSE:BZH) | 36.7% | 9.7% | loss |
| M.D.C Holdings (NYSE:MDC) | 37.2% | 4.5% | 29.1 |
| Meritage Homes (NYSE:MTH) | 80% | 34.2% | 14.1 |
| Hovnanian Enterprises (NYSE:HOV) | 219.2% | -19.3% | loss |
Conclusion
The U.S. housing market seems to have reached an inflection point of the fastest growth. Home inventory has likely reached its lowest point and has been rising 10% YOY. This will probably slow the price appreciation to 3-6% p.a. For the rest of 2013 and for 2014, I expect price and sales growth rates to decelerate. However, the general direction of prices and sales volume should still be up, even though the growth will be lower.
The largest gains in the prices of homebuilders have already been realized. Homebuilder stocks are still likely to generate positive annual stock returns. However, the gains will probably be more normalized and in line with the broad markets at best. In the case of a slowing U.S. economy, homebuilder stocks are very likely to be hurt and at risk of underperforming the broad market or even going into negative territory.
Recommendation
I recommend playing a wait and see game by taking just some profits off the table by trimming a small share of homebuilders positions. Alternatively, investors can sell covered calls on homebuilding stocks in their portfolio for the next few months to see if the housing is really slowing down or if it can gain traction again.
Disclosure: I have no positions in any stocks mentioned, and no plans to initiate any positions within the next 72 hours. I wrote this article myself, and it expresses my own opinions. I am not receiving compensation for it (other than from Seeking Alpha). I have no business relationship with any company whose stock is mentioned in this article.