On Wednesday May 1, DTE Energy Co. (NYSE:DTE) announced a quarterly dividend increase of $0.035 /share to bring its upcoming dividend payout to $0.665/share. It should be noted that this increase represents a 5.64% rise from its prior dividend of $0.63/share, which was paid on March 14. In the wake of DTE Energy's dividend increase I wanted to examine several of the catalysts behind my decision to consider a long-term position in this particular high-yielding energy play.
According to DTE Energy's chairman, president and CEO, "The decision to increase our dividend reflects DTE Energy's confidence in our growth strategy and in our continued commitment to increase shareholder value. We also understand that dividends, as well as earnings growth, are some of the key components in providing a competitive return to shareholders."
If DTE can stick to its strategy of returning equity to shareholders, there's a very good chance the company's dividend growth of roughly 5% per year could be maintained over the course of at least the next several years.
Overview: Based in Detroit, Michigan, and together with its subsidiaries, DTE operates as an energy company engaged in the generation, purchase, distribution, and sale of electricity to approximately 2.1 million residential, commercial, and industrial customers in southeastern Michigan. (Yahoo! Finance) On Wednesday, shares of DTE, which currently possess a market cap of $12.54 billion, a P/E ratio of 18.62, a forward P/E ratio of 16.96, and a yield of 3.42% ($2.48), settled at $72.44/share.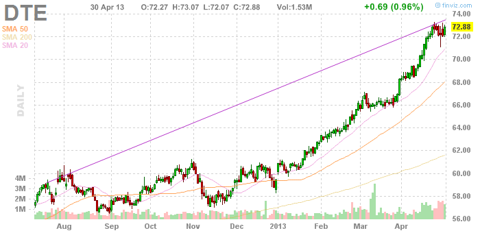 Click to enlarge
Earnings Performance: On Friday, April 26, DTE Energy Company reported the results of what I believe to be a very strong first quarter. The company's Q1 EPS of $1.34/share beat Street estimates by $0.26/share, and its revenue of $2.51 billion beat Street estimates by an impressive $0.20 billion. From a comparative standpoint, the company's operating earnings of $1.34 per diluted share in Q1 2013 outperformed its operating earnings during Q1 2012 of $0.91 per diluted share, by a margin of 47.25% or $0.43 per diluted share.
According to DTE Energy's executive vice president and chief financial officer, David E. Meador, "We will continue to focus on maintaining solid earnings and cash flow combined with a strong balance sheet, while ensuring that our underlying priority is to provide our customers with clean, safe and reliable energy at an affordable price."
One of the more important catalysts investors should pay close attention to is the price of Natural Gas as any significant price change in the commodity would directly affect earnings to both the upside and downside.
Dividend Behavior: Since June 17, 2010, DTE has increased its quarterly dividend a total of three times by an average of $0.03375 each time. From an income perspective, the company's forward yield of 3.59% coupled with its payout ratio and its continued annual increases could equate into a very viable income option for long-term investors in search of a very conservative dividend.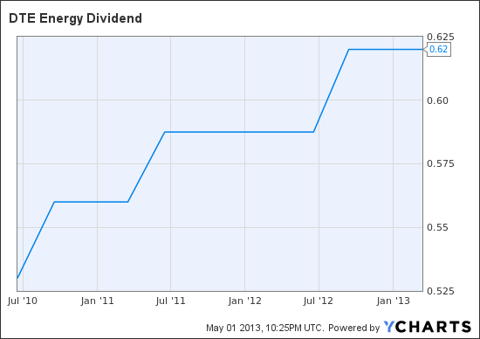 DTE Dividend data by YCharts
Conclusion: When it comes to those who may be looking to establish a position in DTE Energy, I'd continue keep a watchful eye on not only the company's dividend behavior over the next 12 months, but any key developments that may help enhance the company's earnings growth over the next 12-24 months.
Disclosure: I have no positions in any stocks mentioned, but may initiate a long position in DTE over the next 72 hours. I wrote this article myself, and it expresses my own opinions. I am not receiving compensation for it (other than from Seeking Alpha). I have no business relationship with any company whose stock is mentioned in this article.