The markets are resilient right now and even for these names which are missing on earnings or revenues we are seeing an initial sell-off but then immediate base building as buyers come in to support the shares. There are buyers on the sidelines right now and they have the feeling that they may have already missed the run-up, thus the frenzied buying as we see sales on stocks. In the past these names would have been 'broken' stocks, but today it is viewed as a buying opportunity and if that is not bullish then we do not know what is.
Chart of the Day:
Just a reminder of how big the technology bubble really was. It was so big that even with the strength in general markets and the growth of Apple, Google, et al that we are still far from the all-time highs. The lone US index not anywhere near the highs.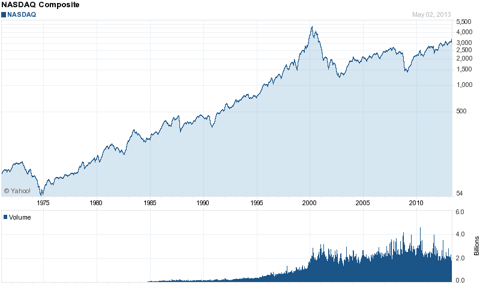 Chart courtesy of Yahoo Finance.
We have economic news due out today, and it is as follows:
Non-Farm Payrolls (8:30 a.m. ET): 155k
Non-Farm Private Payrolls (8:30 a.m. ET): 166k
Unemployment Rate (8:30 a.m. ET): 7.6%
Hourly Earnings (8:30 a.m. ET): 0.2%
Average Workweek (8:30 a.m. ET): 34.6
Factory Orders (10:00 a.m. ET): -2.5%
ISM Services (10:30 a.m. ET): 54.0
Asian markets finished higher today:
All Ordinaries -- up 0.03%
Shanghai Composite -- up 1.44%
Nikkei 225 -- CLOSED
NZSE 50 -- down 0.66%
Seoul Composite -- up 0.43%
In Europe, most markets are higher this morning:
CAC 40 -- down 0.02%
DAX -- up 0.17%
FTSE 100 -- up 0.23%
OSE -- up 0.24%
Financials
Yesterday we watched as Prudential Financial (NYSE:PRU) rose $4.13 (6.97%) to close at $63.41/share, a new 52-week high. Volume rose to 9.1 million shares and the stock closed very near the high for the day on the back of a solid earnings report (see earnings call transcript here). The company took a loss related to the decline of the Japanese Yen, but beat on an adjusted basis. In the insurance industry business is good, so good that the company reported earnings up across the board; every division saw earnings rise. We like this story.
Looking at this two year chart one can see that we are very near a breakout point...but first up is the resistance at $65/share.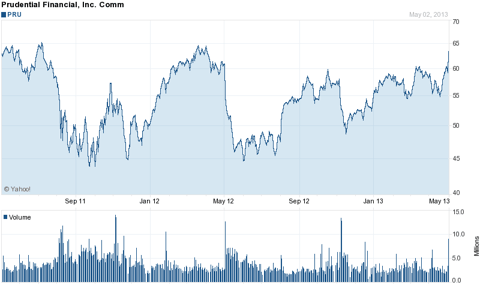 Chart courtesy of Yahoo Finance.
The beat at Prudential had us excited about American International Group (NYSE:AIG), which reported earnings last night. The company has been shrinking their business in order to focus on a core of offerings which make sense to keep under one roof and provide significant profit opportunities. We have been bullish here on and off since the low $30s and really like the earnings growth and the fact that we are very close to seeing the company able to return capital to shareholders via share buybacks and dividends. The reason to continue to be bullish on this story is that their property and casualty insurance division turned its first profit in ten quarters and with higher premiums and lower losses reported this quarter we could see the beginning of the recovery for this important division, which would help power AIG shares higher.
Biotechnology
We want to start off by saying that everyone involved or looking to be involved in Arena Pharmaceuticals (NASDAQ:ARNA) should most certainly read the latest conference call transcript (see here). The company had a lot to talk about and it was bad news rather than good. We have been cautiously optimistic here, expecting that the Drug Enforcement Agency, DEA, would move to clear their weight loss drug...which still has yet to happen. Now it appears that there is trouble in Europe with getting their drug approved there so news flow moving forward is centered around getting their drug distributed here in the US, which is 2-3 months behind some of the dates when analysts thought it would be approved. Look for volume to increase dramatically today and shares to see red.
Where Arena shall have a rough day today it will be nothing like the day AVEO Pharmaceuticals (NASDAQ:AVEO) had yesterday after receiving the FDA's recommendations for its cancer drug. Shares fell $2.61 (49.62%) to close at $2.65/share on volume of 15.3 million shares as the FDA panel voted overwhelmingly (13 to 1) to not approve the company's drug. Usually these panels' advice is followed by the FDA and with this vote one has to believe that it will lead to a denial.
It has been a rough week for shareholders with the recent news as the chart shows.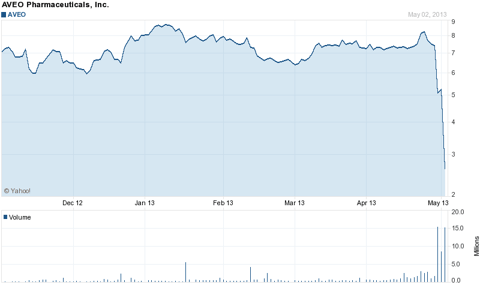 Chart courtesy of Yahoo Finance.
Solar
SunPower (NASDAQ:SPWR) is on the march again with shares closing yesterday's session at $15.29/share after rising $2.29 (17.62%) with volume of 13.9 million shares traded. The company beat on both the top line and bottom and beat solidly with $0.12 being the bottom line difference. The company held a conference call (transcript located here) and said that they will provide guidance at their analyst day held on May 15th. We are not fans of solar, but that shall be something to keep an eye on, it sure whiffs of good news.
Another step up? It sure seems that way.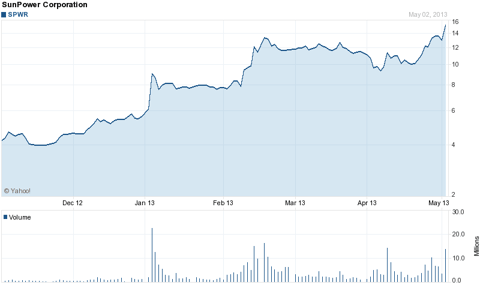 Chart courtesy of Yahoo Finance.
Disclosure: I have no positions in any stocks mentioned, and no plans to initiate any positions within the next 72 hours. I wrote this article myself, and it expresses my own opinions. I am not receiving compensation for it (other than from Seeking Alpha). I have no business relationship with any company whose stock is mentioned in this article.