Johnson & Johnson (NYSE:JNJ) is at a crossroads.
For the 15 years, 1998 to 2012. Johnson & Johnson grew net income by ~9.1% and dividends by ~12.5% per year (see Table 1 below).
Table 1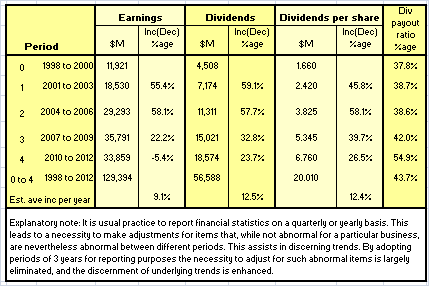 Expectations for the next five years are for net income to grow by only ~6% and dividends by 8.2% (around one-third lower growth rates than for the average over the last 15 years).
Comments have been made that JNJ can continue to grow dividends because free cash flows exceed accounting profits.
In fact net income (accounting profits) growing at 6% per year from 2013 onwards is sufficient to grow dividends at 8.2% for the next 15 years at least (see Table 2 below).
And that is without utilizing any of the accumulated retained earnings, which currently stand at $86 billion. And under the net income/dividend scenario in Table 2, retained earnings would continue to grow throughout the next 15 years.
Table 2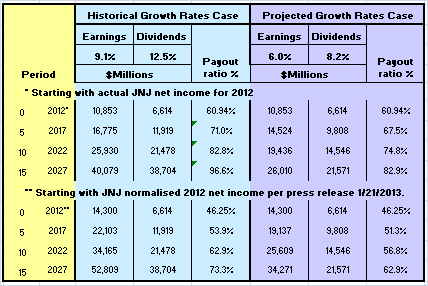 But the issue of the dividend growth rate cannot be properly considered in isolation. The wider issues that impact on an acceptable level of dividend growth rate that need to be addressed include:
Part I - Dividend growth and payout ratios:
At what level would increases in the dividend payout ratio start to negatively affect the share price?
Might it become necessary to reduce the dividend growth rate from the current rate of 8.2% to limit increases in the payout ratio, and could this be an acceptable option?
Part II - Net income growth and re-investment in the businesses:
What percentage of net income growth per year could and should be targeted?
What percentage of net income needs to be retained in the business to achieve targeted net income growth?
Part I - Discussion of Dividend growth and payout ratios
How high can the dividend payout ratio rise without adversely affecting share price?
Table 2 above shows that while dividend growth rates exceed net income growth rates the dividend payout ratio will rise. This is not opinion. It is a mathematical fact. And the wider the gap between the dividend growth rate and a lower net income growth rate, the faster the payout ratio will rise.
It will be noted from the table above that the historical gap (1998 to 2012) was wider than the current projected gap. The only reason this has not been an issue to this point in time is due to starting from a low base payout ratio.
How high the payout ratio can go without adversely affecting share price is very much a matter of opinion.
Generally, a payout of 75 percent or more is considered high, while a payout of 70 percent or lower is considered reasonable. (see here and here).
There is also research that suggests payout ratios tend to follow life cycles of firms, starting low in an earlier high growth stage and increasing as the firm matures and its growth prospects decrease.
On that basis perhaps an increasing payout ratio for JNJ is inevitable and 75% should not be considered the acceptable upper limit.
The caution I would give is that perceptions, including a perception that the payout ratio is too high, are quite crucial in relation to the share market price of any stock.
Purchasing a share like JNJ, with a current yield above T-bond rates and continuing high level of dividend growth rate, might not be such a good investment compared to lower risk T-bonds, if the exit price is adversely affected by a high payout ratio at the time of exit.
To test this, the example in Table 3 below compares an investment of $1,000 in either JNJ shares or T-bonds over five and 10-year periods.
Table 3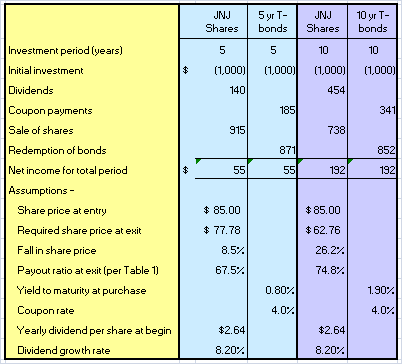 In fact, the results in the example above would likely not be a discouragement to investing in JNJ shares.
The payout ratios at the end of five years and 10 years are still within generally acceptable limits as defined above (only just for the 10-year case).
In order to get the same or greater payback for JNJ shares than T-bonds, the share price could fall by as much as 8.5% from the current assumed entry price of $85 to ~$78 at end of five years, and by 26.2% to ~$63 at the end of 10 years.
Of course, after five or 10 years of continued income growth and with increases in retained earnings, an investor would be entitled to assume a higher share price at exit than at entry to the investment.
If that were the case, then the payback from the JNJ shares would be significantly higher than for the T-bonds, and should more than adequately compensate the investor for the additional risk of investing in AAA rated shares versus government guaranteed T-bonds.
Table 3 also illustrates the point that the longer an investor remains invested in JNJ shares, and having already received regular and growing dividends above the long-term bond rate, the severity of the effect on yield of a potential fall in share price lessens.
About Part II:
I referred above to research on life cycles of firms, and that maybe JNJ has had its earlier high growth stage and is entering a stage of maturity where growth prospects decrease.
The current lower growth rates compared with the last 15 years, as illustrated in Table 1 above, might tend to support that notion.
But, I do not think for a moment that JNJ Management is going to be content to accept that as being the case.
And the shareholders would be rightly disappointed if it did.
In Part II of "Johnson & Johnson: At the Crossroads," I propose to discuss what direction JNJ, having reached a crossroads, might take from here.
Disclosure: I have no positions in any stocks mentioned, and no plans to initiate any positions within the next 72 hours. I wrote this article myself, and it expresses my own opinions. I am not receiving compensation for it. I have no business relationship with any company whose stock is mentioned in this article.
Additional disclosure: As always, please do your own research before any buy or sell decisions. Use of information and research in the article above is at your own risk.