By Jon Kolb
Maxwell Technologies (NASDAQ:MXWL) reported its financial results for the 1st quarter of 2009. The net loss for the reported quarter was $3.0 million, or $0.13 per share, compared to a net loss of $5.6 million, or $0.28 per share, in the comparable 1st quarter of 2008.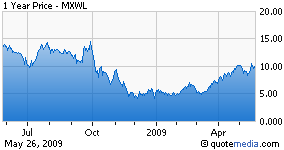 Although the company has yet to achieve profitability, it is focused on improving its cost structure by shifting some of its ultracapacitor production to China.

The operating loss for the 1st quarter 2009 was $1.8 million, compared to $3.4 million in the year-ago quarter. Maxwell generated total revenue of $22.5 million during its 1st quarter ended March 31, 2009, up 31% over the $17.1 million recorded in the year-ago period.

In the reported quarter, the company's BOOSTCAP ultracapacitor revenue increased by 43% to $7.7 million, compared to $5.4 million in the year-ago quarter. High voltage capacitor and microelectronics products also generated strong sales growth, combining in the reported quarter for revenue of $14.7 million, up 25% from the $11.8 million recorded in the year-ago quarter.

The company has generated double-digit top-line growth over the last eight quarters. MXWL's future performance should continue to improve primarily through strong ultracapacitor sales growth and gross margin improvement. The expected growth in ultracapacitor sales through production ramp-up from automotives, coupled with steady demand from wind and heavy transportation, and braking recuperation segments should continue to generate top-line growth.

In the 1st quarter of 2009, gross margin improved to 31%, compared to 29% in the year-ago quarter. Operating expenses totaled approximately $8.8 million, or 39% of revenue in the reported quarter, compared with $8.5 million, or 49% of revenue in the year-ago quarter, and $11.0 million, or 48% of revenue in the final quarter of 2008.

Over the near-term, the rate of future penetration of ultracapacitor technology into broader markets, higher cost structure for ultracapacitor production, and earnings dilutive stock issuances, collectively present downside risk to the company's stock.
Valuation

MXWL's current price-to-book value and price-to-sales valuation metrics are at the upper-end of the range of its electronics industry peer's, while price-to-cashflow and current-year price-to-earnings multiples are not meaningful. Therefore, with a neutral outlook for the company and a relatively expensive valuation, in our view, we maintain a HOLD recommendation on MXWL common stock with a six-month target price of $11.00, representing 11.6% upside potential.

Maxwell Technologies develops, manufactures and markets energy storage and power delivery products for transportation, industrial telecommunications and other applications and microelectronic products for space and satellite applications. Maxwell's products incorporate its energy storage, and power delivery and microelectronics technologies at both the component and system levels for specialized, high-value applications.