Today we think readers starting their official uranium portfolio is a good idea. There is no need to buy all at once, but rather we want an implementation of a smart buying program. We would recommend adding to your portfolio a quarter position of the blue chip name and then adding one of the more speculative names, via a partial position of course, each 3 to 4 weeks. This is speculative money though, not retirement or funds required for other needs. We want to be very clear on that distinction this morning.
Commodity prices this morning are as follows:
Gold: $1464.60/ounce, down by $3.00/ounce
Silver: $23.81/ounce, down by $0.02/ounce
Oil: $95.32/barrel, up by $1.33/barrel
RBOB Gas: $2.8053/gallon, up by $0.0247/gallon
Natural Gas: $4.05/MMbtu, up by $0.025/MMbtu
Chart of the Day:
We think a rebound is due in the spot price as utilities and traders move to position themselves ahead of Russia's decision at the end of the year. We should see the long-term price recover as well. Remember it is $60/lb where most of the world's recent discoveries can operate at breakeven.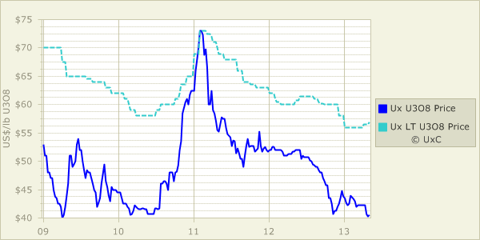 Chart courtesy of UXC.com
Oil & Natural Gas
Yesterday was a bad day to be a shareholder in Halcon Resources (NYSE:HK), which we are. Investors did not like the highlights and takeaways from their quarterly results (see the release here). Yes production numbers look a bit weak at this point, but with the move into the Utica and the new areas they are drilling we have to see if the production is weaker due to midstream assets or company specific. Another topic which we got a few emails on was the overall cost of their well in estimates in the Utica which was in the $10 million area, something that is high but will come down - as has everyone's in the play. Remember, when first starting out in a play it is expensive but everyone finds themselves on a decline rate which eventually leads to 20% savings in the Utica. Yes it was a rough session yesterday as share fell over 9% to close at $5.67/share, but we did increase our exposure in one of the retirement accounts and may continue to do so over the course of the year.
It has been ugly recently, but we may have found a bottom yesterday. Due to that we were buyers once again.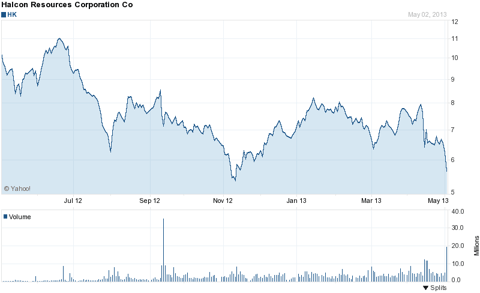 Chart courtesy of Yahoo Finance.
Worse than Halcon may have been EV Energy Partners, LP (NASDAQ:EVEP) which is one of our largest holdings in our retirement portfolios and possibly our largest overall holding, although with the recent downturn that may have changed. We have not sold any of our units or options, but we are underwater on each and every unit and option we have purchased at this point, which is what 52-week lows will do to you. The yield is now over 7% and we think that the company has some very appealing new sources of income coming online in the next two years that will drive that higher, so we are not sellers here but holders for sure and buyers on any serious selling.
Coal
While we did have a few names which were red on our screen due to earnings specific news and other worries in the oil and natural gas sector our screen was showing the coal names appearing very weak yesterday. Just when you think that things are looking up you have names such as Alpha Natural Resources (ANR) and Cliffs Natural Resources (NYSE:CLF) falling below key psychological levels. It is never good when you see the fast money rotating out of a sector, especially when looking for a recovery there as one would hope the long-term investors arrive before the selling can damage any of the recent gains. For those who have been inquiring, even if you are a long-term investor here we would not be using retirement money in these two names. Use your taxable accounts so that any losses would be tax deductible, even if one could only take $3,000/yr.
Uranium
We have discussed Cameco (NYSE:CCJ) here numerous times and stated that we thought the $18-19/share level was fair price for long-term investors as the yield was over 2%. The shares have been stagnant for the most part, simply providing the 2% yield with little else. Now we recommend investors begin to create their uranium portfolio by using Cameco as the cornerstone at this time and over the course of the summer adding more names to diversify exposure from the blue chip name. All ships shall rise as the Russians embark on increasing the price of uranium at the end of the year. You can take that to the bank.
Disclosure: I am long EVEP, HK. I wrote this article myself, and it expresses my own opinions. I am not receiving compensation for it (other than from Seeking Alpha). I have no business relationship with any company whose stock is mentioned in this article.