PartnerRe (NYSE:PRE) reported its 1st quarter earnings on 29th April. The operating earnings per share of $3.39 beat market expectations of $2.36 by a healthy margin. The market reaction was not positive, with the share-price dropping 3.2% to $93 by May 1st close.
In this article I will look into some of the drivers for this, and explain why I do not follow the buy recommendations from analysts. Comparisons in this article will be Q1 2013 vs. Q1 2012 unless otherwise stated.
PartnerRe Ltd. is a leading global reinsurer, providing multi-line reinsurance to insurance companies. Risks reinsured include property, casualty, motor, agriculture, aviation/space, catastrophe, credit/surety, engineering, energy, marine, specialty property, specialty casualty, other lines, life/annuity and health, and alternative risk transfer solutions. Readers unfamiliar with the sector might find this explanation of the key risks and value drivers useful.
Operations performing well
Headlining the numbers was a strong premium growth of 12% on 1st quarter 2012, to $1.75bn. Combined ratio reduced 3% to 81.7%. Releases from prior years reserves were down slightly, but still a significant 19.8% of premium. The operating ROE was 13.5% Partner Re reports by segment, which gives some insights in to the business operations. The Q1 2013 segment results are below: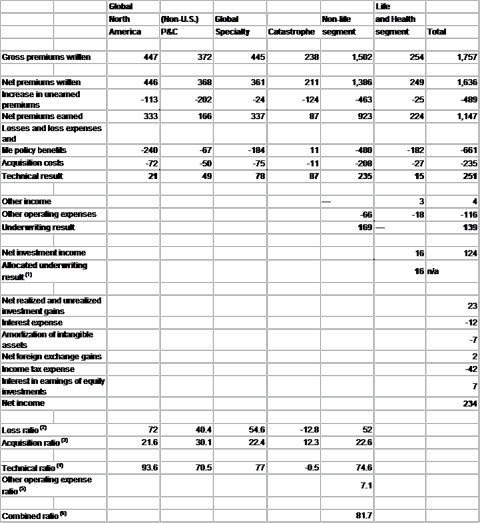 Source : PRE press release
US P&C
Much of this growth was in the US P&C business, which grew net premiums by 40%, mainly due to the crop insurance sector, where PRE saw significant growth in price and demand following the 2012 drought, although the Q1 2102 income in this segment was impacted by a one off transaction shift. The technical ratio (losses and acquisitions expenses as a % of net earned premium) deteriorated to 93.6%, a decline of 10% which was partly due to a deterioration of 4.8% of NEP arising from under-reserving of the US crop claims from 2012.
International P&C
Net written premium in global P&C business was up 5%, which was attributed to new motor proportional business. This type of business is typically high volume, low margin business, which makes the 15% drop in technical ratio from 85.5% to 70.5% quite remarkable. On the earnings call this is explained by favourable development on prior years of $58m, or 15% of segment NEP. CFO William Babcock commented on the earnings call.
"The favorable development was recorded in all lines, with the largest amount coming from property. Low reported loss activity and a review of our method weights drilled the development in this line."
The loss ratio for the segment of 40% is not sustainable, and should be adjusted for more sustainable performance, which I estimate as a 60% loss ratio, and 90.5% technical ratio on an adjusted basis, given the shift in business mix to lower margin motor business.
Global Specialty
Net earned premium in this segment grew by 9%, on a net written premium growth of only 2%, which indicates a shift towards shorter tail business. This is supported by the commentary that business 'on' was in Agriculture, and Lloyds specialty, and 'off' in aviation, space and specialty property. Prior year development was $60m or 16% of NEP, which represents nearly 80% of the segment result for the quarter.
Catastrophe
PRE is unusual for a major reinsurer in that it manages its catastrophe business and a standalone segment. The roots of this are historical, in that the firm was started in 1993 as a specialist catastrophe player. The catastrophe segment premium reduced by 3% year on year, but more positive prior year development, and a very quiet loss period actually resulted in a technical ratio of -0.5%. This should be adjusted to a benchmark of 60% for future expectations.
Life & Health
Life and Health premiums were up 14%, mainly due to the consolidation of the Accident and Health insurer Praesidio, which was acquired in the Q4 2012.
Net income down year on year
Despite this strong growth in sales, the net income 1st quarter on 1st quarter was down by 35% to $234m. This was due to the impact of lower yields on its invested assets, with the total investment yield reducing 0.6% to 4.1%. Net investment yields reduced 16% due to the reduction of yields on the 75% of assets invested in fixed income. PRE also generated unrealized losses of $43.6m compared to a gain of $119m in Q1 2012.
Balance sheet.
PRE is rated A+ by Standard and Poors, and has a solvency ratio of 167%, down 4% from Q1 2012, but remains well capitalized for its business segment. Shareholders equity reduced by 0.3%, mainly the result of the share repurchases and dividend payments,
Unusually, PRE's reserving practice is to reserve claims for the current accident year at a higher level than assumed to price the business, and release from reserves as the business develops - this makes comparisons of reserve adequacy with peers difficult. The quarter on quarter gross technical reserves increased by just 0.7%, compared to the 11.5% increase in premium income. The following table shows the change in the reserve adequacy over time. I have annualized the Q1 2103 income in the same ratio and not allowed for the impact of new business earnings during the coming 9 months.
| | | | |
| --- | --- | --- | --- |
| | Gross Premium | Tech Reserves. | Reserve Ratio |
| FY 11 | 4663 | 14368 | 308% |
| FY 12 | 4718 | 14057 | 298% |
| FY 13 (est) | 5223 | 14162 | 271% |
This shows that even with the benign loss experience, the reserve quality is reducing. Business mix might justify some of this, but I will be keeping a close eye on the actual FY 2013 reserve strength.
Outlook & Strategy
CEO Costas Miranthis outlined a challenging situation in the markets which will begin to impact margins.
"There is ample capacity and this is beginning to have an impact on terms. We are getting rate that is currently outpacing loss trends but at the same time, some of the treaty coverage terms are broadened, for example, the current limit. And where there is a profitable track record, acquisition costs are creeping up a little bit.

Looking ahead, I expect pressure on cat rates to be maintained and likely increase as there is ample capital capacity from collateralized markets."
This outlook is driven in part by an increased appetite from various capital market players in search of yield, complimenting the established payers like Berkshire Hathaway (BRK.A, BRK.B) who are changing their strategy.
PRE are subject to significant competitive pressures, and have responded by a re-organisation and a reduction in workforce by 12%. This will generate a charge of $60 - $70m in 2013 in return for an equivalent reduction in run rate on an ongoing basis.
The re-organisation, in addition to reducing costs, is aimed at realigning the organisation between the mature, and high growth markets of Asia and Latin America. This should certainly aid the premium income growth, but these markets are highly competitive, with more uncertain risk exposures, and lower margins.
PRE has, on the positive side, engaged with the new trend for hedge and pension funds to underwrite reinsurance, with the establishment of a sidecar - Lorenz Re. Babcock elaborated on this briefly:
"Lorenz Re is a facility that we recently capitalized on a fully collateralized basis to provide the company with additional catastrophe capacity over a 2-year period."
The idea here is that PRE can utilize 3rd-party capital through this vehicle at a lower cost than its own capital. What is uncertain is what the level of residual risk is left with PRE in this arrangement. The collateral element reduces the counterparty risk, as long as the facility is cash collateralised. The PRE press release doesn't detail the type of collateral. Furthermore, collateralised reinsurances often have different conditions from the underlying contracts, specifically in the area of coverage for multiple events, this potentially leaves significant risk with the original underwriter.
Investment outlook
Two comments from the call are telling here:
Miranthis
"Decline in investment income is something we expect over the next several quarters as our fixed income portfolio matures."
Babcock
"We are still in a position where market yields trail portfolio yields by a wide margin, although this margin is decreasing. The decrease in margin this quarter is primarily due to lower portfolio yield rather than an increase in market yields. The GAAP (sic) between these 2 numbers stood at 95 basis points at quarter end with market yield at 2.1%."
This indicates a difficult outlook for investment yields, which can expect to see further declines normalising closer to market yields over the coming 12 - 18 months given the average fixed income portfolio duration of 2.9 years.
Adjusting for the one-off shifts and exceptionally low catastrophe experience discussed above, and with a moderate reduction in pricing, the combined ratio can be expected to normalise from the reported 81.7% to the 90% range which is more typical for a multiline reinsurer.
On an annualised basis, these adjustments could indicate a $400m - $500m reduction in prospective net income, and ROE dropping to single digits.
Conclusion.
PRE is making positive moves to grow its business, reduce its cost base, and shrink the balance sheet by equity buy-backs. The business is reorganised to take advantage of growth opportunities while retaining it's core business. The operating units are all performing well.
The company is proactively engaging with the new capital flowing into the industry through it's sidecar.
However, PRE faces a 'double whammy' from margin squeeze on both the asset and liability side of its balance sheet. The current performance is heavily supported by a lower than average catastrophe claims experience, and positive prior year developments. This latter includes a one-off benefit from a change in reserving methodology. The margin squeeze impact will not flow through fully until 2014 earnings, which gives PRE some operational leeway. I think that we can expect to see PRE act in 2013 to close the gap, however, it will be hard for PRE to meet earnings expectations without further weakening of reserve quality. 2014 earnings estimates stand in the region of $7 - $9 per share, but I expect these to gradually deteriorate towards $5 per share as we progress through 2013. The stock traded at a 52 week low of $69.82 - I will look for a return to these levels as an entry point.
Disclosure: I am long BRK.B. I wrote this article myself, and it expresses my own opinions. I am not receiving compensation for it (other than from Seeking Alpha). I have no business relationship with any company whose stock is mentioned in this article.
Additional disclosure: The author is a private investor, not an investment advisor. Analysis is presented for readers interest only. Always consult a professional before making any investment decisions.