Since the financial crisis, the Federal Reserve has forced interest rates to all-time lows through aggressive monetary policy. The Fed's attempt has been to stimulate the economy by making borrowing cheap. In practice, the actions taken by the Fed have not measured up to what was hoped for in terms of speed and extent of financial recovery.
U.S. stock market indexes have more than doubled since the start of this unprecedented monetary easing. Many had expected inflation to take off to potentially dangerous levels due to the enormous amount of money being "printed." The flaw in this theory has been seen to be that when the central bank engages in monetary easing, the newly "printed" money goes to the money center banks and the financial system, while not generally progressing much further.
The intent is that the cash given to the banks by the fed, in exchange for the assets bought by the fed, will be loaned out at attractive rates in order to spur economic growth. Instead, the majority of this new money gets trapped in the financial system propping up the prices of assets and commodities and very little of it actually makes it all the way down to the average person on the street. The reason for this is that when the economy is struggling there are few business people who feel like borrowing to grow their companies because they see a lack of demand. Also, after the financial crisis many people had damaged credit, which effectively shut out a large segment of the population from access to the new money.
The very lack of inflation has emboldened the Fed in continuing to buy bonds and mortgage backed securities, which has continued the downward pressure on interest rates, now near zero for over four years.
The Hunt For Yield:
One of the byproducts of this low interest rate environment created by the fed has been that savers, mostly notably people of retirement age, have been receiving virtually no return on their money through many of the traditional investment classes such as bonds, money market funds, etc.
At the critical time when baby boomers are retiring at a rate of 10,000 per day, the returns they have expected on their retirement money have all but dried up. Many retirement accounts were modeled on a specific average rate of return (often 6%) in order to provide an adequate amount of money over the lifespan of the retiree.
This lack of a traditional, stable rate of return on investment money has caused many people and money managers to look for yield in places they normally would not.
Generally speaking, bonds are favored by more conservative investors over stocks as bonds are generally perceived to be safer due to the fact that in the event of a systemic failure, the bondholders receive compensation when there is a dissolution, as opposed to a stock, which is equity and can go to zero.
One of the places that this yield-hungry money has flowed, is into the dividend yielding stock space. So far, this has worked out fairly well as corporations have enjoyed record profits. This has allowed these companies to continue to pay out a healthy dividend. In turn, it has attracted more yield seeking investors and has resulted in pushing the prices of many of these dividend paying stocks up to the point where they no longer look like a good deal due to their valuations.
Here's what could go wrong:
With all this money stacked up in dividend yielding stocks, it is clearly imperative that the companies are able to continue paying the dividend in order to keep the stock prices from dropping.
In order to continue to pay the dividend the companies need to have adequate cash flow and revenue to support it. Should cash flow and revenue fall off, the dividend will likely be cut.
The problem for those in dividend stocks is that this may be starting to happen, as can be seen in this earnings season's report:
Of the 342 companies in the S&P 500 that have reported first quarter earnings, 68.7% reported earnings above analyst expectations, according to Thomson Reuters. Of the 235 companies that surpassed their earnings estimates, 52% missed their revenue estimate. In a typical quarter, 31% of companies that beat on earnings miss on revenue, according to Greg Harrison, corporate earnings research analyst at Thomson Reuters. --Nasdaq
Earlier this week we saw an example of this with Pitney Bowes (NYSE:PBI), which had to cut its dividend 50% due to a miss on revenue. The stock lost about 16% within minutes of the announcement.
Watching the economic health of the consumer will likely be key to whether revenue continues to be lighter than expected and translates into dividend cuts.
One indication of this is the Personal Savings Rate, which has recently plunged to 2.7%. This would indicate that the consumer does not have as much disposable income as would have been hoped for.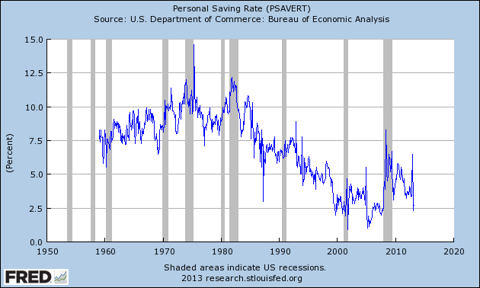 Other potential headwinds for the consumer are the payroll tax hike, as well as the sequester, the effects of which are not fully known yet.
Conclusion:
Should it be seen that dividends are being cut in significant numbers, it would be reasonable to infer that stock prices will also be hit. This could be the start of a significant correction for stocks. In light of the huge run up in the U.S. stock markets with little interruption, especially over the last few months, a correction of 10% or more is likely.
When U.S. stocks start to roll over, short positions in the indexes could be profitable. ETFs that can be used to trade the U.S. equity indexes include: (NYSEARCA:SPY), (NYSEARCA:SDS), (NYSEARCA:DIA), (NYSEARCA:DXD), (NYSEARCA:IWN), (NYSEARCA:TWM), (NASDAQ:QQQ).
Disclaimer: Nothing in this article is to be taken as professional financial advice, nor is it a solicitation to buy or sell any type of securities. All financial decisions are your own, seek professional advice before taking action.
Disclosure: I am short SPY, IWM. I wrote this article myself, and it expresses my own opinions. I am not receiving compensation for it (other than from Seeking Alpha). I have no business relationship with any company whose stock is mentioned in this article.
Additional disclosure: Long SDS.