There is no doubt that American Capital Agency Corp. (NASDAQ:AGNC) recently posted its worst ever quarter. The company saw a sharp decline in book value due to losses related to the decline in MBS prices. During after-hours trading, AGNC saw its stock plunge as much as 9% to about $30 per share. However, AGNC has recovered somewhat, and is now trading for about $31 per share.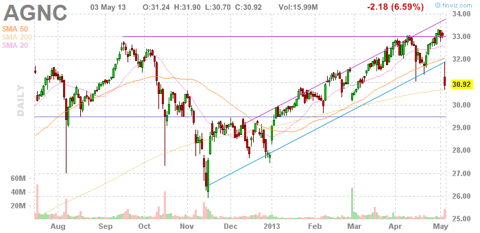 On May 2, AGNC reported its Q1 2013 results. AGNC posted a comprehensive loss of $557 million, or $1.57 per share. The book value as of quarter end was $28.93 per share, $2.71 lower than in Q4 2012. AGNC's total economic return, which is dividends plus the change in book value, was a loss of $1.46 per share, or 4.6% for the quarter, or 18.7% on an annualized basis.

If there was a silver lining in the report, it is that the vast majority of AGNC's losses are from $837M, or $2.21 per share, of unrealized losses on marked-to-market agency securities. However, during the quarter, AGNC did realize $26M in losses related to the sale of agency securities. In addition, AGNC realized about $0.55 per share in losses related to the recognition of tax during the quarter due to monthly settlements of TBA dollar roll positions during a period of price declines. In addition, AGNC has losses of $0.15 per share attributable to its TBA dollar roll position, net of $0.40 of estimated net carry income.
In the earnings release, Gary Kain, AGNC's President and Chief Investment Officer, mentioned that, during the quarter, fixed-rated agency MBS prices declined sharply and underperformed both Treasuries and interest rate swaps. In addition, he mentioned that the market began pricing in an early end to 'QE3' due to the stronger economy. However, Mr. Kain mentioned that AGNC's MBS may have regained some of their losses due to the recent weakness in economic data:
Specified mortgage securities also materially underperformed generic securities as investors focused on extension risk instead of prepayment risk. This underperformance of both TBAs and specified MBS led to the decline in our net book value. However, as economic activity both globally and in the U.S. has weakened over the past month, interest rates have fallen again and mortgages have recovered some of their first quarter weakness.
It also should be noted that AGNC's net interest rate spread continues to perform well. During the quarter and including the TBA income, the net spread was 1.87%. Excluding TBA income, the spread was 1.52%. As of March 31 and including TBA income, the spread was 1.71%, excluding TBA income, the spread was 1.43%. Prepayments were also low during the quarter, averaging 10%. In April 2013, they have risen slightly to 11%. Prepayments were also low during the quarter, averaging 10%. In April 2013, they have risen slightly to 11%.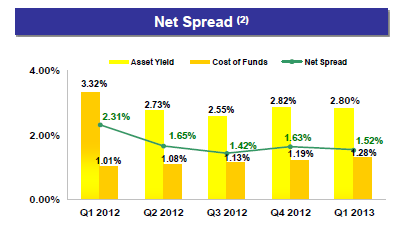 In the earnings release, Mr. Kain mentioned that AGNC continues to generate strong cash flows and that it sees the recent decline in MBS prices as an opportunity to add assets at good prices:
As such, despite what we believe to be temporary weakness in MBS valuations, our assets continue to perform as expected from a cash flow perspective. Furthermore, we view the cheapening of specified mortgages as a good opportunity to add some excellent assets at attractive valuations.
As of March 31, AGNC's leverage ratio was 5.7x. When including the off-balance sheet TBA financing, the leverage ratio was 8.1x.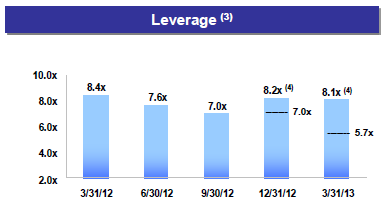 As of March 31, 2013, AGNC's investment portfolio totaled $76.3B of agency securities and $27.3B of net TBA mortgage positions. During the quarter, the average net forward TBA position was $17.9B. As of March 31, 2013, AGNC's agency securities were comprised of $74.8B of fixed-rate securities, $0.8B of adjustable-rate securities and $0.7B of collateralized mortgage obligations. As of March 31, 2013, 78% of AGNC's fixed-rate securities, or 57% when including net TBA mortgage positions, were lower loan balance mortgages and ("HARP") loans. The loans have historically had favorable prepayment attributes and lower risk of prepayment when compared with generic agency securities.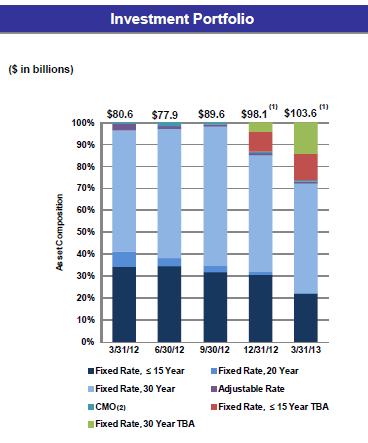 Conclusion
A $2.71, or about 9%, decline in book value is quite frankly horrible. However, MBS prices did recover in April and May as the economic outlook has worsened. It is also important to look at AGNC's net interest rate spread, which has consistently been higher than its peers. When including TBA income, AGNC's average spread was 1.87% in the quarter. This is by far the best spread among the pure-play agency mREITs. This decline should also be put in context - from 2009 to 2012 AGNC returned over 200%, double the amount of its peers.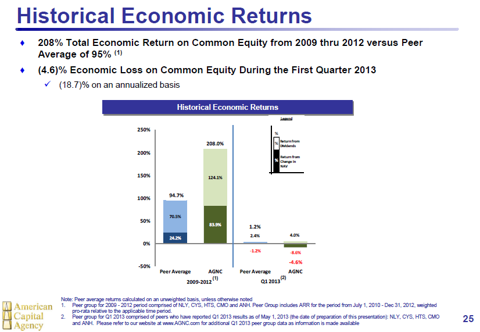 Do not get me wrong, I am very disappointed by the AGNC's results. AGNC's management will have to explain the drastic decline in book value during its Q1 2013 conference call. Investors in AGNC should definitely listen to the call and/or read the transcript. I would want to know the estimated book value as of April 2013 and to know the current premiums being paid for MBS.
I took this price decline as an opportunity and added to my position in AGNC. I was able to lower my cost basis to about $31 including dividends. I also suspect that the $1.25 dividend will remain intact due to the above average spread.
Disclaimer: The opinions in this article are for informational purposes only and should not be construed as a recommendation to buy or sell the stocks mentioned. Please do your own due diligence before making any investment decision.
Disclosure: I am long AGNC. I wrote this article myself, and it expresses my own opinions. I am not receiving compensation for it (other than from Seeking Alpha). I have no business relationship with any company whose stock is mentioned in this article.