Last month I noted the improvement that Microsoft's (NASDAQ:MSFT) Windows Phone OS was making in the U.S. but that the odds were still stacked highly against them. Between the huge lead from Google's (NASDAQ:GOOG) Android and Apple's (NASDAQ:AAPL) iOS and the release of BlackBerry's (NASDAQ:BBRY) latest OS and phones, the headwinds for Microsoft and its primary partner Nokia (NYSE:NOK) were significant. Well, the latest numbers from Kantar Worldpanel suggest very strongly that at least one of those winds turned out to be of no concern.
BlackBerry's BBOS 10 phones have been on the market now for more than 2 months and have made no difference in the structure of the market. If anything, all it has done is halt its sales from dropping to zero. While CEO Thorsten Heins can continue to do his best Bagdad Bob impression, the truth is that BlackBerry's latest offering will put up as much resistance as the Iraqi Republican Guard did.
On the other hand, Microsoft has been able to buy its way into contention, but only, in my opinion, because Nokia did such a good job on its Lumia handsets. It is one thing to see sales share growth rise significantly one month. Two months, however, with an acceleration of the growth is certainly worth not only noting but celebrating if you are a Microsoft shareholder.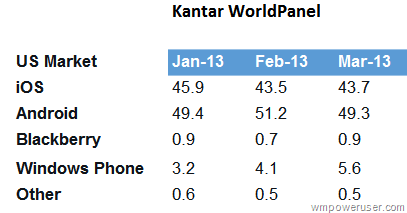 Say what you want about the numbers, but 5.6% of sales in the U.S. where one of the major carriers, Sprint (NYSE:S) and all of its pay-ads-you-go MVNOs, does not have Windows Phone 8 devices yet is very impressive. More impressive than I expected and I am quite bullish on Windows Phone.
According to Kantar's data, Windows is doing very well with people like me -- those who upgraded to their first smartphone recently and came at the decision without previous bias. Call it naiveté if you will but I see it as a good foundation from which to build a 10% total market share in the next 12-18 months. Smartphone penetration in the U.S. stilll has a lot of room to grow.
The potential growth rate for Windows Phone during the rest of Q2 and into Q3 will improve dramatically as Verizon (NYSE:VZ) is getting its version of the flagship Lumia 920 any day now, the 928, and Sprint should be rolling out phones built for its network as well. Digging into Kantar's numbers deeper, we see that the response to even lesser Lumias with Verizon's customers has been very strong, while the growth on AT&T (NYSE:T)'s network has been more subdued. Regardless, Windows Phone has reached the 5% mark in sales across multiple carriers in the U.S. and without a full range of devices available. I am also impressed with the customer satisfaction numbers that are approaching Apple's. It was the strength of the early adopters of Windows Phone that piqued my interest in the platform.
T-Mobile looks like they have themselves a winner with the Lumia 521 as it went up for sale early on HSN.com and promptly sold out. This is likely due to its very low price of $149.99. This will have to hold up the Windows Phone mantle on T-Mobile until the next wave of Lumias hit the market since the Lumia 810 and HTC 8x have been discontinued.
Nokia is holding two events in May where it will reveal its next set of Lumias. The first is noteworthy because of its location - New Delhi. I've outlined how important India is to Nokia and their unveiling new products there first should tell you just how serious it is about gaining ground and converting their strong base of feature phone owners to Lumias. The second event is in London, which also makes a ton of sense since the U.K. has seen the biggest sales and market share growth in the past year, now at 7%.
The U.S. market strategy has been one that I believe Microsoft and Nokia botched to some extent - a lack of entry-level value phone was a real problem -- but these latest numbers help offset that mistake. As 2013 rolls on it is clear that there is momentum building steadily for Windows Phone. With BlackBerry out of the way, iPhone sales growing at their slowest pace ever and Apple still without a credible plan for China Mobile or India, and Android continuing to split itself into atomic units Microsoft's platform has a real opportunity to build loyalty.
Disclosure: I have no positions in any stocks mentioned, and no plans to initiate any positions within the next 72 hours. I wrote this article myself, and it expresses my own opinions. I am not receiving compensation for it (other than from Seeking Alpha). I have no business relationship with any company whose stock is mentioned in this article.
Additional disclosure: Mine is a two windows phone household now that my wife has switched.