Energy stocks have had a good year to date, returning about 6% for the Energy Select Sector SPDR. Sub-sectors like the Master Limited Partnerships (MLPs) have been on fire, returning almost 20% year-to-date through late April. Investors have gravitated to the high-hanging fruit of the energy sector - MLPs, refiners, and E&P's - and boosted their stock prices and cut their yields. Are there still some values besides the staid, slow-moving, dividend-rich large integrated super-majors I have mentioned previously? Yes!!
I looked for an eclectic blend of energy names that could deliver attractive total returns from both dividends and capital gains. I looked for stocks that either had a pending catalyst (or catalysts) and/or were 'bombed-out' and had become cheap value plays. Value plays can be value traps, however, so the combination of cheapness, yield, and catalysts are there to make sure that we can realize some gains rather than just sit with a cheap stock that becomes even cheaper a year or two from now.
Here are five energy stocks with a combination of catalysts, compelling valuation, or dividend yield to support and propel them upward in 2013. Collectively, I believe they can provide better than a 40% total return over the next 12-18 months (but see below for more on that). They also provide an eye-opening 6%-plus dividend yield collectively. The yields are widely-scattered: a pair of low-yielders, two middle-yielders, and one high-yielder. In short, there's something for everyone, so read on:
Baytex Energy (NYSE:BTE): Baytex is one of the old Canadian royalty trusts that were forced to convert to the C-corp E&P structure a few years back. Operationally, BTE has been one of the more successful of the RTs to make the transition to the E&P structure. However, the stock price has been a mediocre performer since the conversion.
The opportunity with BTE is that the company has large exposure to heavy Canadian oil, notably Western Canadian Select (WCS). Whereas WTI and Brent oil pricing has fallen sharply of late, WCS has held up much better. This has improved the absolute and relative net pricing received by BTE: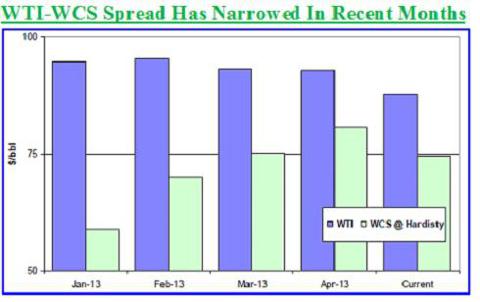 The price for Western Canadian Select heavy oil has fared much better in recent months. The average monthly price of WCS crude has increased from ~$59/bbl. in January to ~$75/bbl. recently. BTE shares are down 8% this year after a recent rally, even though three-quarters of the company's overall production is heavy (WCS-based) oil. The headline news is that WTI oil prices are down since the start of the year and both WTI and Brent have fallen sharply in recent days. However, Canadian heavy oil prices have fared much better, which creates a buying opportunity for Baytex shares: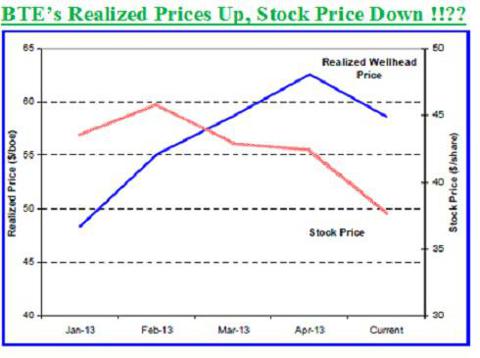 Even with the increased politicization of projects such as the Keystone XL and Northern Gateway pipelines and their murky outlooks, the WTI/WCS spread has narrowed in recent months. BTE offers long-term annual oil production growth of ~8% plus:
quarterly production of about 55kboe/d
reserves of approximately 143 MMboe at year-end 2012
a current MONTHLY dividend yield of 7.1%
a sustainable payout ratio of ~100-110%
a solid balance sheet (2013 D/CF of 1.3x)
reasonable valuation metrics with EV/boed of $92,000 (vs. $89,000 for peers) and P/NAV of 70% (vs. 74% for its peers)
BTE has ~40% of its 2013 heavy oil exposure hedged
BTE is focused on growing production in its Peace River projects (multi-lateral wells), Lloydminster (increasing horizontal well usage) and the Bakken/Three Forks (horizontal wells). BTE also has a few thermal projects coming on stream and ready to ramp up in Western Canada. If production growth hits forecasted targets and heavy oil prices continue to recover to 2011-12 relative pricing, BTE can move back to its old highs approaching $60 a share. Throw in the 7% annual dividend, and you could be looking at a 60% total return within 15-18 months.
Anadarko Petroleum (NYSE:APC): Talk about multiple levers to move a stock: Anadarko has at least five-six different catalysts to move the stock up in 2013. In the last five years, the company has turned around its reputation as a 2nd-rate wildcatter and has become one of the most prolific Gulf of Mexico (GoM) and global deepwater explorers. Oh yeah, and a 36.5% share in the 15 billion barrel equivalent mega-natgas field in Mozambique.
First up is the resolution of the Tronox lawsuit, a legacy of the acquisition of the old Kerr-McGee assets back in 2006. APC management feels it has no liability or at worst $1-2 billion ($2-$4/share). The stock is probably discounting $8-$10/share so any resolution is likely a positive. Second, higher prices and increased volumes should benefit APC's U.S. natural gas production. Despite a 30% move in natural gas since last Fall, Anadarko has not benefited as some pure-plays have even though APC is 55% natural gas. Third, a monetization of the mega-Mozambique natgas field. APC's 36.5% stake could be worth $8 billion or almost 20% of the current stock price. Fourth, APC has multiple asset drop-downs into Western Gas Partners (NYSE:WES), its MLP affiliate. Fifth, APC is drilling some 25 deepwater wells in the Gulf of Mexico and globally, many in prime acreage. Most wildcat wells have a success ratio of 40%, but in recent years APC has a batting average closer to 70%. Sixth, with previous discoveries about to come on stream in the 2013-18 time frame, APC will go from $9 billion in net debt to net cash by 2018.
The company is going to have a bunch of 'oily' projects come on stream in coming quarters. The Wattenberg shale basin is increasing production by 8-10kboe/d the next few quarters. El Merk (Algeria) has very high-margin barrels of oil ramping up with positive tax benefits owing to a favorable resolution in a dispute with the Algerian government. In 2014 the Lucius field (20kboe/d net to APC) and in 2016 Heidelberg (36kboe/d) commence operations.
Heidelberg, Lucius, and the recent Shenandoah find will give Anadarko an EBITDA boost from zero in 2012, to $250 million in 2014, to $2 billion-plus by 2018. Those three projects will be 20% of APC's EBITDA but only 10% of production, owing to their oil-linked, Brent-priced production. APC will be able to pay down virtually all of its debt or ramp up the dividend to a 2-3% yield, probably with share buybacks as an added kicker.
A takeout is always a possibility and APC's net asset value is estimated at close to $120 a share - and rising. Management has indicated it wants to boost the dividend closer to the median E&P peer level of 2-3%. Look for a dividend boost later in the year, but the real kicker will be from continued exploration success and closing the gap to APC's net asset value. That would provide at least a 45% total return between price gains and dividends.
Devon (NYSE:DVN): Devon's 2012 can be likened to a batter up at the plate against Justin Verlander. First, natural gas prices (aside from the recent bounce) were very depressed - strike one. Second, pricing for heavy oils in the Midwest were depressed relative to WTI - strike two. Third, natural gas liquid pricing collapsed due to a glut in the NGL components - strike three. Devon, with its heavy weighting to natural gas, NGLs, and heavy oil, got creamed in 2012, as the stock lost 20% for the year and lagged the peer group big-time: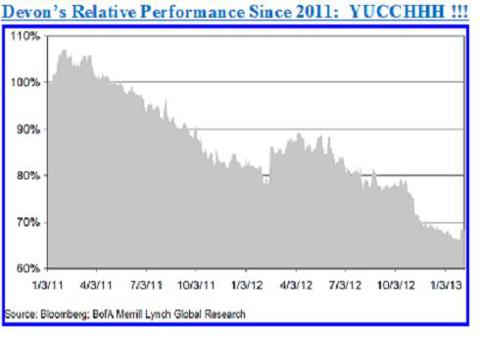 DVN is a large-cap E&P with 2.5 billion BOE of reserves (60% nat gas) that are 66% U.S., 29% Canada and the rest international. It is the largest producer in the Barnett shale, and also focuses its operations in the Permian Basin, Canada, and East Texas, Rocky Mountains, Canada, and the Cana/Woodford area. But with all of its produced product getting slammed price-wise, the valuation has collapsed: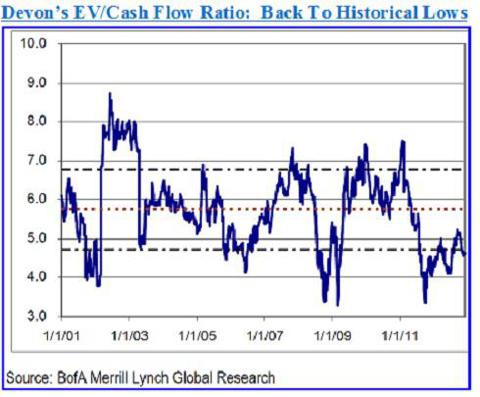 So Devon has a lot of reserves, has little geographic risk (most of her assets are in the U.S.), and is cheap - but what moves the stock ? Well, Devon has three major levers, which management has stated are all on the table. They are:
The oil sands business could be spun off and is estimated to be worth $10 per share in unrecognized value. Comparable pure-plays are trading at much higher levels than the implied value of Devon's oil sands assets, and synergies and valuation might be better if the assets are with a buyer with more scale in Western Canada.
Devon's midstream assets could be worth another $10 per share, based on comparable EBITDA multiples for other pure-plays and drop-downs. DVN considered an MLP of its midstream assets in 2008 but the multiple-lift from spinning them off disappeared as energy prices and the stock market melted down later that year.
The Mississippi Lime, a controversial shale resource, looks promising with 550,000 acres poised for development. Again, this resource could be worth another $10 per share based on comparable sales values and resource estimates, including Devon's own joint venture with Sinopec, which has relieved Devon of some upfront CAPX spending. The production trend out a few years could be highly accretive to production and cash flows:
Those three catalysts are nearly $30 in unrecognized value that the company is looking to monetize. A decision on the MLP should be made by the end of Q2 2013, and the oil sands decision a bit further out. The Mississippi Lime situation is intriguing - and confusing. Early results suggest that Devon may have scooped up the most promising and easiest-to-drill acreage, yet the Sandridge disasters remain in the back of investors' minds. One thing is for sure: nobody is incorporating optimistic production numbers for the Mississippian, where the new mantra is likely 'trust but verify.'
But with a nearly-100% North American focused-resource base, multiple levers to move the stock price, a determined management fed up with three years of lagging results, and reversion to the mean likely on natural gas, heavy oil, and NGL pricing, Devon looks like it's ready to bounce. If not? Management has all but indicated a sale is on the table and you could easily see a 60% upside to that $90 per share NAV.
Linn Energy LLC (LINE): There are three ways to invest in Linn Energy. You can invest in LINE, the MLP, with all the tax-deferred, return of capital benefits, as well as the requisite K-1 filing, which many people (and accountants) find one big pain-in-the-youknowhat. Or you can invest in LNCO, the C-corp structure created by Linn, which avoids the K-1 as you get a simple 1099 instead. Or you can purchase Berry Petroleum (BRY), which converts into 1.25 shares of LNCO in late June. By purchasing BRY you are in effect buying LNCO at a 10% discount. LINE/LNCO is the ninth-largest MLP and 10th-largest E&P among domestic U.S. companies.
LINE has been an M&A machine in its brief existence, growing by doing numerous deals to the point where it now has interests in various properties located in California, Kansas, Michigan, North Dakota, New Mexico, Oklahoma, and Texas. The company began operations in March 2003, and was formed as an MLP in April 2005. Including recent and pending acquisitions, the company has proved reserves in excess of 6.8Tcfe (proved developed and 52% liquids).
The catalyst with LINE/LNCO is the BRY acquisition. Not only does it increase the 'oily' nature of the company's assets but Linn gets long-lived assets and access to the California market. Refiners and other end-users are logistically cut off from much of the Mid-continent shale production, enabling producers to get premium pricing for their oil. The BRY acquisition will be accretive to both cash flows and distributions going forward. In fact, the boost has allowed Linn to switch to a monthly dividend policy going forward. So LINE/LNCO holders now have monthly income to boot !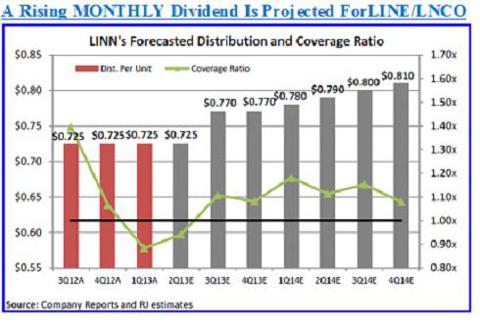 Early results on the Hogshooter (OK) wells are very encouraging, but as we have seen with the Mississippian wells under Sandridge's (SD) control, you never want to extrapolate too early. The results from the Hogshooter (TX) wells was below expectations. Partly because of Linn's lower working-interest in the OK wells vs. the TX wells, as well as some weather and ethane-related bottlenecks, production and cash flow for Q1 2013 was below expectations and the distribution coverage ratio fell to 0.88x. The ratio should rebound going forward, and both coverage and distribution figures do not incorporate additional M&A activity. These accretive deals for Linn are increasingly likely as other companies sell off properties - or themselves.
Ignore the short argument regarding the put-selling: Linn could just as easily hedge using swaps and the previous quarter's distribution coverage ratio would still be above 1x if the company had used the more common hedging techniques other MLPs utilize. The monthly dividend payout, which commences in July, should help by giving investors monthly income, reducing stock price volatility around the ex-dividend date, and making shorting LINE/LNCO a bit tougher.
Linn is only the second MLP to initiate a monthly dividend. LNCO yields 6.8%, which is 80 bp. less than LINE at 7.6%, and the stock now trades at a 10% premium after opening at a discount to LINE shares. Purchasing BRY is a way to reverse some of that premium-creep in recent months as more and more retail holders have swapped LINE for LNCO, driving up the latter's price. With more drop-down assets available and a rich dividend yield while investors in LINE/LNCO wait for improved production performance and the next deal, a total return of 20% in the next year is not unreasonable.
Northern Tier Energy (NYSE:NTI): Northern Tier is a specialty refiner MLP, which is a play on the shale basin production in the Midwest United States ('Mid-Con'). NTI is a 'variable' MLP. Instead of a fixed payout of its distributable cash flow each quarter to unit holders, cash distribution per unit fluctuates quarter-to-quarter. The deeply cyclical variable payout partnerships offer much higher yields in exchange for the higher variability in distributions. Variable distribution MLPs are trading with yield targets about 300-500 bp. over traditional MLPs. The most recent dividend annualizes to an 18-19% dividend yield, but a 'normalized' dividend of about $0.75 quarterly still gives one a 12% yield.
NTI is a pure play downstream MLP with refining, retail and logistics operations serving the upper Midwest market. NTI operates through two segments, Refining and Retail. Its refining business consists of a sole 74,000 bpd capacity refinery in St. Paul Park, Minnesota, with a Nelson complexity index of 11.5 and 90% of cash flows are generated from the refining segment. Products that are produced include gasoline, diesel, jet fuel, kerosene, asphalt, propane, propylene, and a few other smaller lines. NTI also owns a 17% interest in the Minnesota Pipe Line Company LLC, which owns and operates the Minnesota Pipeline.
NTI also owns storage and transportation assets near its refinery. The retail segment includes 166 company operated and 67 franchised convenience stores operated under the SuperAmerica brand, located primarily in Minnesota, and Wisconsin. The stores sell gasoline, diesel, tobacco products, snacks, baked goods, beverages and other merchandise.
NTI's main cash flows are margin-based (unlike many MLPs that are fee-based), earning the spread between the price of refined products sold and the cost of crude oil and other feedstocks used to produce them. This is the opportunity, as a widening of the Brent-WTI spread as well as WTI-Bakken and other Mid-Con oils reduces the main cost input while keeping the margins (the 'spread') on finished products high: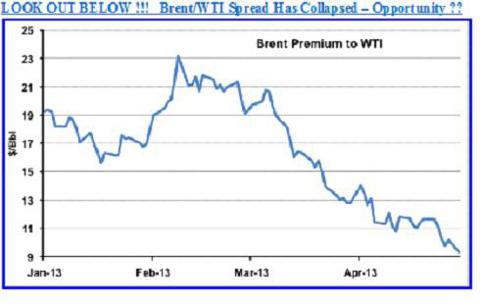 Refining margins are highly volatile but NTI has been generating strong margins primarily due to its ability to effectively source cheaper crude feedstocks from the Bakken and Canada, while selling refined products at higher WTI and Brent-linked pricing. Bakken production is currently growing by 275 kboe/d per year while Canadian imports are rising by 400 kboe/d: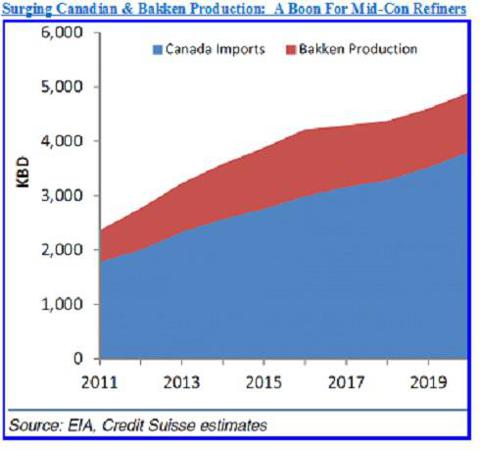 The catalyst for NTI is that the stock has been recently hit by 1) falling oil prices in general (both WTI and Brent); 2) narrowing price differentials for Bakken/Canadian crude to those indices 3) secondary offerings, which have depressed the price; 4) a lack of retail enthusiasm as the company enters a planned and expected shut-down/maintenance period in April. Once operations resume again, with the equity offerings in the past (including this week's 10 MM share deal), and as weather-related production declines from shale basins start to increase, we should see the spread between the crudes that NTI uses start to widen again. NTI does hedge part of the spread to lock in some profits.
Another important factor to consider is that refining has historically been an extremely volatile business. From 1985-2000 the industry was a net destroyer of shareholder capital, losing billions of dollars for both pure-play refiners and refining units within larger integrated oil companies. NTI has a unique niche and is well-positioned to benefit from the surging crude production in the Mid-Continent, but it has only one refiner and any unplanned downtime or problems would severely crimp production of refined products and cash flows, not to mention the dividend.
Still, the stock price is off 20% from recent levels and it yields 18% on projected dividends through the next year. If spreads start to widen again with the expected surge in the summer, a 40% move in NTI shares the next six-12 months is not pushing it. But be warned: refining stocks are notoriously volatile, not only subject to the ups-and-downs of the stock market and crude prices, but government/environmental regulations, crude spreads (both national and regional), and retail gasoline and fuel pricing (tightly linked to the economy). Longer term, the complexity advantage of American refiners compared with older global and European refiners bodes well for a strong American export advantage, which should benefit the entire sector, including NTI.
As always, I prefer the basket approach to investing in these stocks so your risks are spread around. Which to invest in today, in terms of relative attractiveness and risk? I like getting LNCO (via BRY) first as my 'safe' play and think that DVN is the closest among the group to a bombed-out candidate ready to close the same valuation gap that Hess Corp. (HES) recently did. Those would be the two I like right now at their current levels. After that, I like BTE for a combination of yield and capital appreciation, and then NTI gets the nod over APC simply based on its recent weakness.
If the equity and oil markets finally have their long-awaited correction (Sell In May?), all of these names could be 10-15% cheaper -- or more. So keep your powder dry. I like the stocks at current levels, but would LOVE them if the market or WTI falls another 10%.
Disclosure: I am long APC, NTI, BTE, LINE. I wrote this article myself, and it expresses my own opinions. I am not receiving compensation for it (other than from Seeking Alpha). I have no business relationship with any company whose stock is mentioned in this article.
Additional disclosure: The author was likely to initiate a position in DVN in addition to the other stocks mentioned in online portfolios under his control.