As oil hovers at $60 a barrel amid an economic recession, alternative energy discussions have once again hit fever pitch. The race for alternative and green energy has spawned a number of ETFs that focus on increasingly narrow themes in the alternative energy universe. Claymore's aptly named Global Solar Energy (NYSEARCA:TAN) and PowerShares' Global Wind Energy (NASDAQ:PWND) offer investors exposure to the newest technologies that harvest the weather and convert it into cleaner energy. On May 19 we added another, more controversial, alternative energy ETF to our rankings: Market Vectors' Nuclear Energy ETF (NYSEARCA:NLR).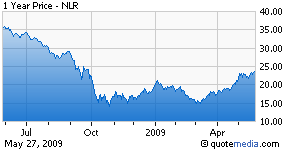 The fund currently occupies the No. 10 spot on our Sector Momentum Tracker ETF rankings, and if the attitude toward nuclear energy keeps improving, NLR will be a good way to cash in on the trend.
NLR tracks the DAXglobal Nuclear Energy Index, which contains global companies that are principally engaged in aspects of the nuclear energy business. Included in the approximately 38 firms that compose NLR's index are companies involved in uranium mining, nuclear plant infrastructure, uranium enrichment, uranium storage, nuclear generation, nuclear equipment and nuclear fuel transportation. The average trading volume of NLR has hovered around 60,000. While NLR's current average trading volume isn't particularly high, the numbers indicate existing investor interest in the fund.
If the U.S. follows the lead of other countries internationally, there is reason to believe that investor interest in nuclear energy could continue to expand. While the U.S. has been wary of nuclear power potential in the past, other countries have embraced nuclear technology as a major power source. While Sweden and Belgium get 60% and 54%, respectively, of their electricity from nuclear energy, France utilizes nuclear power for more than 85% of its electricity. Recently, the International Atomic Energy Agency projected that over the next 15 years, 70 new nuclear power plants could double the world's nuclear energy production. Emerging economies such as China and Russia have shown a particular interest in nuclear power. China is currently building 11 new reactors and has 98 additional reactors proposed or in planning. Not unlike the spot prices of other commodities that China hoards, uranium prices have been affected by the Chinese stockpiling.
The top component in NLR's portfolio, constituting 9.32% of assets, is Cameco Corp. (NYSE:CCJ). Cameco, one of the world's largest uranium producers, produces 15% of the world's uranium production from mines in Canada and the U.S. In addition to being a uranium producer, Cameco also is a provider of processing services required to produce fuel for nuclear power plants. In the first-quarter earnings call on May 1, 2009, Cameco executives noted that lower production and higher operating costs had hampered first-quarter returns. Cameco is also currently looking to make uranium purchases that would be advantageous to short-term trading trends. Cameco recently announced that the expected purchase of additional uranium would be at prices substantially higher than costs of their own production. Cameco predicts that sales should advance 15% to 20% on new trading opportunities.
NLR's second-largest component, utility Électricité de France SA (EDF SA), has long held a power monopoly in France—a status that could soon be changing. EDF has led France in nuclear progress, pioneering the development of nuclear power with its 58 reactors. In 2007, European Union rules designed to open up France's power market to competition were implemented, but state-regulated power rates have made it hard for other companies to compete with state-run EDF. France's energy giant also has plans to expand its nuclear operations abroad. EDF recently announced that a deal to buy half of the nuclear assets of NLR's third-largest component, Constellation Energy Group Inc. (NYSE:CEG), should be completed before the end of September. EDF also recently announced plans to support a consortium of French companies seeking to develop new nuclear power capacity in the United Arab Emirates. While EDF does not plan to invest in the UAE, which it does not consider a target area, the company believes that representatives will be able to help the consortium with their expertise.
Currently, only 20% of U.S. energy is derived from nuclear power. As the search for energy alternatives continues to move forward, however, nuclear could emerge as a leading "green" alternative to coal-fired plants. While sociopolitical stress will likely hang over any nuclear developments, dwindling resources or restrictions of other power sources could make the advantages of nuclear energy outweigh the disadvantages for future generations. Interest in nuclear energy will undoubtedly continue to increase in the U.S. as it has abroad, and NLR could be the perfect product to track the trend.