One of the biggest international business law trends this year is Intellectual Property.
Last year's legal battle between Apple (NASDAQ:AAPL) and Samsung (OTC:SSNLF) was an excellent preview of the major trend to look out for in 2013 - the explosion in the number of international intellectual property disputes.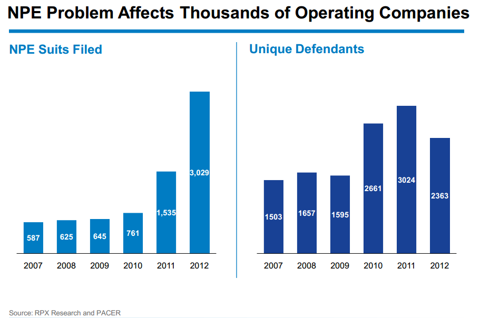 An NPE is any entity that earns or plans to earn the majority of its revenue from the licensing or enforcement of its patents.
Better Detection of International IP Violations
Leading this trend is the proliferation of corporate IP monitoring programs. Recognizing that Intellectual property theft and loss of trade secrets can cost a company millions of dollars in lost revenue or market share has led many companies to implement international IP monitoring programs.
To complement these programs, corporations are employing the services of global investigation firms such as Kroll to monitor IP violations.
These firms have a proven track record at uncovering piracy, counterfeiting, gray market diversion and misappropriation by former employees, business associates and third parties.
Company Valuation Increasingly Tied to IP
No other factor has done more to increase the rate of IP disputes than valuation - the linking of a company's IP portfolio to overall company worth. An excellent example of this is Yahoo's (NASDAQ:YHOO) lawsuit against Facebook (NASDAQ:FB) in March 2012 claiming patent infringement.
This forced Facebook to update its initial public offering (NYSEARCA:IPO) filing, warning would-be investors that the lawsuit could have a "material" impact on the social network's business.
Intellectual Property - like never before, it's worth fighting for.
A great way investors can seek profit from this trend is looking for companies that focus on Intellectual Property services. I came across three listed companies that could be interesting investments going forward.
Acacia Research Corp.
Acacia Research Corporation (NASDAQ:ACTG), through its subsidiaries, acquires, develops, licenses, and enforces patented technologies in the United States. It assists patent owners with the prosecution and development of their patent portfolios; protection of their patented inventions from unauthorized use; generation of licensing revenue from users of their patented technologies; and enforcement against unauthorized users of their patented technologies. The company owns or controls the rights to approximately 250 patent portfolios, which include the United States' patents and foreign counterparts covering technologies used in various industries. Acacia Research Corporation was founded in 1992 and is based in Newport Beach, California.
The company's investor presentation gives you more insight about the business.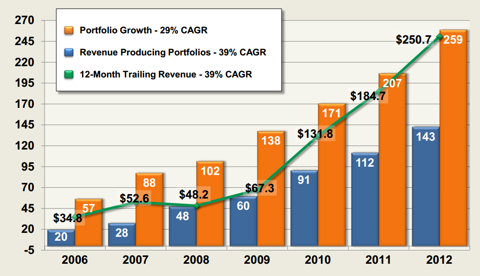 The company announced today that a subsidiary has acquired the rights to an automotive illumination patent portfolio from Rambus Inc. (NASDAQ:RMBS), the innovative technology solutions company. The portfolio relates to automotive and vehicular illumination applications including headlights, taillights, and internal and external lighting. As part of this transaction, Rambus received an initial upfront payment and is expected to receive subsequent payments.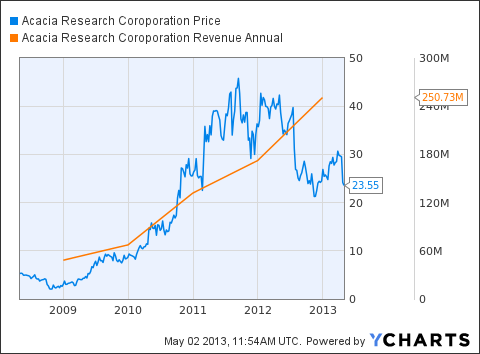 Revenue growth has been impressive and coincides with the rise in share price. With $327 million in cash and no debt the company is ready for new growth opportunities.
Another company that can profit is a company called RPX Corporation (NASDAQ:RPXC).
RPX Corporation provides patent risk management solutions in the United States, Japan, and internationally. The company offers a subscription-based patent risk management solution that facilitates exchanges of value between owners and users of patents. It provides a defensive patent aggregation in which it acquires patent assets to provide clients with licenses to protect them from patent infringement assertions. The company also offers its clients with access to its proprietary patent market intelligence and data. Its clients include companies that design, make, or sell technology-based products and services, as well as companies that use technology in their businesses. RPX Corporation was founded in 2008 and is based in San Francisco, California.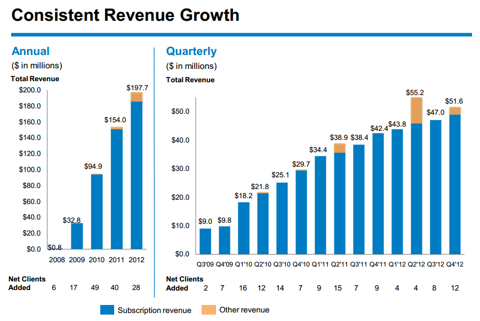 RPX's first quarter revenue totaled $61.2 million, up 40% from the prior year period. Net income came in at $17.5 million or $0.33 per pro forma diluted share, up 75% and 74%, respectively, from the prior year period. Analysts expected $0.29 EPS on $60.1 million in revenues The company expects Q2 revenue of $54.3 million to $54.8 million, with net income of $12.2 million to $12.6 million. For the full year, the company expects $223 million to $235 million, with net income of $47 million to $52 million.
A new star in the intellectual property business is Marathon Patent Group (NASDAQ:MARA).
Marathon Patent Group Inc., formerly American Strategic Minerals Corporation is an intellectual property ("IP") company. The company generates revenues through IP consulting engagements. Marathon also partners with inventors and patent owners to monetize patent portfolios through IP licensing campaigns. The company provides its clients analytics, IP valuation methods, partnering opportunities, infringement tracking, patent analysis, strategies, tactics, enforcement and reporting among others.
On April 25 the company's released a letter to its shareholders with their latest achievements:
Acquired CyberFone Systems and its patent portfolio which has generated 32 settlement and license agreements for a total of $15.5 million in revenue
Acquired US Patent 5,331,637 from MOSAID Technologies, one of the world's leading intellectual property management companies
Entered into a strategic relationship with IP Navigation (IPNav), the leader in full-service patent monetization
Completed the acquisition of Sampo IP LLC acquiring its patent portfolio consisting of three patents and one pending patent application
Commenced our first licensing campaign on March 20, 2013 by filing a patent infringement lawsuit in the United States District Court for the Eastern District of Texas against Sony Computer Entertainment America LLC, Siemens Energy, Inc., CB Apex Realtors, d/b/a Coldwell Banker Apex Realtors, Blue Cross and Blue Shield Association, Juniper Networks, Inc., Winn Dixie Stores, Inc., and Dell, Inc.
Established a new IP Research and Services Center at the University of Arizona Science & Technology Park in Tucson, Arizona
Hired Nathaniel Bradley, an accomplished inventor and IP strategist, as CTO and President of IP Services
Hired James Crawford as Chief Operating Officer
Hired Douglas Bender as Vice President of Engineering
Appointed both Craig Nard and Will Rosellini as independent directors to the Company's Board of Directors
On May 1 the company announced that its wholly-owned subsidiary, TQP Acquisition Corp, Inc., has agreed to acquire U.S. Patent 5,412,730, a foundational data encryption patent that has thus far generated 97 settlements and licensing agreements to date and $39 million in gross recoveries. IP Navigation sourced the deal on behalf of Marathon and will continue to assist Marathon in the enforcement and licensing of the patent. In addition to performance bonuses and a license back, Marathon agreed to pay six million dollars and to issue seven million shares of Common Stock at the closing of the acquisition.
The acquisition of the '730 patent provides Marathon Patent Group with another revenue-producing asset to add to its IP portfolio," stated Doug Croxall, Marathon Patent Group's Chief Executive Officer. "Marathon is executing its business strategy by partnering with businesses like IPNav that can provide immediate and long-term value. The company also is establishing immediate revenue generation through the acquisition of high-quality patent licensing programs, and developing its IP Services platform."
With a market capitalization of approximately $20 million Marathon Patent Group is the smallest of the three companies mentioned in this article. Despite that I think it offers great rewards going forward. Especially because of the future revenue streams coming out of the newly acquired portfolio.
Final Note
The number of companies facing NPE litigation continues to grow as the ways in which technology is being used expands.
An NPE is any entity that earns or plans to earn the majority of its revenue from the licensing or enforcement of its patents.
Patent lawsuits involving NPEs have increased dramatically over the last decade. In 2011, another record setting year, there were more than 5,200 occasions when a company found itself in litigation with an NPE, a number that has increased by an average of over 36% per year since 2004.
Operating Company Parties in NPE Lawsuits Over Time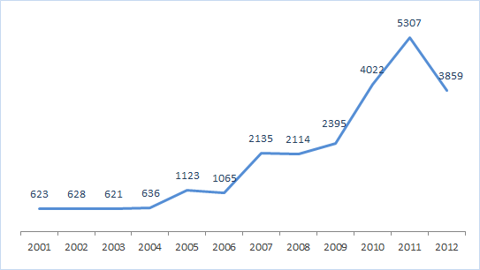 source: PatentFreedom
All three companies are going to benefit from the explosion in intellectual property disputes. So we can conclude it is not a hype.
Investors have a great opportunity to jump on the bandwagon and still reap the fruits from this emerging trend.
Disclosure: I have no positions in any stocks mentioned, but may initiate a long position in ACTG, MARA over the next 72 hours. I wrote this article myself, and it expresses my own opinions. I am not receiving compensation for it (other than from Seeking Alpha). I have no business relationship with any company whose stock is mentioned in this article.