Introduction
Thanks to hydraulic fracturing and horizontal drilling, North American gas production has been growing quickly during the last three years. The domestically produced natural gas is the new cheap fuel for the economy of North America, giving it a huge competitive advantage over the rest of the world. There is nobody in the world that can compete with the low-energy costs provided by the domestically produced natural gas when much of the rest of the world is using crude or extremely high-priced natural gas for energy-intensive industrial uses, such as manufacture of fertilizer, methanol, petrochemicals or steel. For instance, the chemical manufacturer Dow Chemical (NYSE:DOW) and steelmaker Nucor (NYSE:NUE) have already moved or are planning to move plants that were previously relocated abroad back to the United States.
This production boom has also resulted in an increasing need for the expansion of the outdated North American pipeline network, which cannot accommodate the new volumes any more. Apparently, the pipeline operators belong to the primary beneficiaries of this booming production. This is why, I wrote some articles recently about the "Silver Bullets of the North American Energy Transport Infrastructure" and also evaluated all the midstream players involved.
In those articles, I also captured the undervalued and the overvalued midstream players along with few acquisition targets. You can find these articles here, here, here and here.
Furthermore, the cheap natural gas has opened new horizons to several companies which are looking to adopt natural gas as a transportation fuel. The hope is to reduce costs and transition to a cleaner burning fuel.
According to President Barack Obama: "150 members of Congress from both sides of the aisle produced legislation providing incentives to use clean-burning natural gas in our vehicles instead of oil. Getting 150 members of Congress to agree on anything is a big deal. The federal Government is going to need to lead by example. I am directing agencies to purchase 100% alternative fuel vehicles...".
One month ago, Utah's Governor Gary R. Herbert re-affirmed his call for state and local government, schools, public transit, businesses and industry to transition more of their fleet to clean fuel vehicles.
Going Natural Gas, Electric Or Hybrid?
I believe that the prospects for natural gas as a transportation fuel are promising. It is being used now primarily for trucks and city transportation. Unfortunately, few initiatives have been materialized thus far to realize the natural gas potential for consumer auto fuel. For instance, the alternative fuels refueling infrastructure has significant margins for improvement because it is quite limited right now. There are approximately 1,000 natural gas refueling stations in the US currently compared with 160,000 gasoline stations. Of these natural gas stations, less than half are available to the public and more than a fifth are located in California.
Honda (NYSE:HMC) was the first car company to offer a vehicle running exclusively on natural gas in the US market. That was Civic Natural Gas, formerly Civic GX that has disappointing sales due to several reasons. To name a few, high cost and limited cargo space because compressed natural gas requires larger and heavier fuel tanks. If the natural gas gains more traction on that front, it will have multiple benefits for the consumers, the environment and the economy limiting further the US dependence on foreign oil.
Going electric does not seem to be a choice that is booming either. The birth of this entire new industry has not been coupled with phenomenal acceptance so far.
Nissan (OTCPK:NSANF) Leaf's and Chevrolet Volt's sales have been rather disappointing thus far. The electric choices are pretty much limited to the Nissan Leaf, the Chevrolet Volt, the new Ford (NYSE:F) C-max Energi plug-in, the new Honda Fit EV, and the new Toyota (NYSE:TM) Prius Plug-in. Tesla's gas free electric cars carry a six-figure price tag which puts these cars out of reach to mere mortals, and the upcoming Cadillac ELR Plug-in will not be affordable for the majority of the eco-friendly consumers either.
On top of that, the bankruptcy of A123 Systems is still fresh, the electric car maker Fisker Automotive is on the verge of bankruptcy too and Coda Holdings filed for bankruptcy this week.
Better Place was also supposed to revolutionize electric cars. Better Place's founder, Shai Agassi, wanted to make electric cars as versatile and as convenient as gasoline-powered vehicles. And he had at least one notable supporter. In 2008, former Israeli prime minister Shimon Peres invited Agassi to build a network in Israel. The hope was that Better Place could free the small nation from its dependence on oil because gasoline costs more than $7.50 a gallon in Israel. But that vision hasn't quite panned out. This electric car company has sold only about 750 cars in Israel, and has pulled the plug on its U.S. and Australian operations. Better Place will continue to sell and service vehicles in Israel and in Denmark, but it will shutter its corporate headquarters in Palo Alto, California and its offices in Australia.
Last October, Better Place replaced its charismatic founder, Israeli software whiz and multi-millionaire Shai Agassi. It posted a $US132m loss last financial year and globally in excess of $850m has been spent on the concept over the past five years. Better Place was created back in 2008 when Israel was also importing natural gas.
However, Noble Energy (NYSE:NBL) has changed big the Israeli economy during the last three years. In January 2009, Noble Energy discovered Tamar (36% WI) where the well encountered more than 600 feet of net pay in three high-quality reservoirs. Noble Energy discovered Leviathan (40% WI) in December 2010. Leviathan represented the largest deepwater natural gas discovery in the world over the past decade. It was Noble's third significant offshore natural gas discovery in the Levantine basin, following Tamar and Dalit. Over 220 feet of net natural gas pay was encountered in several subsalt Miocene intervals at Leviathan. In February 2012, Noble Energy discovered Tanin with estimated gross mean resources of 1.2 Tcf. Tanin is the fourth field over 1 Tcf that has been discovered in this Eastern Mediterranean basin.
After these discoveries that can provide cheap natural gas to Israel's economy for decades, Israel might need to invest on natural gas cars and trucks instead of electric cars. Noble Energy's CEO urged recently Israel to adopt new natural gas policy, making government officials scramble to bring government regulations in line with the country's new discoveries.
After all, the solution might lie somewhere in the middle. This is why the sales for hybrid cars with a balanced use of an electric motor and an internal combustion engine, have been booming during the last years. This success underscores the fundamental challenge facing the electric car. Without battery-switching, pure electric cars have a limited range and they take a long time to recharge. Even Ferrari will join this hybrid club soon with its "LaFerrari" hybrid supercar which will be a road toy for few participants.
I also believe that like hybrid cars, electric bicycles sales are poised to take off in the US. Americans bought as many electric bicycles as they did electric cars last year. About 53,000 electric bicycles were sold while electric car sales also came in at about 53,000.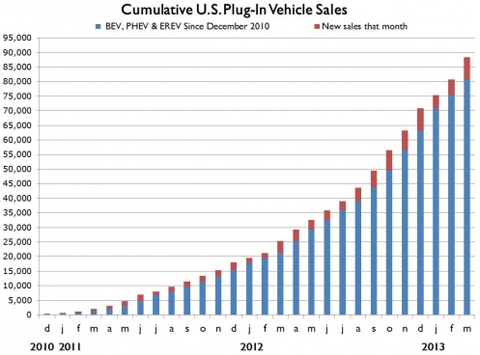 Who knows Currie Technologies, Evelo, the eZip Trailz, and the Faraday Porteur? Who knows Schwinn, Trek, Prodeco Technologies and Giant? These are startup and established players in the electric bicycles industry. Who knows Organic Transit that manufactures a solar-powered mix of electric bicycle and car?
E-bicycles are very popular in China where the majority of the world production is sold, and in Europe primarily in Germany and in the Netherlands. However, I will not go deep on the e-bicycles because it will be out of the scope of this article.
The Going-Green Transportation Players
How can an investor participate in the green transportation sector by making relatively safe bets? Which company will be the next Fisker or A123? Which ones will fail to go the distance in the growing green transportation landscape? The fear of viability will always loom over the companies involved.
Leaving the fear aside, let's check out three players that are heavily dedicated to the green transportation. These are the obscure New Flyer Industries (NFYEF.PK), the fast but not furious Tesla Motors (TSLA) and Kandi Technologies Group (KNDI).
New Flyer manufactures heavy duty buses in Canada and the United States, offering a very broad product line in the industry, including drive systems powered by clean diesel, LNG (liquefied natural gas), CNG (compressed natural gas), electric trolley as well as energy-efficient diesel-electric hybrid vehicles.
Tesla's electric cars are touted to be the future of the automobile, while Kandi Technologies is a Chinese manufacturer of pure electric vehicles (EVs), Go-Kart vehicles, and tricycle and utility vehicles (UTVs), among others.
First let's have a fundamental approach on all these three companies:
Corp.

PE

PBV

Operating

Margin

Gross Profit

-----------

Operating

Expenses

EV

------

Cash Flow

LT Debt

-----

Cash Flow

Total Debt

-------

Equity

Current

Ratio

NFYEF

44

1.38

4%

1.74

12.34

3.36

1.6

1.06

TSLA

-

49

-

0.07

-

-

7.92

0.97

KNDI

21

1.84

8%

1.72

-

-

1.15

1.49
EV: Enterprise Value
LT: Long Term
1) Few weeks ago, Tesla amended its Q1 2013 guidance to full profitability, both GAAP and non-GAAP. Is it a blip or will it be sustainable? It remains to be seen whether Tesla will have a full year of positive earnings leaving it with a meaningful P/E ratio. Even if the profitability continues, Tesla already trades at a huge premium and it has to face a significant debt overhang which must not be ignored either.
2) New Flyer has decent metrics and primarily it does not face any debt problems. The operating margin is low, but the new models and the increasing orders will most likely help it rise in 2013. Add on this, the good dividend, and the whole package becomes attractive. However, the stock is technically overbought currently. This is why, patience is required until the ongoing correction and consolidation is completed.
3) Kandi's metrics are not low, despite the fact that the company has negative operating cash flow on an annual basis and its debt is not negligible. However, the numbers do not truly matter when an investor evaluates a Chinese stock. This is my opinion, after spending a ton of hours and analyzing almost 1,000 Chinese stocks from 2009-2011. Why? Please check out the paragraph below where I explain my strategy.
Major Growth Initiatives
To have a better idea about these three green players of the transportation industry, let's check out their recent major growth initiatives:
1) Tesla is banking on two vehicles currently, the Roadster and Model S. The Tesla Roadster entered production in 2008 and Model S in 2012. Model X is the third car in the company's pipeline. The production for Model X begins at the end of 2013, and the deliveries begin early 2014, with volumes targeted at 10,000 - 15,000 units per year.
The company has also been expanding its retail network quite aggressively since 2012. In late 2012, Tesla announced ten more store openings for 2012, and it has currently 24 locations in North America and 34 worldwide. Tesla plans to continue to expand its retail network into 2013, supporting the mission to engage and inform people about its cars and driving electric.
In late 2012, the company unveiled its highly anticipated Supercharger network, covering California, parts of Nevada and Arizona. Tesla characterized its Supercharger network as a game changer for electric vehicles, providing long distance travel that has a level of convenience equivalent to gasoline cars for all practical purposes. Those six California locations unveiled were just the beginning.
By the end of 2013, Tesla plans to install Superchargers in high traffic corridors across the continental United States, enabling fast, purely electric travel from Vancouver to San Diego, Miami to Montreal and Los Angeles to New York. Tesla will also begin installing Superchargers in Europe and Asia in the second half of 2013.
2) In May 2012, New Flyer diversified its product offerings. It announced a partnership with British firm Alexander Dennis to jointly develop a new smaller size "midi" bus for the North American market. Alexander Dennis has deep experience in the international midi bus market, having delivered over 16,000 of this class of bus to customers throughout the UK, Hong Kong, New Zealand and Australia. New Flyer will be contributing its expertise with North American standards. New Flyer will manufacture the midi buses at its existing plants and sell them to existing and potential new customers. New Flyer estimates the market for this type of product could be approximately 1,000 buses on an annual basis.
In June 2012, New Flyer presented its prototype all-electric 40-foot Xcelsior heavy-duty transit bus. The bus is equipped with an electric drive and is modified to carry advanced lithium ion batteries from MHI that are charged from the city's electrical grid instead of by a conventional diesel engine. The electric bus prototype has the same bus platform into which New Flyer's diesel, diesel-electric hybrid, compressed natural gas and electric trolley can be incorporated to give customers a variety of propulsion options for their fleet.
The first order for this all-electric bus came shortly after that presentation. In late June 2012, Chicago Transit Authority approved the purchase of two all-electric battery heavy-duty transit buses. The total purchase price of the buses was approximately US$2.2 million.
In early 2013, Marcopolo S.A. agreed to make a strategic investment of C$116 million to acquire a 19.99% stake in New Flyer. Founded in 1949, and headquartered in Caxias do Sul, Brazil, Marcopolo is one of the world's largest bus builders and is primarily engaged in the manufacturing of buses, bus bodies, and components with a product line covering a wide range of models including: coach, urban, micro-buses, and mini-buses. Marcopolo is listed on the Brazilian stock exchange. Marcopolo's strategic plan and stated intent is to enter the Canadian and US market.
Cummins (CMI) has been playing a major role in New Flyer's growth strategy and future plans. New Flyer Industries was using Caterpillar's (NYSE:CAT) C9 diesel engines for its hybrid low floor buses from 2002 until 2004. However, the company has transitioned to Cummins ISL diesel engines since 2008. Cummins is the supplier for all versions of New Flyer's Xcelsior models (35, 40, and 60-foot) which are driven by a Cummins ISL 280 engine. Xcelsior was launched in October 2008 at the APTA EXPO in San Diego and was the industry's first LED headlights.
It is also worth noting that New Flyer Industries was the first transit bus manufacturer to successfully complete the rigorous requirements necessary for the commercial sale of its buses with Cummins EPA 2010 engines. This criteria established by Cummins provides necessary guidance for high quality engine installations and helps to ensure all 2010 EPA requirements are met.
Cummins will also supply the engines for the midi-bus of New Flyer that will be developed in cooperation with Alexander Dennis. Cummins ISBe 6.7 liter engine meets EPA13 standards and couples to the automatic Allison gearbox.
3) In February 2013, Kandi signed a cooperation framework agreement with Geely Automobile Holdings Ltd. to establish a joint venture company to engage in the investment, research and development, production, marketing and sales of electronic vehicles in China. The JV company will be owned 50% by Geely and 50% by Kandi Vehicles.
In April 2013, Kandi completed a full scale pure EV production and assembly line in the Changxing Economic Development Zone of Zhejiang Province and started production. The annual production capacity for the first phase is expected to reach 100,000 units.
My Strategy
After all, here is my strategy:
1) We are still in the early days of the electric car industry. When is the payback period for Tesla's shareholders going to begin? Will it be too long? Will Tesla be the Facebook (NASDAQ:FB) of the electric cars? Will it survive and thrive like Facebook has done among all the other social media? I have read a lot of rosy projections for Tesla's cars but such rosy projections could fail to materialize.
I can still recall how many "gurus" were optimistic for Better Place back in 2008. Actually, when analysts from Deutsche Bank took a close look at Better Place in 2008, they wrote that the company's unique business model could lead to a "paradigm shift" that causes "massive disruption" to the auto industry, and said the company had "the potential to eliminate the gasoline engine altogether." Renault-Nissan agreed to manufacture 100,000 electric cars, tailored to Better Place specifications.
This is why, I will stay with the fundamentals and Tesla's fundamentals are not attractive at all. There is a ton of speculation priced into the stock currently, and I gravitate to short it at the current levels.
2) In terms of Kandi Technologies, I am one of those investors who was burned by buying Chinese stocks two years ago. I was too naive to believe them and their financial reports. Numerous fraudulent Chinese companies were uncovered back then. Who can forget ShengdaTech and its CEO who was accused of stealing some millions of corporate cash? What are the repercussions on that CEO? I have not read anything since 2011 when the scandal was unveiled.
The defrauded investors are still waiting to read some news from Alvarez & Marshall and the Court. How can a major Asian maker of nano precipitated calcium carbonate for the tire industry disappear from the map? Why doesn't anybody want to acquire it and apply for a listing again?
Moreover, the investors are still waiting news from NIVS Intellimedia Technology Group and China Intelligent Lighting that belong to the same family. The same family brought two companies in US and both were frauds. I bought China Intelligent Lighting which supposedly was a manufacturer of LED lighting using the HYUNDAI brand. The stock went from $3 (IPO price) down to $0! That was not a typical LED factory. China Intelligent Lighting was the only Chinese company with the official authorization to use the HYUNDAI brand for its lighting products. This was heavily touted at the corporate website and all the corporate announcements. HYUNDAI would not allow it to happen if it was a lie, right? Despite this, the stock was halted suddenly one day due to accounting fraud.
There are still some ongoing lawsuits against China Intelligent Lighting but a lot of questions have arisen since then. Where is HYUNDAI really? How did HYUNDAI allow that Chinese factory to tarnish its reputation worldwide? What did HYUNDAI do afterwards against that Chinese factory? Nothing but it disappeared instead. There has not been any public announcements about this issue since 2011. Why hasn't the Chinese Government reacted thus far to put CILE's and NIVS's CEOs in jail?
Numerous scams, frauds, stolen money and accounting discrepancies have been revealed in the US-listed Chinese stocks during the last two years, and these stocks have plunged while the retail investors have fallen into deep poverty and severe depression.
The Chinese Government has done nothing to cure this tremendous scandal, encouraging indirectly with its attitude this unethical behavior that ruined the "Invest In China" idea. To me, the Chinese Government should pursue an exemplary punishment for all these Chinese management teams who defrauded millions of investors worldwide and are driving their luxury cars somewhere in Beijing now. In my opinion, SEC and the Court should also condemn all those who brought these frauds in the US stock exchanges. SEC has a huge responsibility on this scandal, because it failed to protect the investors who have been anxiously waiting for the final Court decisions and their compensations.
On top of that, you might think that if you bought shares of a Chinese company that was listed on an American stock market, you would actually own a piece of that company. Unfortunately, it is not that simple. The recent cases of the ChinaCast Education Corporation and the Sino-Forest Corporation show that in many instances, foreign investors in Chinese companies might have bought shares that don't really represent anything.
After all these facts, I swore to myself that I would never touch any Chinese stock again. I also discouraged all who have asked me for financial advice since 2011, from investing on Chinese securities. I strongly believe that I do not have the least protection as a shareholder of a Chinese stock, while I am exposed to a ton of risk which is totally out of my control.
Kandi Technologies' case is no different for me. It also seems that all the international institutions agree with my approach, and they have avoided Kandi Technologies since 2011, when the numerous Chinese accounting scandals were unearthed.
The biggest fund in Kandi is ExcelVantage Group but do not let the name fool you. This is not an American or British fund, but actually it is a Chinese fund.
3) Overall, the future is looking bright for New Flyer. Their current backlog should allow them to maintain production at the current level for the remainder of the year, and strong demand and new offerings mean they may be able to increase production and prices in 2013. Combine that with a good dividend yield, and New Flyer could be in my buying list especially if the stock corrects by another 10% from the current levels.
Conclusion
As always, I am pretty clear with my bullish and bearish calls. This is what I did with New Flyer, Tesla and Kandi too. However, all fingers are not the same. Eventually, some readers will not agree with my calls above. This is why, I urge them to make their own analysis in order to build a portfolio more suited to their particular needs. Good luck!
Disclosure: I have no positions in any stocks mentioned, but may initiate a short position in TSLA, KNDI over the next 72 hours. I wrote this article myself, and it expresses my own opinions. I am not receiving compensation for it (other than from Seeking Alpha). I have no business relationship with any company whose stock is mentioned in this article.