Sherwin-Williams (NYSE:SHW) reported record sales over $9 Billion this year and opened its 3,500th store during the year 2012. Earnings per share increased from $ 4.14 in 2011, to $ 6.02 for the full year 2012, and a new first-quarter record of $1.11 in 2013. With these results, Sherwin-Williams announced a dividend increase by 7% to $1.56, its 34th consecutive increase and announced continued share buy-backs in progress. Sherwin-Williams also completed another 0.5 million share repurchases continuing its 10-year trend of increasing shareholder value through repurchases.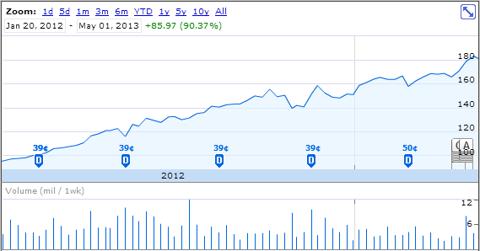 These strong earnings were more than supported by the stock's performance since the beginning of the year, reaching an all-time high of $ 184.50 on April 25. This price represents a 30.6 P/E multiple on the 2012 EPS, and a 23.4 P/E multiple on the average 2013 analyst estimate EPS. This multiple far exceeds Sherwin-William's historical average hovering around 15, and suggests the stock may be overpriced at this level. In the following article, we will assess the operations of Sherwin-Williams and determine whether such a valuation is warranted.
Getting to know the company
Sherwin-Williams operates four distinct segments as follows:
| | | | | |
| --- | --- | --- | --- | --- |
| | | | | |
| | Paint Sales | Consumer | Global Finishes | Latin America Coating |
| | | | | |
| Sales | 5,410 | 1,322 | 1,961 | 836 |
| Expenses | 4,548 | 1,105 | 1,814 | 755 |
| Segment Profit | 862 | 217 | 147 | 81 |
| | | | | |
| Segment Margin | 15.9% | 6.0% | 7.5% | 9.2% |
1) Paint Stores Group
This segment operates the chain of over 3,500 stores in North America, supplying contractors and do-it yourselfers with architectural and industrial paints, stains and supplies. These stores sell Sherwin-Williams brand products, and constitute the most significant segment representing 57% of the company's total sales. The Paint Stores group consistently posts the highest margins of the segments, and is the focus of the company's growth plans.
Sales in the first quarter of 2013 increased 4% over the same quarter in 2012, with 3.2% of the growth stemming from existing locations and the remainder from new locations including 9 opened in the quarter. Sherwin-Williams further expects to open another 70 to 80 stores in the remaining part of 2013.
2) Consumer Group
This segment sells Sherwin-Williams brand and private label products through a global supply chain to the Paint Stores segment as well as independent retailers throughout North America and parts of Europe. The Consumer Group represents 13.9% of the company's total sales.
Sales in the consumer group segment have been relatively flat, with a minor decrease posted in the first quarter of 2013. Although its margins are considerably lower than the Paint Stores group, this segment plays a considerable support role for it, posting inter-segment sales of $2,320 M in the full year 2012.
3) Global Finishes Group
The Global Finishes segment sells finishing, protective and marine products directly to manufacturers in the construction and automotive industries. This segment represents 20.6% of the company's total sales, and has seen a significant improvement in margins from 4.6 and 4.8% in 2010, and 2011, respectively, to 7.5% for full-year 2012.
4) Latin American Coatings Group
This segment mirrors the operations of the Paint Stores segment in the South American markets. This segment operates 276 branded stores and also sells through a network of 371 dedicated dealers who primarily stock the group's products.

A significant upcoming transaction in the Latin Americas Group is the planned acquisition of Comex, a retailer and currently a competitor based in Mexico. Comex reported 2011 sales of $1.5 Bn and sells its brand of coatings through 3,300 points of sale in Mexico, and operates 240 stores in the U.S. and 78 stores in Canada. Sherwin-Williams believes this acquisition would be a good fit as it would vastly expand its reach in areas currently not well served by Sherwin-Williams brand products.
The acquisition is for a projected price of $2.3 Bn, however the deal is still in progress and there is a risk it could fall through. Should it go through however, this will be a significant expansion for the company, and would greatly expand its reach throughout North America.
Sherwin-Williams and several competitors are currently involved in a series of lawsuits concerning public nuisance claims and personal injury damage claims resulting from the sale of lead pigment and lead-based paints in the past. In 2008, the Rhode Island supreme court ruled in favor of Sherwin-Williams as there was no sufficient proof that these products created a public nuisance. While this ruling is favorable, Sherwin-Williams is still subject to significant litigation risks and incurs costs to manage these risks. The company itself disclosed that the impact of any future litigation is not measurable at this time, however investors need to be aware that this will be a continuing risk for the company.
The Housing Crisis
Sherwin-Williams relies on North American sales of architectural and home coatings for the vast majority of its revenues, therefore was deeply affected by the housing crisis. An analysis of its effect and the recovery would therefore be essential in determining the state of Sherwin-Williams as well as its growth potential.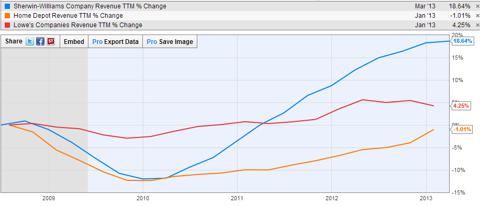 Compared with Home Depot (NYSE:HD) and Lowe's (NYSE:LOW), Sherwin-Williams was able to grow sales at a much faster rate during the recovery. Though this sales figure includes markets other than home improvement through its other segments, the growth of the Paint Stores group proves that Sherwin-Williams is growing market share in the housing recovery. From the period of 2009 to 2012, Sherwin Williams grew from 3,354 stores to its current 3,520 in North America for a 4.9% increase, compared with Home Depot's 0.5% store growth (2244 in 2009, 2256 in 2012) and Lowe's 2.6% growth (1,710 in 2009, 1,754 in 2012).
4) Projections
Sherwin-Williams

Margins Analysis

2012

2011

2010

2009

2008

Net Sales

9,534

8,766

7,776

7,094

7,980

COGS

5,328

56%

5,021

57%

4,295

55%

3,831

54%

4,481

56%

SGA

3,260

34%

2,961

34%

2,728

35%

2,535

36%

2,644

33%

Impairments

4

0%

5

0%

4

0%

36

1%

55

1%

Interest

43

0%

42

0%

71

1%

40

1%

66

1%

Income before taxes

907

10%

742

8%

678

9%

623

9%

714

9%

Net income

631

7%

442

5%

462

6%

436

6%

477

6%
The fact that Sherwin-Williams has been able to maintain its profit margins over the past five years shows a very promising future. With continued expansions of store locations and markets, as well as acquisitions, Sherwin-Williams necessarily would incur higher costs relating to managing its expanding market. However, the fact that the additional gross margin earned on new sales at least matches and generally exceeds the additional administrative costs proves Sherwin-Williams is making a positive move forward with its acquisitions.
Sherwin-Williams continued acquisition efforts and its planned Comex acquisition should prove to be very profitable if they conform to its current expansion model.
The company itself projects net income in 2013 to rise significantly to $7.45 per share over 2012's $6.02, with analysts projecting an average of $7.86.
Conclusion
Sherwin-Williams is an excellent company. It has a strong and proven track record of posting solid earnings and strong revenue growth. Its growth in the number of paint stores and its growth in market share during the housing recovery have helped it post a strong growth in sales, even on pre-recessionary terms. Its upcoming potential acquisition of Comex would greatly expand its sales reach, and has the potential to significantly increase earnings.
The main drawback to Sherwin-Williams as an investor is the current stock price. Trading at a P/E multiple of 30.6 over current earnings, the stock prices in a significant portion of earnings growth. Furthermore, potential future legal liabilities arising from lead paint litigation, and the possibility of a collapse in the Comex acquisition deal could impair projected earnings.
Overall, I would recommend a position in SHW if there were to be a pullback in the share price. A price of $149 would give a 20X valuation over the internal projections for 2013 earnings, which is still a good deal above the company's historical average of 15, however this level may adequately price in the future growth and potential Comex acquisition.
Disclosure: I have no positions in any stocks mentioned, and no plans to initiate any positions within the next 72 hours. I wrote this article myself, and it expresses my own opinions. I am not receiving compensation for it (other than from Seeking Alpha). I have no business relationship with any company whose stock is mentioned in this article.