A long-time reader was kind enough to point me towards A-Power Energy (OTC:APWR) and its recent activity. This was a name I stuck with for a long time (9 months), while amazed the market could care less about its single digit PE ratio. All it did was drop - no matter what good news they released.
Finally I threw in the towel in early March [Mar 9, 2009: Closing A-Power Energy], and you can guess how the story turns out from there. Regular readers know I am no believer in "market efficiency" either for the market as a whole, or at the individual stock level - this is one of the best examples [Oct 6, 2008: A-Power Energy Announces Huge Contract - Stock Down 30%] - a monster growth rate that no one believed was valid, and I could not find any sucker (other than myself) to buy below $5. Nope they were selling at $4 and even $3. Now with Kool Aid in the air for all things China, plus the fact oil continues up - hence all things alternative energy are catching "fast money" traders... the stock is sporting a $12 spot.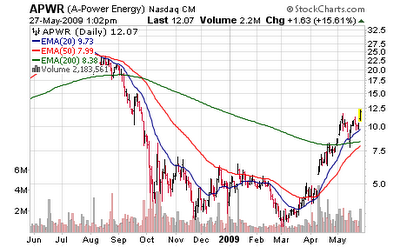 Not that fundamentals matter as traders are playing a thesis, but the company finally hired a CFO this week - what a long adventure. [Oct 7, 2008: A-Power Lets CFO Go] We'll see if this company can communicate better with the new team....
A-Power Energy Generation Systems Ltd., a China-based power equipment company, on Tuesday said it named Kin Kwong "Peter" Mak to the position of Chief Financial Officer. Mak, 48, joins A-Power from New Dragon Asia Corp., where he held the CFO position from 2004 and 2008. Currently, Mak is a director at a number of publicly traded Chinese companies, including Trina Solar Ltd., China Security & Surveillance Technology Inc. and China Grentech Corp.
The company said John Lin, who had been serving as the company's acting CFO, has been named to the role of Chief Operating Officer.
A-Power is still cheap at 12x 2009 earnings, but that said people were selling it off at 3-4x earnings. This was one boggling experience.
[Jan 12, 2009: A-Power Energy Connects with General Electric]
[Dec 30, 2008: A-Power Energy Warns on Fourth Quarter]
[Nov 20, 2008: A-Power Energy Bit of a Miss but Business Metrics Solid]
[Oct 20, 2008: A-Power Energy Provides Follow Ups to Last Week's Conference Calls]
[Oct 13, 2008: A-Power Energy Up 55%]
[Sep 11, 2008: A-Power Energy Update]
[Aug 28, 2008: China to Subsidize Wind Turbines]
[Aug 25, 2008: A-Power Energy Earnings/Guidance Remain In Line - Wind Business on Track]
[Jul 23, 2008: A-Power Energy Signs $300M Contract with Thailand]
[Jul 14, 2008: A-Power Energy Generation Systems Hot and Heavy with Press Releases - Up Another 7%]
[Jul 9, 2008: A-Power Energy Generation Up 15% on Announcement of Completion of Largest Wind Turbine Plant in China]
[Jun 27, 2008: New Position in A-Power Energy Generation Systems to Create Alternative Energy Mini Basket]