OK, I'll admit that when it comes to fashion and shoes, I am completely lost. In my closet sits a pair of running shoes, a pair of dress shoes, some casual walk around shoes, and a couple of flip flops. To me, shoes are simply functional items and in no way express my personality (or maybe my lack of shoes shows my lack of personality… hmmm).
However, I'm smart enough to realize that not everyone shares my view on footwear, and in fact there are some extremely profitable businesses who cater to this specialty retail niche. One such company is Steven Madden, Ltd. (NASDAQ:SHOO). The company also wins a medal for one of the more creative ticker symbols.
In late April the stock traded sharply higher as the company issued guidance for fiscal 2009. The company expects sales to come in flat to down 2% for the year and earnings are expected to be in the range of $1.85 to $1.95. This obviously helped to assuage some investor fear regarding weak sales with the difficult economy. Within a few days the stock hit a high of $30.40 which is 127% above the low from March and 28% above the closing price prior to the announcement.
While I certainly understand the relief that investors must feel when hearing that the company will maintain its sales levels, the higher stock price appears a bit over done compared to the expected earnings for the company. At this point analysts are pegging their expectations at $1.89 for 2009 which means that the stock enjoys a multiple of 15 (which is fairly robust for the retail sector).
It is likely that investors are encouraged by the ability of the company to increase earnings despite flat sales volumes. The company was largely able to accomplish this feat by increasing their operating margins from 2.8% last year to a level of 9.6% in the first quarter. While this is an impressive feat, SHOO should have trouble increasing these margins any further due to the weak consumer spending environment.
There was a time when the company could sell shoes at inflated price points and count on fashionable customers to pay the premium. But as global consumers move farther towards a mentality of saving over spending, specialty retail names will have difficulty keeping their margins high. Of course there will be a portion of the population still willing to pay the higher prices, but this section of consumers is becoming a smaller percentage of the population. This will force SHOO to either cut prices to appeal to a broader demographic, or keep prices high (supporting their margin gains) but sacrifice sales levels.
The bottom line is that while earnings levels may be stable, they will likely experience very little growth in the coming years. Investors who own the stock and have paid 15 times earnings for the growth potential are likely to get frustrated and sell as the recession wears on. While I don't think we will see the stock trade as low as $13.42 again, a decline to a sub-$20 level could be in the cards.
Traders could profit from shorting the stock, or possibly by buying puts. One strategy for aggressive traders may be to buy the September $25 puts which can be purchased at roughly $2.40. At the same time, one could sell the September $30 calls for $2.90 pocketing $0.50 per share net between the two contracts. If SHOO remains between $25 and $30 investors get to keep $50 per option contract free and clear. If the stock declines below $25, traders will participate as if they were short at $25. The risk is for the stock to trade above $30 which would leave the trader with the same risk as being short the stock outright. At this point, the break even point would be $30.50 (less commissions).
Consumer spending is difficult to predict, but could be very weak for years to come as the US (and other countries as well) transition towards a more fiscal conservative mentality. Beneficiaries could include discount retailers but all stock purchases should be made at attractive valuations as growth is not guaranteed to anyone at this time.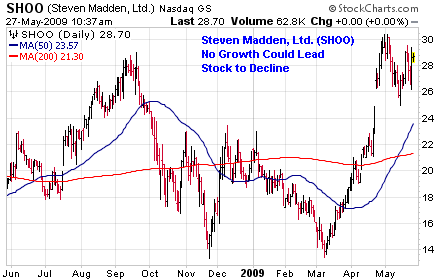 Disclosure: Author does not have a position in SHOO.