The Walt Disney Company (NYSE:DIS) is scheduled to report its 2nd quarter 2013 earnings on Tuesday, May 7th at 5:00 pm ET. Below I have provided an update of the quarter as well as an overview of earnings expectations.
Profile and Estimates
Walt Disney has a market cap of $115.33 billion and currently trades for $64.33 per share. Shares are up 28.3% YTD and trade 51.41% above their 52-week low of $42.19. Analysts have a mean target price of $62.50 and a median price target of $63.00 on the shares. Twenty eight analysts have an average second quarter earnings per share estimate of $0.76 on estimated revenues of $10.50 billion. Walt Disney has beat earnings estimates in three of the last four quarters.

Click to enlarge
Fundamentals and Highlights (Sources cited below article)
Positives
P/E of 20.4 is below the industry averages 26.5.
Operating margins of 20% and net margins of 13.1% are both above the industry averages 17.8% and 10.1% respectively.
ROA of 7.3 and ROE of 14.3 are both above the industry averages 5.5 and 11.6 respectively.
1.19% dividend yield.
The short interest has been relatively stable, even with the recent uptrend, which indicates that investors are comfortable with the current valuation.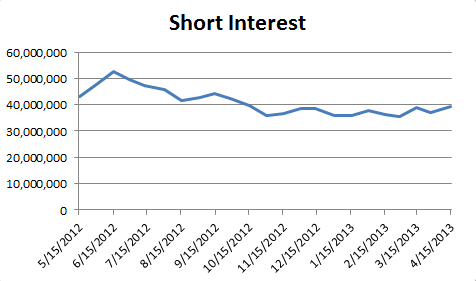 Negatives
Average net income growth over the last three years of 19.8% is behind the industry averages 37.4%.
P/B of 2.8 and P/S of 2.7 are both above the industry averages 2.6 and 2.2.
Market saturation and lower cost options could challenge media network revenues.
Mixed
Large moat held by ESPN but margins have been narrowing slightly. Last quarter, operating income at Cable Networks decreased $15 million to $952 million due mostly because of a decrease in ESPN. This was caused by higher programming and production costs as well as contract increases for college football and NFL, an ongoing issue.
Take Away
The stock is on course for a great year and fundamentals look solid for a company with such a large base and strong brand. I imagine growth will be a little slower and margins may decline slightly but Disney is here to stay. As indicated by the short interest, I don't see any reason for a large move after the earnings release barring any large surprise or overall market move.
Sources
In addition to the links above, ratios and financial data was sourced from Morningstar.com, which you can find here.
Other company data was sourced from the 1st quarters report that can be found here.
Disclosure: I have no positions in any stocks mentioned, and no plans to initiate any positions within the next 72 hours. I wrote this article myself, and it expresses my own opinions. I am not receiving compensation for it (other than from Seeking Alpha). I have no business relationship with any company whose stock is mentioned in this article.