In previous articles that I wrote on here at the end of last year and at the very beginning of this year, I provided presentations of dividend stocks. This article will take a look at some of the positive performing stocks that were highlighted in those articles. It will look at how and why the price has changed since those articles, what dividend the stocks currently pay, and potential catalysts for continued great performance.
Yesterday, I had an article published on here that discussed five stocks that I had previously written about. Those stocks have performed quite well since the start of the year. These four have performed very well so far this year as well, and all of these stocks have the potential to keep doing well if things go right for them. Unfortunately for me, I did not invest in any of these stocks when I wrote about them nor am I invested in them now. Hindsight is always easy to see though. Without further delay, let us take a look at these four stocks.
In an article that was published on here on December 25, 2012, I wrote about three mid-cap stocks that, at the time, yielded 7% or more in dividends. AmeriGas Partners LP (NYSE:APU) and Suburban Propane Partners LP (NYSE:SPH) were two of the stocks mentioned in that article. AmeriGas Partners closed on 12/26/12 at $37.07 and is currently trading at $45.31 during the trading day today, 5/2/13. It currently has a distribution yield of 7.3%. Suburban Propane Partners LP closed on 12/26/12 at $37.10 and is currently trading today (5/2/13) at $49.19. It currently also has a distribution yield of 7.3%.
In an article that was published here on December 29, 2012, I wrote about 2 mid-cap stocks that were yielding 9% or more. Invesco Mortgage Capital Inc. (NYSE:IVR) and Two Harbors Investment Corp (NYSE:TWO) were the two stocks discussed in that article. Invesco closed the trading day of 12/28/12 at $19.11 and is currently trading at $20.68 today (5/2/13). It has a yield of 12.4% currently. Two Harbors ended the day of 12/28/12 at $9.94 and is actively trading today at $11.94. Its current yield is 10.8%.
The following chart compares the performance of these four stocks against the S&P 500 from January 1, 2013 until today (currently 12:53 pm on May 2, 2013). Keep in mind, these price changes do not take into account dividends and distributions. These stocks all have large yields, and are much larger than the dividend yield for the average S&P 500 stock.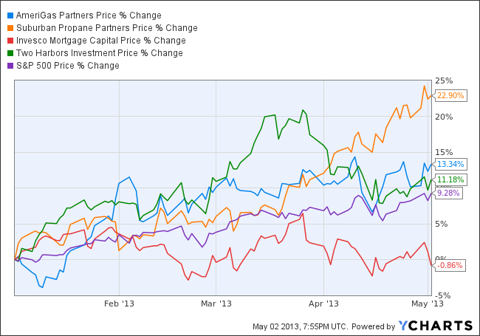 APU data by YCharts
As the chart shows, three of the four stocks outperformed the S&P 500 without taking into account dividends and distributions. The average price return so far this year for the four stocks, based on the percentages above, is 11.64%. That has outperformed the S&P 500's return of 9.28%. The average dividend yield of the four stocks is upwards of 9%, which can be tacked on to that outperformance for the pro-rated months of the year thus far.
AmeriGas Partners LP has been the second strongest performing stock so far this year out of the four companies. The company has reported solid earnings and is continuing to deliver its large distributions to shareholders. Its annualized distribution was recently raised to $3.36 from $3.20, a 5% increase. Analysts expect the company to grow its earnings by 4% per year over the next five years. Growth in the gas and propane industry, and increased interest by investors looking for high yields in the stock market when bonds are currently paying low interest rates, are both factors that could propel the stock to new heights. Of course, strong earnings are necessary to keep the stock of interest.
Suburban Propane Partners, LP has been the strongest performing stock of the list here by far. Dividend Channel recently listed it as a top ten dividend paying utility stock. Thestreet.com upgraded the stock from a hold to a buy on February 12, 2013. Investor interest in utility stocks could increase demand for the company's stock. Also, increased distributions could increase (or maintain its yield if the stock keeps going up) and also attract investors searching for yield. If utilities can become one of the stronger performing industries this year, this stock is a good choice for those investors as it has a high yield.
Invesco Mortgage Capital has the highest yield out of these stocks, coming in at a whopping 12.4%. It reported earnings for December of 2012 that handily beat analysts estimates, as they came in at .77 versus the .65 expectation. This likely increased investor confidence that the company can continue to maintain this high yield, which can provide a floor for the stock price. If the company can maintain and grow its earnings, it could see further price increases. Also, if REITs start to be viewed as less risky investments, the dividend yield as a whole for these companies could decrease, and lead to stock price increases to bring those yields down. Strengthening of the housing market is a huge catalyst that could bring this to fruition.
Two Harbors Investment Corp. sports a strong yield of 10.8% currently. The company recently gave its shareholders about .05 shares of Silver Bay Realty Trust Corp. (NYSE:SBY) for each share they own. With Silver Bay currently trading at around $19 per share, that equals about .95 of value for share from that. This return is tacked on to what Two Harbors has returned for shareholders, and that further increases its great performance in 2013 thus far. Strong performance in the real estate market could lead to a further increase in these stocks. Additional spin-offs could also lead to more excitement about the company.
Thank you for reading this article. Please conduct your own research and due diligence before deciding whether or not to invest in any of these stocks.
Disclosure: I have no positions in any stocks mentioned, and no plans to initiate any positions within the next 72 hours. I wrote this article myself, and it expresses my own opinions. I am not receiving compensation for it (other than from Seeking Alpha). I have no business relationship with any company whose stock is mentioned in this article.