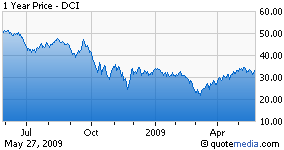 Donaldson (NYSE:DCI) is one of my favorite stocks. This company really should be better known. The problem holding them back is that their business is about as dull as you can get—filtration systems.
Still, the company has performed a remarkable feat. They've reported higher earnings for 19 straight years. Unfortunately, that's all coming to an end this year.
For the first two quarter of this fiscal year (ending in July), Donaldson earned $1.03 a share which was a bit higher than the 95 cents a share from the same period last year.
The Q3 report came out yesterday and Donaldson earned just 35 cents a share which is a massive drop from the 57 cents a share last year. So for the first three quarters of this fiscal year, the company has made $1.37 a share compared with $1.52 from last year.
In November, Donaldson said they expect full-year EPS of $2.16 to $2.36. In February, they said you better make that $1.70 to $1.90. This confirms Elfenbein's Investing Rule #174503B: One Earnings Warnings Leads to Another. Then yesterday, they said $1.55 to $1.70. They made $2.12 a share for all of 2008.
This is still a company I like a lot. Unfortunately, we're in the worst part of its cycle right now. Even the best stocks will get slammed in order to please the market gods. I'm sticking with Donaldson but if you want to get in, you'll probably see a better entry price in a few months.
Year.............Sales.................EPS
1990............$422.9...............$0.19
1991............$457.7...............$0.21
1992............$482.1...............$0.23
1993............$533.3...............$0.26
1994............$593.5...............$0.30
1995............$704.0...............$0.37
1996............$758.6...............$0.42
1997............$833.3...............$0.50
1998............$940.4...............$0.57
1999............$944.1...............$0.66
2000............$1,092.3............$0.76
2001............$1,137.0............$0.83
2002............$1,126.0............$0.95
2003............$1,218.3............$1.05
2004............$1,415.0............$1.18
2005............$1,595.7............$1.27
2006............$1,694.3............$1.55
2007............$1,918.8............$1.83
2008............$2,232.5............$2.12
Disclosure: Long DCI