TheStreet.com (TSCM) isn't the only internet stock trading under cash + marketable securities. RealNetworks (Nasdaq: RNWK) has a market capitalization of just over $350M, but cash and short-term investments of $376.5 million as of March 31, 2009.
On the whole, RealNetworks lost money last quarter, at least on a GAAP basis (RNWK says it made $4.8M in adjusted EBITDA). RealNetworks operates four discreet business units:
Music: mostly Rhapsody, a subscription-based service that competes with Napster and, to a lesser extent, with iTunes. The Music division did well last quarter, posting a 16% year-over-year gain in revenues and a big boost in Rhapsody subscribers, which now total 800,000. RealNetworks hopes to grow subscribers this quarter through special deals, especially an exclusive it has with Green Day. That's the good news. Unfortunately, its biggest competitor — Napster — was bought by one of its biggest partners, Best Buy. Going forward, Best Buy will push Napster and offer a low-cost, $5 per month subscription service that also gives 5 free downloads. There are differences between the two services, mostly in the portability of downloads, but fierce price competition never helps margins. RealNetwork is trying to do an end-run around Best Buy and other retailers by partnering with cellular carriers to offer Rhapsody on handsets.
Games: this unit produces casual games with four distribution models: subscription, ad-supported, sales through iPhone apps store, and social networking. Know anyone addicted to TexTwist on facebook? That's RealNetworks. The unit generated over $32 million last quarter, and could be the most valuable in a breakup.
Media Systems and Services: This unit sells SuperPass broadcasts, including sporting events and reality shows, as well as premium versions of the RealPlayer media player (yeah, the one that's always nagging you to upgrade). It posted a hefty year-over-year decline. I consider it the least interesting of the four units.
Technology products and services: The "TPS" unit sells ringback tones and multimedia messaging products, as well as software to both consumers and through OEM channels.
Generally, a company with a balance sheet that rich provides a margin of safety. However, investors appear concerned that RNWK will squander a significant portion of its hoard on a legal battle with Hollywood studios. RealNetworks recently launched RealDVD, a software product designed to create archival copies of DVDs. Of course, consumers can currently do that with a combination of products like DVD43, DVD Shrink and Handbrake, but RealDVD does it all in one shot.
To make a long story short, the studios sued and U.S. District Judge Marilyn Patel issued a temporary restraining order blocking sales of the software. The suit has already impacted RNWK's results — it caused a $6.3 million increase in legal and professional costs for the quarter. RealDVD had better turn into a blockbuster product, because the price tag will be much larger when all the legal costs are factored in.
My take: RealNetwork's negative enterprise value suggests that the market perceives little value in its operating businesses. I don't share that view. In a breakup scenario, I think the Music and Games divisions could each garner substantial bids. Even if the other two units did not, the breakup value would still be significantly more than RNWK trades for today.
The problem is we cannot assume a breakup, and I'm not sure what other catalyst would unlock value. So while the balance sheet gives me comfort, it's not enough to get me in the stock. The chart might though. As the green weekly triangle signal indicates, the intermediate trend in RNWK has reversed and is now positive.
I'm putting RNWK on my watch list and may buy it as long as April lows hold.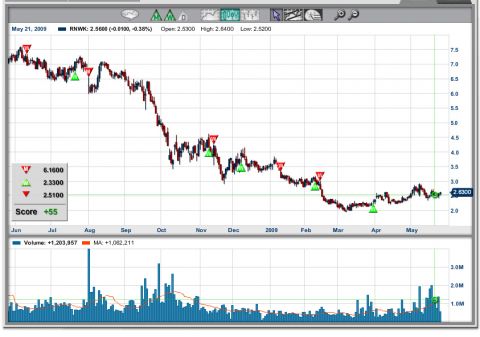 Disclosure: No positions