The solar industry appears to have caught fire these last few weeks. With industry leader First Solar (NASDAQ:FSLR) breaking out of its downward spiral in the middle of last year, the remaining companies began to stir toward the end of 2012. A look at the chart below shows how this trend unfolded by observing some of the leading names in the industry.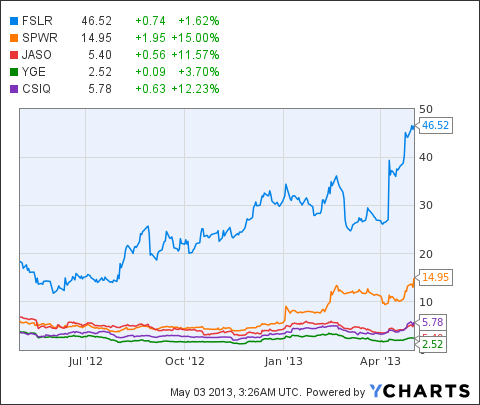 FSLR data by YCharts
With the largest concern of companies in this space dwelling around the possibility of bankruptcy, the rising trend in stock prices has served as a boon towards ensuring this becomes a less likely scenario. After all, higher stock prices equate to greater capacities to raise equity should the need arise. Late last March, the fall of a giant player found in Suntech Power Holdings (NYSE:STP) may have marked the end of the industry's extended decline as the Chinese company filed for bankruptcy.
I've always been an advocate that First Solar would lead the industry back along the course of recovery. In April 2012, I noted this concept in my article found here and identified a breakout opportunity in my other article in October 2012. For the most part, it always seemed clear that if First Solar was to fall so would the industry. Even as the silicon-reliant Chinese competition squeezed on First Solar's margins, the fact remained that First Solar had enjoyed the largest lead and had therefore reaped the reward of the strongest balance sheet.
First Solar's retreat into the utility sector also allowed it the benefit of exploiting lower balance of systems costs, which offset much of the disadvantage found in the efficiency gap between its thin-film cadmium telluride modules and the competition's crystalline silicon technology. Yet as the industry emerges out of its own recession, which was self-created out of a supply glut, efficiency is bound to become more important in the race to claim a larger slice of the market. As it stands now, First Solar expects that its production line module efficiency will increase to 16.2%-16.9% in 2016.
Here are a few key reasons to consider some of the company's more efficient competition found in SunPower (NASDAQ:SPWR) and Canadian Solar (NASDAQ:CSIQ):
SunPower:
This month, the company launched its new X-Series panel with a world record efficiency of 21.5%.
Recently entered into a joint venture project with Berkshire Hathaway's (NYSE:BRK.A) subsidiary MidAmerican Energy. The 579-megawatt facility will be the world's largest solar project.
SunPower just beat analyst expectations by 120% for Q1, earning $0.22/sh compared to consensus estimates of $0.10.
Generated $216 million in free cash flow this quarter, including lease financing.
Now carries a backlog of $3.5 billion in revenue and $1 billion in gross margin through 2016.
Canadian Solar:
In 2012, the company's proprietary ELPS cell technology achieved cell conversion efficiency of 21.1% for monocrystalline cells.
Ended 2012 with an all-in module manufacturing cost of $0.55 per watt.
Raised first-quarter guidance of shipment expectations by 11%-15%.
Raised the bottom gross margin forecast for Q1 2013 up 12.5%
The company is concentrating on lower risk countries found in Canada, United States, and Japan
Has largely focused on the mid- and downstream manufacturing steps such as sales & modules thereby sidestepping much of the risk in upstream polysilicon businesses.
While First Solar continues to build a niche in the utility sector, it's already becoming blazingly clear that efficiency will play a large part in the future battle. MidAmerican's choice to go with SunPower for the world's largest project should send a strong statement considering that it had previously purchased several interests in plants made by First Solar.
The fact that Canadian Solar also appears to have survived the solar meltdown also suggests that it can pose as a growing competitor in the western Hemisphere in the future. With its large efficiency gap and rising expectations, the company could stand as a strong value play in the present even as its balance sheet wavers with only $142 million in cash at the end of 2012. The company expects to be profitable for the whole year and possibly expects to achieve this as early as Q2 2013.
Ultimately, First Solar is going to need to increase its conversion efficiency in a very rapid manner if it expects to stay competitive in the long run. The company's ability to win future projects will depend on its ability to lower costs in other ways in order to outbid companies. In the very least, it appears that First Solar realizes this threat and is already attempting to address the issue. The company is now working with the research and development accelerator Intermolecular, Inc (IMI) for instance. Yet as the solar industry recovery begins to set in and the balance sheets of the competition heals, their ability to grow and expand becomes a very real threat.
Disclosure: I am long CSIQ, IMI, SPWR. I wrote this article myself, and it expresses my own opinions. I am not receiving compensation for it (other than from Seeking Alpha). I have no business relationship with any company whose stock is mentioned in this article.