In a previous article, I discussed how EV Energy Partners (NASDAQ:EVEP) has huge upside based on its holdings in the Utica Shale.
To recap, EVEP holds the following:
103,800 net working interest acres, currently being marketed
73,500 additional acres in Ohio and Western Pennsylvania
2% average Overriding Royalty Interest (ORRI) on 880,000 acres
By comparing EVEP to its peers using key metrics such as yield and distributable cash flow (DCF), we can deduce the value the market places on EVEP's Utica acreage. I previously made this comparison here. With EVEP plummeting dramatically since then, it's worth updating the valuation.
| Valuation Metric | EVEP Base Assets Valuation (per share) | Implied Utica Value (per share) | Implied Utica Value (per acre) |
| --- | --- | --- | --- |
| Yield | $37.02 | $5.33 | $1,112 |
| EV/EBITDA | $40.21 | $2.14 | $447 |
| DCF | $35.45 | $6.90 | $1,439 |
| Average | $37.65 | $4.79 | $999 |
Utica acreage has gone for as much as $15,000 an acre, so $1,000/acre is a pittance. Of course, EVEP's acreage is not all prime, so we expect it to sell for less than top dollar. Analyst estimates range from $3000-12,000/acre. Even the low end of this range means a substantial upside from EVEP's current price.
| Utica $/Acre | Implied EVEP Price |
| --- | --- |
| $1000 | $42 |
| $2000 | $47 |
| $4000 | $57 |
| $6000 | $66 |
So why has EVEP taken such a beating?
EVEP's executive chairman, John Walker, famously claimed last fall that he believed EVEP would achieve its goal of selling 100,000 acres "by year end." On Christmas Eve the company announced no sale would occur by year-end after all. Another five months have passed without a deal being announced. Understandably, investors have gotten annoyed and nervous and have fled the stock in droves.
Hedgeye has piled on, with a recent recommendation to short the stock, positing a fair value of $18-$27. The full text of the Hedgeye article is not public. However, it's worth noting that Hedgeye recently attacked Linn Energy (LINE) in a similar fashion. Their March 25 release on LINE followed a surge of short selling and punctuated the recent bottom in the stock. People who shorted at that point have not done well.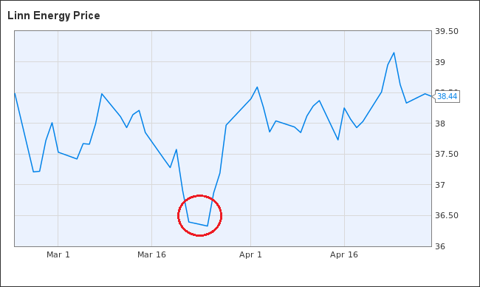 Why EVEP is still undervalued
I recently attended an EVEP presentation and breakout session at the IPAA Oil and Gas Investment Symposium (OGIS). In the breakout session, John Walker provided a wealth of interesting information about what happened with its Utica sale process.
EVEP had an acreage exchange deal in hand last December, but it fell through because the buyer expected the acreage they were exchanging to be valued at an overly generous PV-7 multiple. EVEP decided at that point to switch to a simpler all-cash deal.
Until recently, EVEP was negotiating with a single large buyer that was going to buy 85% of the total acreage. They actually agreed on the price, but could not agree about details regarding some wells and rights that EVEP would retain.
Although an eventual deal with the large buyer is still not out of the question, EVEP has decided to move forward and parcel out the sales by county.
If smaller packages are sold, they will be announced as they are sold (rather than waiting for everything to be sold).
EVEP has had offers for both individual counties and some larger packages.
It's still possible they will make a deal with the big buyer. However, they are continuing forward with other options at this point.
The key takeaway here is that EVEP has someone willing to buy the bulk of their acreage at a price that is acceptable them. It's just a matter of the terms. Given EVEP's talk of the Utica's enormous potential last year, that says a lot.
Scary to be short
Short interest in EVEP has rocketed up in the last few months.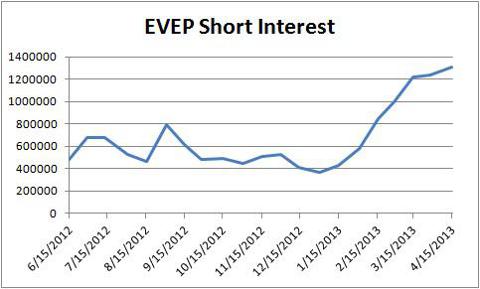 With average volume, it would take over 5 days to cover this short interest. If a deal were announced for as little as $3000/acre (the low analyst estimate), an epic scramble to cover would ensue.
Walker owns 1.8 million units of EVEP. He acquired thousands of these units just last year at prices much higher than the current level. So he has a strong incentive to hold out for the best possible deal over the long run. Speculators who have hoped for a quick pop in the stock price have been frustrated by this. The bottom line is management cares about the value of their stock when they retire and can sell it. They don't care so much about where it goes tomorrow or next week.
On the other hand, EVEP has debt covenants that limit its senior secured debt/EBITDA ratio to 3.0X. With the heavy capex required by its midstream asset buildup, EVEP is set to skirt that limit unless it sells some of the Utica assets now. So I think it's good that EVEP will sell at least some of the acreage sooner rather than later. I would not want to be short in advance of quarterly earnings or other times when a deal might be announced.
Disclosure: I am long EVEP, LINE. I wrote this article myself, and it expresses my own opinions. I am not receiving compensation for it (other than from Seeking Alpha). I have no business relationship with any company whose stock is mentioned in this article.