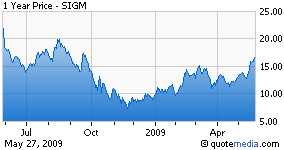 After easily surpassing Q1 expectations Wednesday night, video chip company Sigma Designs (NASDAQ:SIGM) told analysts on the conference call afterward that revenue and gross profit for Q2 will be similar to last quarter, which would be ahead of current consensus expecations.
Hewing to a formula he's used in several recent quarterly forecasts of stating vague forecasts, CEO Thinh Tran told analysts:
"We expect second quarter revenues to be similar to the level experienced in the first quarter. We expect our gross margins to be similar to the first quarter as well."
Revenue and EPS were $51 million and 32 cents in Q1, so a similar level would put the company ahead of expectations for $49.57 million and 25 cents.
There are a couple ways you could take the flat forecast, and Thursday, analysts are doing just that. Lazard Capital analyst Daniel Amir, who, as I mentioned last night went to a sell rating last week, says the flat forecast indicates the company is overly optimistic about its outlook in the IPTV market, given incursions by Broadcom (BRCM), and he sees a challenging Blu-ray disc player market (containing SIGM chips) ahead. Amir reiterates his "Sell" rating today and $10 price target.
On the other hand, Collings Stewart analyst John Vinh Thursday morning reiterates his "Buy" rating and $20 price target, writing that the flat forecast for is "likely conservative given growth in IPTV." Vinh notes the company has $8.27 per share in cash.
Sigma shares in early trading Thursday are down 13 cents, or .8%, at $16.50.