There are two types of companies: the ones which believe in silencing their critics, and the others which believe in learning from the genuine criticism and correcting what is wrong. When Bill Ackman criticized MBIA or David Einhorn questioned Lehman, they faced a lot of consequences and the company managements didn't paid heed to what they were saying. We all know what the results were. Herbalife's (NYSE:HLF) management started on the same path when Ackman questioned the company's business model and their CEO Michael Johnson made his famous "The US will be better when Bill Ackman is gone" comment. However, things have changed since then and instead of focusing their energies on criticizing Ackman, the company management is actually taking Ackman's advice to improve its business practices and safeguard the interests of small distributors. This was evident from the company's "build it better" program which they talked about on their conference call. Here are some of the key changes the company has made to improve transparency:
Prohibiting purchase of potential client leads. These leads were adding to the start up costs for the new joiners while the effectiveness of them was questionable. Even the company wasn't gaining anything from these sales and the money was going to the higher level distributors directly.
Limiting amount of product that can be purchased in the first order so that new distributors don't front load the inventory which they find difficult to sell later.
Prohibiting new distributors from opening nutrition club within first 90 days of joining Herbalife giving them time to come up with and effective business plan and test the market before investing their time and money.
Introducing enhanced statement of Gross compensation and changing distributor nomenclature, so that, both Herbalife and its new distributors have a fair idea on what they can expect from each other.
While these steps are encouraging, I believe the company needs to fix one more thing in order to avoid questions associated with the "pyramid classification" of the company. This deals with artificially inflated "Shipping & Handling" line of the company.
Herbalife's Shipping and Handling Surcharge is significantly higher as compared its peers.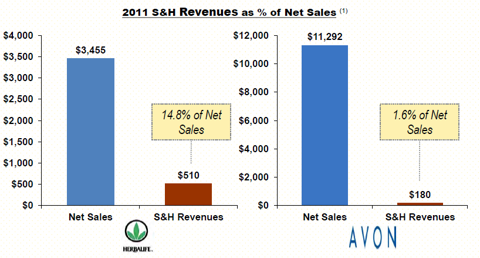 Source: Slide 300 of Bill Ackman's December Presentation, Company filings
Bears, including Bill Ackman and Shortzilla, have provided a wrong interpretation of this line item so far. They have somehow tried to claim that it is wrong on the part of company to try earning majority of profit from Shipping and Handling line.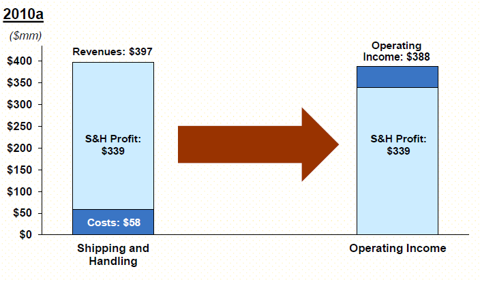 Source: Slide 302 of Bill Ackman's December Presentation
This interpretation is wrong as the company may still earn the same amount by increasing product cost and decreasing Shipping & Handling line. In my opinion the real benefit company is getting by keeping its Shipping & Handling line item artificially high is the fact that it discourages product returns. The company deducts 7% Shipping and Handling Surcharge on Suggested Retail Price while returning the products. This equals 9.3% of the cost of purchase for a 25% discount buyer and 14% for a 50% discount buyer (see below).
| | |
| --- | --- |
| Distributor Discount | Shipping & Handling surcharge Based on Actual Purchase Price |
| 25% | 9.33% |
| 30% | 10.00% |
| 35% | 10.77% |
| 42% | 12.07% |
| 50% | 14.00% |
The company also used to deduct an additional 10% restocking fees for product return earlier. However, it has done away with restocking fees post Einhorn questions in mid 2012. I believe the company needs to address high Shipping & Handling surcharge as well and facilitate easier product return for distributors who are not satisfied. Even the courts have noted that if a distributor is purchasing $5000 worth of product knowing that he will get only $4500 if he returns the products, the distributor is in affect paying $500 for right to participate in the scheme. (Refer Slide 316 of Bill Ackman's December presentation, FTC vs Equinox and FTC vs Omnitrition cases). So, reducing Shipping & Handling surcharge to a level more closer to what it actually is will definitely help distributors who wants to return product and make Herbalife more compliant.
Where is the stock headed?
Overall, I believe the company is taking right steps through its "build it better" program to improve transparency. A few more steps in the right direction will help it in becoming more compliant with the laws. Investors are waiting to see the impact of "build it better" program on the company's bottomline. If the company is able to maintain its earnings growth despite of enhanced disclosure and non predatory policies, it will eventually see a re rating of its P/E multiple. Even if these measures do affect company's earnings slightly in the short term, its multiple expansion will more than offset any negative impact on EPS as investors are likely to pay a higher multiple for an ethical business which is not dependent on exploiting its distributor base. There is a third possibility as well in which the company's earnings is affected significantly by these steps as it tries to become more compliant. I don't see much chances of it happening. However, bears still seem to be betting on it if we go by the stock price of the company.
Disclosure: I have no positions in any stocks mentioned, and no plans to initiate any positions within the next 72 hours. I wrote this article myself, and it expresses my own opinions. I am not receiving compensation for it (other than from Seeking Alpha). I have no business relationship with any company whose stock is mentioned in this article.