Unlike many of the stocks in our recent articles, U.S. housing stocks aren't generally known as high dividend stocks. However, this article will discuss 2 ways you can create immediate high yield income from the 3rd biggest player in this industry.
Lennar Corp., (NYSE:LEN), is up nearly 82% over its 52-week lows. Investors have warmed to its much improved revenues and earnings. In its most recent fiscal quarter, which ended 2/28/13, Lennar had big gains in most of its regions and segments, with the exception of its smallest segment, Rialto Investments, "whose earnings consist primarily of net gains upon foreclosure of real estate owned ("REO") and net gains on sale of REO and equity in earnings (loss) from unconsolidated entities, less the costs incurred by the segment for managing portfolios, REO expenses and other general administrative expenses." (Source: Lennar 10Q):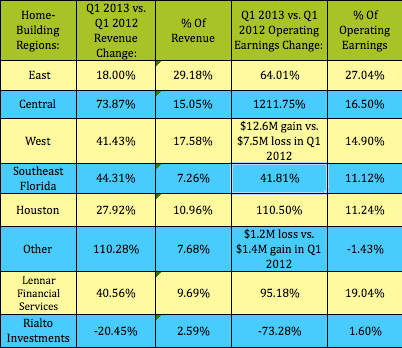 Future Earnings: Since Lennar, like many other US homebuiders, has been taking major accrued tax write-offs to benefit its earnings, we stripped out these tax benefits to see what its pre-tax EPS looks like. LEN's pre-tax EPS growth is still impressive, and, even with the much higher pre-tax P/E, it still looks undervalued on a 2013 and 2014 PEG basis:

Here are more valuations, including LEN's current P/E with tax benefits, which shows that it's at the lower end of its 5-year P/E range: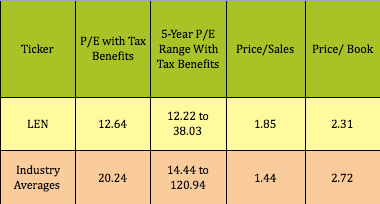 High Yield Options vs. Dividends: Back in 2008, LEN cut its quarterly dividend from $.16, to $.04, where it remains today. But, even though LEN's dividend yield is still very low, you can create attractive income now from it, via selling Covered Calls and Cash Secured Puts.
This long-term covered call trade offers an immediate $6.30 payout in addition to the opportunity to participate in LEN's dividends, and future price gains up to its $45.00 strike price. Note how the Call premium is over 26 times the dividend stream. An additional bonus is that you won't have to pay taxes on the option income until 2016, if it's held until expiration in 2016.
You can see more info on this and over 35 other call trades in our free Covered Calls Table.

Here's a breakdown of the 3 possible scenarios for this trade, all of which have a 20%-plus nominal yield, over this approximate 21-month trade: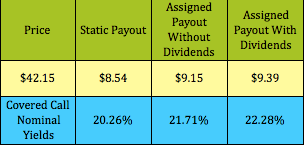 Selling Puts: Conversely, if you're leery of LEN's big run-up over the past year, but you're still bullish about the US Housing Recovery on a long-term basis, selling Cash Secured Puts may interest you. This January 2015 trade gives you a $7.45 payout at its $42.00 strike price, (a 17.7% nominal yield), with a breakeven that's 18% below LEN's current price/share. (This put income also has the same tax deferral benefit as the covered call trade above, if held until 2015.)
You can see more info on this and over 35 other put trades in our free Cash Secured Puts Table.

Financials: Here's how LEN stacks up vs. the other top 5 US homebuilders. LEN has a better ROE than most of them, but does have a higher debt load. It has an Interest Coverage ratio of 1.52.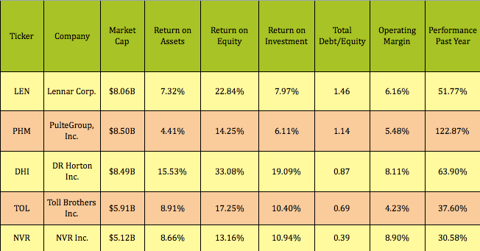 Technical Data:
Disclosure: Disclaimer: This article was written for informational purposes only and is not intended as investment advice.
Disclosure: The author was short LEN put options at the time of this writing.
Disclosure: I am long LEN. I wrote this article myself, and it expresses my own opinions. I am not receiving compensation for it (other than from Seeking Alpha). I have no business relationship with any company whose stock is mentioned in this article.
Additional disclosure: I'm long Lennar via being short LEN put options.