I met Mr. Miller at the race track on Friday. Mr. Miller is easy to spot in the racing crowd...an octogenarian in a three-piece suit pushing an aluminum walker. Every Friday afternoon, his daughter pulls the walker from the rear hatch of her Range Rover and deposits her father onto the wide promenade, about a city block from the main turnstiles. He patiently pushes the walker under the broad reach of a precise row of live oaks, past manicured drifts of crimson azaleas, until he arrives at the entrance.
I was not meeting Mr. Miller to egotistically bring some sunshine to this old man, a philosophical soul who had long before learned how to find his own sunshine. His child-like smile was completely engaging, as it probably was thirty years earlier when he was feared as a merciless corporate attorney. Nowadays he daily girds himself in the same uniform of his courthouse battles, and perhaps it makes him feel comfortable...or lucky. More about Mr. Miller later, but my purpose in meeting him was to seek verification of some of my handicapping picks, and hoping he would drop one of his betting "angles."
This article is to update followers on the success or failure of the angles we offered in our horse racing investments from last year's SA Derby article. These include race track stocks, partnerships in unproven thoroughbreds and the "claiming" of veteran runners.
Mr. Miller barely could look over the rail to carefully examine the next race's contestants walking in the ring, far from the grandstand. As I rattled off my theory for the race, a gray filly with a pink saddle cloth identifying her as number "8" strutted by with her groom, a short and stout young woman. This race day the groom rouged her cheekbones, painted her lips, and replaced her work jeans with embroidered ones. There was something incongruous about the tiny dolled-up tomboy leading a 900-pound mass of coiled muscles by a thin halter. The horses mane was braided, and somehow matched the groom's sudden-found femininity. Mr. Miller turned from the walking ring and said, "I've seen enough." He pushed his walker straight to the betting window.
I was familiar with number eight, and this was her third race after two middling tries. She wore blinkers for the first time today, but a handful of competitors looked more probable for the winners circle. Her double-digit odds scared me, as the betting public saw the same obvious limitations. As the gray cruised past the finish line three lengths ahead of the closest challenger, Mr. Miller showed me his betting slip: $20 to win on number eight. He explained that the addition of blinkers was curious, with no published workouts to indicate if they helped her run. His theory was that the equipment change would "move the horse up" so much that her connections wanted to keep it a secret until their bets were safely down with big odds. The giveaway to Mr. Miller was the groom's lipstick and the filly's braided mane, sure indications that they were prepared for the winner's photo. This is an example of a betting "angle."
Race Track Stocks
If you think about it, investors search for "angles" that the general public does not notice in selecting stocks that they expect to outperform the market. A year ago we reviewed four public companies that own race tracks.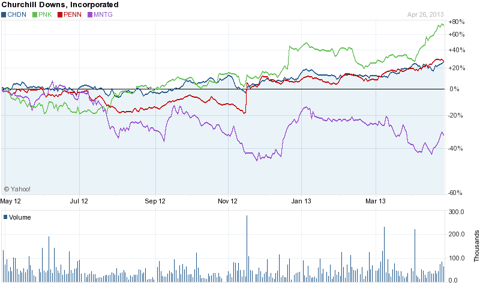 Churchill Downs (NASDAQ:CHDN) is the best known of these and its namesake track hosts the Kentucky Derby to be run this Saturday. When we featured this stock a year ago, it was selling near its all time high, as it is now, only it has appreciated 30% since. There was no sneaky angle to this one, as it was selling at good value and showing double digit growth, primarily through the addition of casino gaming. This is the formula for most race track stocks, because the horse racing component is shrinking as the modern gambling public is not inclined to study the complicated nuances of the sport of kings, but would rather push a button and take their chances on video lottery, poker or slots. CHDN has continued to acquire casinos, but its growth is slowing to the high single-digits and the value is less compelling at the current price. It has a PE of 18 over 2014 earnings, and that is historically high, although price to sales and book value are not exorbitant. The average analysts target price of $86 offers only 12% appreciation, which is not good enough odds for us. The angle that is working against CHDN and most of the regional casino operators is that the improving economy and consumer confidence means more travel to Las Vegas and less spending at the local level. The "best of breed" angle applies to CHDN, and its national brand transcends the "regional" limitation.
Penn National Gaming (NASDAQ:PENN) is the largest race track owner by market cap and has followed the same formula as CHDN by expanding its casino operations. The stock has tracked CHDN almost identically, and it also has appreciated by 30% in the past year, selling near its high price. Like CHDN, this company's most attractive angle was simply reasonable growth and value characteristics a year ago. Although it sells for only twice book value, the revenue projections are flattening, and the current price is more than 20 times the 2014 earnings projection. Analysts believe PENN is essentially fully-priced at the current level. Its existing regional casinos have already suffered some revenue losses and track operations are not contributing. Aggressive acquisitions have masked this problem in its latest reports. Interestingly, the company has obtained approval to divide the company operations, creating a REIT. We would be interested in the REIT once the terms are defined. This is the investment angle worth watching with PENN.
MTR Gaming Group (MNTG) was included last year as it owns three tracks in Ohio, West Virginia and Pennsylvania. However, we warned that the heavy debt and losses would hold this stock back. In the past 12 months MNTG has lost 30% of its value. The debt load limits the ability of MNTG to acquire or build new casinos, so its focus is on improving its existing operations. In June of 2012, it opened the gaming area of Sciotto Downs (Ohio), and the added revenue offers a glimmer of hope for this beaten down equity. Longshot angles for MNTG are the continuing improvement due to the expanded Ohio operations, the potential economic growth in its markets due to Marcellus and Utica shale activity and excess land holdings. MNTG has been leasing mineral rights in West Virginia. We do not condone catching a falling knife, but traders that believe the bull market is in its mature stage will note that the laggards often outperform at this point in the cycle.
Pinnacle Entertainment, Inc. (NYSE:PNK) was our top pick last year among the race track stocks, although little of its revenue came from horse racing. PNK owns two tracks but mostly operates casinos with a concentration in Louisiana, which enjoys cross-border business from the prosperity of Texas, where such operations are illegal. Additional angles that we liked about PNK were its interest in a world-class resort/casino being developed in Vietnam and its acquisition program. The stock has appreciated 80%, with most of that occurring after the announcement of the buyout of Ameristar Casinos (NASDAQ:ASCA). The market expected the price to be challenged by other suitors, but it looks like PNK will essentially double its size on its own terms. The company indicates that about $40MM, or $.65 per share, in pre-tax savings will be available as a result of synergy, volume buying and eliminating overlap. Getting very little mention in the last earnings report was the complete write down of the $100MM investment in the Vietnam venture, which is suffering at the hands of Viet officials. The facility is basically complete, but MGM, the operating partner, has pulled out, and local restrictions apparently place in doubt the profitable operation of the resort. Nonetheless, the PNK stock price is hitting new highs daily. Given our skepticism about the short-term outlook for regional gaming, and the fact that the Vietnam angle failed, it looks like a good time for followers to take a profit in PNK.
Horse Racing Partnerships
An alternative way to invest in the sport of kings is to actually own a racehorse. The cost is prohibitive for most investors, but partnerships exist which allow an investor to own an interest in a horse, or group of horses, for as little as a few thousand dollars. Last year we featured a partnership investment in a 2-year old, unraced filly, Your Time is Up. Hibiscus Stables has a credible record with race horse partnerships, and this one in particular seemed to be promising, with a great pedigree pointed toward the lucrative Saratoga Springs meet last summer. We compared this type of investment to one in a biotech company developing a promising drug, that may or may not ever make it to market. The 3% interest in Your Time is Up sold for $4,200 and included maintenance costs through 2012.
So how has this investment fared so far this past year? One of the elements most intriguing about investing in an unproven horse is the emotional involvement with the development of a big-hearted, living creature. The partners in Your Time is Up have been on an emotional roller coaster. She was penciled in for her first start in Saratoga last summer, when she developed a physical issue. Although small physical problems can go completely unnoticed in other horses, the stress of competitive racing requires that thoroughbreds be in perfect condition, and small maladies can be career-ending. The horse's first race was delayed six months. In addition to the disappointment, the cost of maintenance continued.
Finally cleared to race, Your Time is Up ran an unexceptional first race on March 2, 2013 at Aqueduct Race Track in New York. Expectations were not high when she went to post again three weeks later. Drawing the seven post, Your Time is Up outfinished the favorite (see photo below), taking home a $30,000 purse.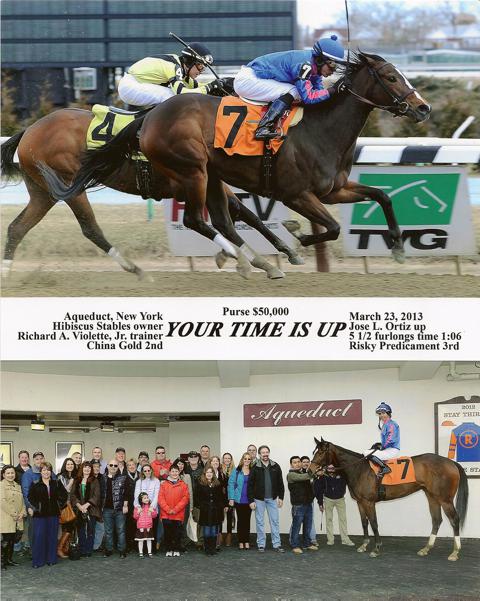 As thoroughbreds succeed, the competition gets tougher. Less than a month later, Your Time is Up faced seven veteran winners for the first time at Aqueduct. Going off at double-digit odds, she unexpectedly ran a strong second, bringing the partners another $10,000 purse. With each race, she has developed and showed more talent and heart, running at one of the toughest circuits in thoroughbred racing. Since she is really still a novice at the sport, Your Time is Up may develop into a stakes runner and a home run for the partners. Even if she cannot reach that level in the glitz of the tough New York circuit, her current times indicate she likely can be a winner of smaller purses at regional tracks if she stays healthy. Her accomplishments so far at an early age and her pedigree indicate she may have value as a momma one day.
As for the return on investment, the recent earnings will pay for upkeep and training for the first six or seven months of 2013, at about $3,500 per month ($105 for each 3% partner). It is entirely possible that she will run in two or three races in the next couple months, and any purse money will drop to the bottom line for partners, after deduction of about 33% for trainer, jockey and other fees. While it is early to say if this is a good investment, I would wager that partners in her syndicate feel they have gotten good bang for the buck.
Hibiscus Stables offers another type of partnership, which acquires and races veteran runners through the thoroughbred "claiming" system. Some horses are not able to compete in stakes or "allowance" races like Your Time is Up. These compete in races where they may be "claimed" for a designated price. The price is set by the track stewards to assure that the competition is equal, since trainers will not run a horse worth $25,000 in a race where it can be "claimed" for $15,000.
With the partnerships in developing young, unraced horses, the partners are basically "swinging for the fences." It can be an all or nothing proposition. An alternative is the Hibiscus Stable Claiming Partnerships, where the goal is to be cash flow positive. By claiming proven and trained runners off the track, the odds of actually bringing in steady revenue is much higher, although with limited upside. Also, the action is quicker, more reliable and continuous. A typical partnership interest would cost about $4,000 and each partner would own about 20% in the horse or horses claimed. Readers are encouraged to check the Hibiscus Stable website for more specific information, as it appears that its claiming partnerships have been quite successful in the past year.
Conclusion
Mr. Miller asks his daughter to drop him off at the promenade to the entrance, rather than the handicap entrance, which is more convenient. This is because twenty years earlier, Mrs. Miller mentioned that the landscaped walkway was the best thing about going to the track. Unfortunately, the image of the racing industry is under construction. Tracks are offering concerts and family-friendly promotions to attract younger bettors, but the most successful innovation has been the addition of slot machines and video poker. Stocks that have more exposure to casinos are likely to have more success. In the group of stocks in this article, we are watching for the Penn National REIT offering and the contrarian opportunity developing with MTR Gaming Group.
For those interested in direct investing in race horses, we suggest starting small as it is risky investing in something that "eats while you sleep." It is better to look at these alternatives as entertainment more than investments. Several farms offer thoroughbred partnerships, and the Claiming Partnership from Hibiscus Stables seems the one to provide the thrill of thoroughbred ownership with the most likelihood of profitability.
Disclosure: I have no positions in any stocks mentioned, and no plans to initiate any positions within the next 72 hours. I wrote this article myself, and it expresses my own opinions. I am not receiving compensation for it (other than from Seeking Alpha). I have no business relationship with any company whose stock is mentioned in this article.
Additional disclosure: We do not know the circumstances, risk tolerance or investment objectives of our readers. There is no guarantee that any investment mentioned in this article will be profitable or appropriate for readers.