Investor interest in currencies is increasing.
The currency market dwarfs all other markets, trading over $4 trillion per day. The US Dollar dominates that trading, and the big four are the Dollar, the Euro, the Yen and the Pound. The Australian Dollar, the Canadian Dollar and the Swiss Franc make up the second rank by volume.
Some of the reasons for increased retail investors' interest in currencies are:
retail spot currency trading platforms becoming more available,
the US Dollar faces major challenges as a result of monetary policy actions since the 2008 crash,
growing talk, and some action, among sovereign funds concerning diversification of holdings away from the Dollar, and
perhaps the search for less correlated assets.
Given these and other factors, it makes sense for investors to become more aware of the choices that are available to them to include pure currency exposures in their portfolios.
Portfolio Vehicles:
Investors have basically four choices:
spot market currencies
futures contracts
exchange traded funds
exchange traded notes
For those stock and bond oriented investors who do not wish to open separate spot currency trading accounts or futures trading accounts, exchange traded funds or exchange traded notes are the practical options. In the case of lower volume and emerging currencies, spot market platforms or futures contracts are not readily accessible to, or particularly liquid for, US investors — making the exchange traded route the only practical option.
Because of the financial stability and credit quality issues among banks, we would not purchase any exchange traded note at this time, leaving exchange traded funds the single practical option for those who wish to work through their stock brokerage account.
Current Currency Funds:
Here is a table presenting the principle currency exchange traded funds and notes available in the US today. We only included ETNs for categories that do not have representation in the ETF category. Liquidity is a problem for many of the funds, as the volume information shows.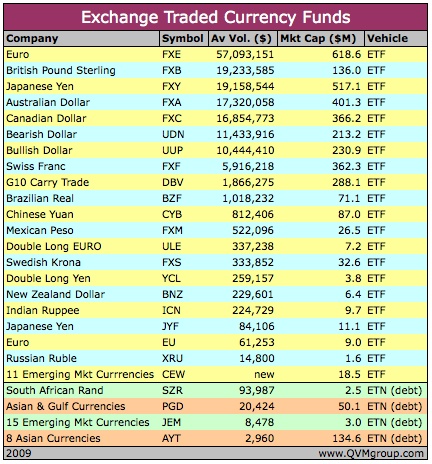 The "carry trade" fund (NYSEARCA:DBV) by Deutsche Bank operates a formula-driven strategy based on interest rate differentials, as opposed to the other ETFs which simply hold instruments for the designated currency or currencies.
For investors who do not follow currency markets, and who are not seeking emerging markets exposures, DBV might be a reasonable choice because of its adaptation to changing market conditions. However, in a shock situation like that of Q4 2008, it would probably be easier to understand how to manage risk or take opportunity with straight currency funds.
Emerging Markets:
Emerging markets are becoming interesting to investors for debt as well as stocks. It is no surprise then that emerging market currency funds have also been offered recently.
Here is a view of the relative percentage performance of US Treasuries (IEF duration 6.87 yrs), local currency investment grade non-US country sovereign debt (BWX duration 6.0 yrs) and Dollar denominated emerging markets sovereign debt (EMB duration 6.73 yrs).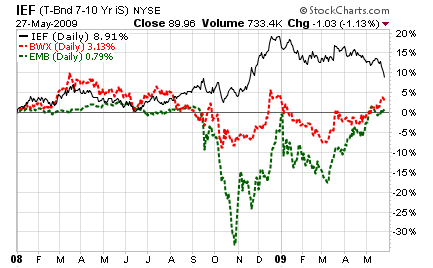 Comparative Currency Fund Performance:
Here are two charts that present the 12 most heavily traded currency funds on a side-by-side basis.
click images to enlarge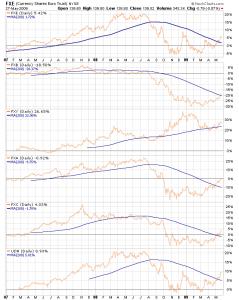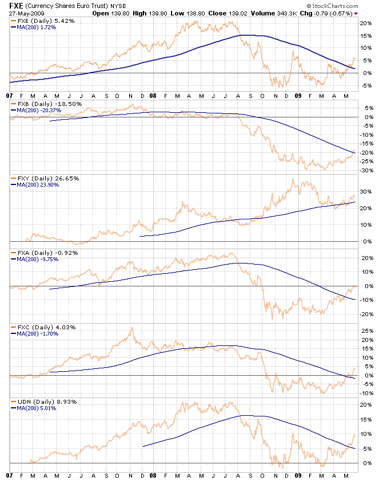 China:
China's economy is large, growing rapidly and central to world trade. Some predict that its currency could one day become a global reserve currency. It has strengthened significantly against the Dollar in recent years. With the US as a massive debtor and China as massive currency reserve holder, the relative shift toward the Chinese currency is likely to continue.
China has a long way to go to put its currency on a level playing field in the foreign exchange markets, but when and if they do, it may well become quite active, and potentially popular among investors. It deserves watching.
Here is a currency chart showing the number of Chinese currency units per US Dollar over the past 16+ years.
click image to enlarge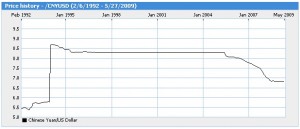 Be Aware of Currency Exchange Rates:
Currency exchange rates have an important impact on corporate profits in a global economy, and a direct impact on non-Dollar debt owned by Dollar-based investors. Those two facts make staying on top of currencies a good idea, even if direct pure currency exposures are not suitable for your portfolio.