Renren (NYSE:RENN) will report its first quarter earnings results on May 13, 2013, after the close of the U.S. markets. Following the results, a conference call will take place to discuss the financial results at 9:00 AM (Beijing Time) and 9:00 PM (U.S Eastern Time).
Renren is a leading real name social networking platform in China. It operates renren.com, a social media platform like that of Facebook (NASDAQ:FB). Some of its other platforms include (game.renren.com), an online games center like that of Zynga (ZNGA), (nuomi.com), a social commerce website like that of Groupon (GRPN), (jingwei.com), a professional networking site like that of LinkedIn (LNKD), and (56.com), a user generated content video sharing website like that of YouTube.
After topping analyst expectations again last quarter with revenue of $48.8 million, will Renren be able to keep up the earnings momentum? Let's take a look at the numbers.
| | |
| --- | --- |
| Wall Street Expects | |
| Revenue: | $45.23 Million |
| EPS: | (0.07) |
| Q2 Revenue Guidance: | $61.60 Million |
So how has Renren performed over the last year or so with its earnings reports? Let's take a look at the tables below to see Renren's top and bottom line numbers.
| | | | | | |
| --- | --- | --- | --- | --- | --- |
| Revenue History | 3/8/12 | 5/14/12 | 8/7/12 | 11/13/12 | 3/11/13 |
| Revenue Estimates: | $32.2 | $29.6 | $42.3 | $49.7 | $46.4 |
| Revenue Actual: | $32.8 | $32.1 | $44.8 | $50.4 | $48.8 |
| Difference: | +$0.6 | +$2.5 | +$2.5 | +$0.7 | +$2.5 |
| Total/Avg: | | | | | =$8.8/$1.76 |
As we can see from the table above, Renren has consecutively beaten the top line (revenue) for the last five quarters. Adding up the difference between all of the earnings reports we can see that Renren beats the top line by an average of $1.7 - $1.8 million. For this upcoming quarter Wall Street predicts that Renren will have revenue of $45.2 million. Going off of what history has shown us, we can expect that Renren will beat estimates again with revenue in the $46.9 million range.
| | | | | |
| --- | --- | --- | --- | --- |
| Earnings History | Feb 12 | May 12 | Aug 12 | Nov 12 |
| EPS Estimate: | -0.04 | -0.05 | -0.05 | -0.07 |
| EPS Actual: | -0.03 | -0.06 | -0.04 | -0.06 |
| Difference: | 0.01 | -0.01 | 0.01 | 0.01 |
| Surprise % | 25.00% | -20.00% | 20.00% | 14.30% |
Looking over Renren's earnings per share (NYSEARCA:EPS) or what Wall Street likes to call the bottom line, we can see that according to analyst estimates Renren has had three surprises and one disappointment over the year. Even though Renren has beaten revenue estimates for the last couple of quarters, because of the heavy investments they have made into mobile as well as its other platforms (56.com, Nuomi), the bottom line has stayed the same with losses ranging anywhere from -0.03 to -0.06 EPS.
I find it ridiculous that over the last couple of earnings reports Renren has taken a beating in share price, even though they beat analyst expectations. Most of this is due because of the weaker revenue guidance that Renren has given. However, Renren has shown over the last couple of quarters that it beats revenue by an average of $1.7-$1.8 million. Hopefully investors as well as analysts have caught on to what is taking place here.
Renren's Ranking
Looking over the Alexa rankings (a provider of free, global web metrics) we are able to see the trends of what is taking place with Renren. The first chart shows us the traffic rank of Renren which tracks how many hits the site is getting.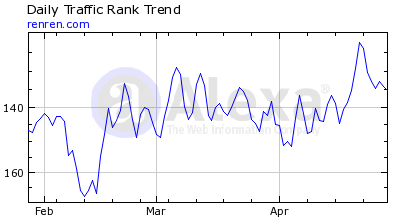 The daily traffic rank chart shows the current rank of a company's popularity all over the world. As we can see, Renren currently stands at 135. Looking over the charts you probably noticed right off the bat the steep drop-off from February. So what caused this and should investors be worried? First off, investors should not be worried because that is the time China celebrates the Chinese New Year or Spring Festival. This celebration is China's longest festival, which is why February has always been a slowdown period for most - if not all - Chinese companies like Baidu (NASDAQ:BIDU), Sina Corp. (NASDAQ:SINA) and Dangdang (NYSE:DANG) etc.
Nuomi Ranking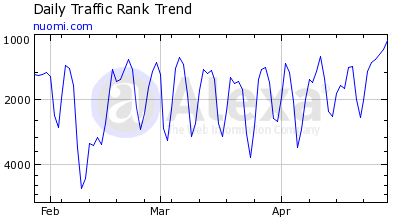 56.com Ranking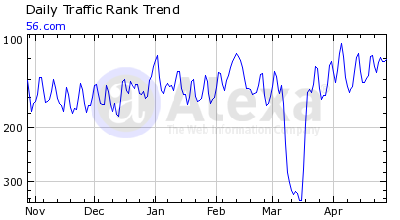 Looking over the last two charts we can see that both Noumi and 56.com have been gaining in popularity. Management sees these areas as strong growth opportunities, and will be looking to profit from these soon.
Real Name Users
At the end of December 2012, Renren's daily user base expanded to a total of 178 million users representing an increase of over 6 million from its last earnings report. In December 2012, Renren's monthly unique log-in users reached 56 million, a 46% year-on-year increase. Based on the trends over the last couple of earnings reports, Renren should expect to post another 8-12 million gain in activated users. This would mean that Renren should have anywhere between 186-190 million activated users at the end of the first quarter.
Share Repurchase Update
Renren authorized the renewal of the company's share repurchase program for another 12 months from January 1, 2013 to December 31, 2013. During this 12-month period, Renren is authorized, but not obligated, to repurchase up to $48.2 million of its American Depositary Shares ("ADS"), representing the remaining balance of its previously announced share repurchase plan that ended in September last year. Under the original share repurchase program of $150 million, the company had repurchased $24.2 million ADS in total for an aggregate consideration of $101.8 million. During the conference call Renren's management said they would update investors the on repurchase program. It will be interesting to see how many shares they have repurchased.
Conclusion
Earnings can definitely be a nerve-racking time for investors, as results (good or bad) can send shares flying in one direction or another. However, I feel that shares of Renren - with its recent closing price of $2.77 Thursday - are a great pick up at this point considering its cash per share stands at $2.39. This means that nearly 86% of Renren's stock value can be explained by its cash on hand. Meanwhile its users, trademarks, contracts and other assets are currently being valued at less than 14% of the current stock price. With Facebook not allowed in China and Renren's gaming business growing at a record pace, I feel investors should feel confident heading into earnings.
Analysts' Recommendations: According to analysts price targets, the consensus on Renren is a hold, with an average price target of $3.63. This would reflect almost a 35% increase from Renren's current price of $2.77.
Disclosure: I am long RENN. I wrote this article myself, and it expresses my own opinions. I am not receiving compensation for it (other than from Seeking Alpha). I have no business relationship with any company whose stock is mentioned in this article.