There is an ardent critic of mine who happens to attack nearly every one of the articles I write involving the Intel (NASDAQ:INTC) and ARM (NASDAQ:ARMH) situation, pointing out that because ARM trades at $48 and Intel at $24 that the entire market is "correct" and that I'm completely wrong. This may turn out to be the case, but I believe that it pays to go back in time to 2003-2006 to see that a similar type of "hysteria" happened before, and why the "ARM Bubble" may end the same way. Now, I realize that ARM is an infinitely better managed business than AMD (NYSE:AMD) was, but there are some eerie parallels here that investors cannot afford to ignore.
AMD Takes The Lead: 64 Bit, Power Efficiency
In 2003, I had about $2,000 to my name. I had been following the Intel versus AMD debate for quite some time, and was a huge fan of AMD. So, when my father introduced me to stocks, I bought 250 shares of AMD for about $8/share near the K8 (64 bit AMD chip) launch, as I believed that Intel's reckless path of trying to pursue clock speeds ("gigahertz") was an inferior one to AMD's elegant, and clean designs. Folks, not only did AMD kick Intel's butt on power efficient micro-architectures, but it had a much superior system architecture for multi-socket (that means multiple processors on one motherboard) systems. Quite frankly, Intel's chips were no match for AMD's.
Of course, AMD gained significant market share in the PC space, but more importantly in the server space. This led to an exponential rise in the share price: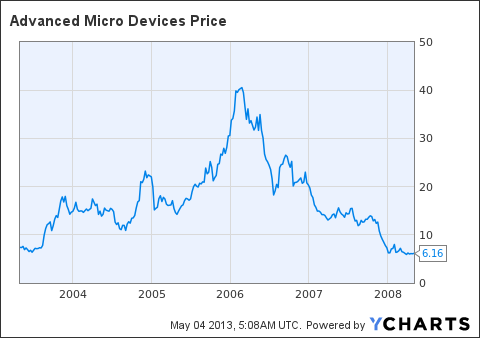 The belief, then, was that AMD forever had the lead, and that Intel was too large, slow, and clumsy to catch up.
Intel's "Centrino": A Clue
While Intel's Hillsboro, Oregon team was pushing this high clock speed ridiculous monster of a chip, Intel realized that the future wasn't going to be the desktop, but instead mobile (laptops, in particular):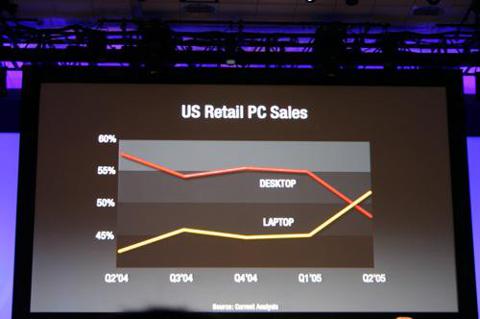 Click to enlarge
So the Intel Israel team went off to work on building a new, power-optimized chip that would eventually be called the "Pentium M" as part of the "Centrino" platform. This was a highly advanced, Pentium-3 inspired, power-optimized processor platform that not only made fast, powerful laptops a reality, but it actually had a significant performance/watt lead on both Intel's own desktop oriented Pentium 4 as well as AMD's highly successful Athlon. My thoughts back then were, "if Intel could just build off of this and bring it to the desktop, they would have the lead".
Enter Conroe
AMD kept smacking Intel around on the desktop and in the server space with its K8 architecture, which meant more market share gains, nice growth, and plenty of positive sentiment. I was making a good chunk of change on my AMD investment, and I couldn't have been happier. However, I remember Intel began to show off "Conroe". This was purportedly a brand new micro-architecture based off of Intel's low power parts that was meant to try to take back leadership in the desktop PC and server spaces. I was skeptical, especially since at the time AMD was hyping up its upcoming brand new core, and Intel had much to prove.
On March 7th, Anandtech published a preview of Intel's "Conroe" chip, claiming that Intel "takes back the lead". Here's what the article concluded:
While we're still comparing to Socket-939 and only using RD480, it does seem very unlikely that AMD would be able to make up this much of a deficit with Socket-AM2 and RD580. With Conroe's performance advantage averaging over 20% it looks like Intel's confidence has been well placed.
If you read the comments section of the article, you will see a lot of the conspiracy theorists making a lot of claims that the results are bogus, that AMD's next chip will leapfrog Intel, yadda yadda. However, that week I sold my 250 shares of AMD for well over $30/pop, making a killing (% wise) on that investment. I knew that Intel had finally recalibrated under its new CEO Paul Otellini and that with Intel's resources, it would make life a lot harder for AMD.
The Carnage
After selling my AMD, things started getting ugly for the company. Intel wiped away every advantage AMD had in the PC space, winning every benchmark handily. AMD's server platform architecture was still superior, but Intel then struck back with "Nehalem" - a chip designed to address Intel's shortcomings in this space. With the release of that chip, with a brand new system architecture, AMD's server advantage was lost, and the ship was damaged.
AMD had a massive debt load after acquiring ATi, and soon after had to sell its fabs in order to avoid bankruptcy. Its stock price was in shambles. Intel had, after a couple of years in the dark, finally emerged victorious.
Silvermont: Conroe 2.0
The reason I'm really excited about "Silvermont", the new Atom redesign that will be announced on May 6th, is that it really seems like it could be a "Conroe 2.0". While the current Atom is by no means getting smacked around by the latest ARM chips on a performance/watt basis, Intel needs to "pull a Conroe" to really muscle into the Android tablet and smartphone market (the Windows tablet market is locked down and will go to Intel).
Further, it seems that ARM's latest core - the Cortex A15 - was too ambitious for its own good. It seems that Samsung's (OTC:SSNLF) Exynos Octa is having heating problems, and according to Anandtech, even the dual core Cortex A15 can suck up to 8W under full load in a modern SoC:
Now this is a fairy contrived scenario, but it's necessary to understand the behavior of the Exynos 5250. The SoC is allowed to reach 8W, making that its max TDP by conventional definitions, but seems to strive for around 4W as its typical power under load. Why are these two numbers important? With Haswell, Intel has demonstrated interest (and ability) to deliver a part with an 8W TDP. In practice, Intel would need to deliver about half that to really fit into a device like the Nexus 10 but all of the sudden it seems a lot more feasible.
Further, according to Anandtech's tests, the current generation "Atom" and the Qualcomm (NASDAQ:QCOM) "Krait" CPU portions sip about 1W under load, while the ARM Cortex A15 draws a whole 3W: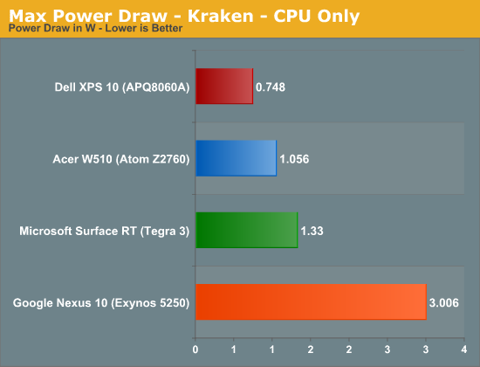 Click to enlarge
Is there any wonder that Apple (NASDAQ:AAPL), probably after hearing that ARM was aiming to try to take PCs and servers with its next gen core, decided to build its own processor core? Is it any surprise that Qualcomm, too, designs its own core?
Now ARM is trying to push "big.LITTLE". It's marketed as a feature, but I suspect that A15 was never designed for a phone, so to help out the licensees that don't have the resources to develop their own cores, they decided to kill two birds with one stone: sell them a bunch of "big" cores in order to win the benchmarks, and sell them a bunch of small cores for when you actually need to use the phone. It's brilliant marketing, but it shows that ARM is just as constrained by the laws of physics as everybody else is.
Intel's key advantage - starting with "Silvermont" - is that the same laws that apply to ARM and its partners don't apply to Intel, since Intel will have faster, smaller, and lower power transistors to work with. Build an aggressive micro-architecture on top of these, and integrate the right features into an SoC, and Intel can literally have its cake and eat it to regarding performance/watt. The cost, of course, was the huge investment in the leading edge factories and the innovative R&D on the process technology, but the PC & server businesses fund this quite nicely.
Intel's Earnings Under Otellini
As a result of Intel's process lead and processor dominance, Intel's gross margins skyrocketed. Give Otellini crap for missing mobile, but don't forget that under him, the ship became much tighter, and the company took back the lead in its core PC business, and at the same time became a server power house. IBM (NYSE:IBM) and Oracle (NASDAQ:ORCL) have been bleeding market share to the higher end Xeons, and Intel's earnings skyrocketed. The share price may have been "dead money" for 10 years, but earnings tell a much different story: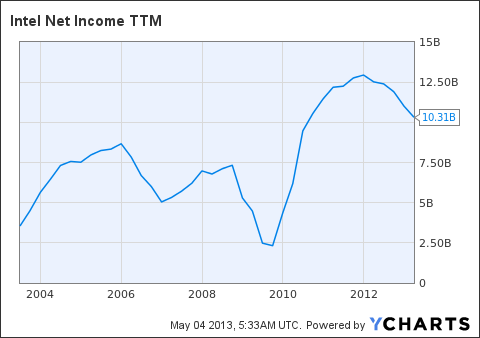 INTC Net Income TTM data by YCharts
Could Intel have made it into phones and tablets sooner? Sure. But the company was busy making money, raising the dividend, and shoring up leadership positions in the high margin areas. And now the smartphone, tablet, and other opportunities lie ahead.
Conclusion
Don't mistake me for an Intel fanboy trying to justify his position in the stock. I have just seen this before, and I have strong conviction that Intel will have serious technological and marketing advantages over its competition, and I further believe that since most people don't believe this, there's a real investment opportunity to be had here. That is why I own shares. One day, Intel could have another "goof", and who knows, the new CEO might completely screw things up. I would be the first to pound the table to sell Intel if I see them doing stupid things that will wreck the business.
But what I see is a giant that is investing $2B/year in developing mobile technologies alone, not including all of the leverage it gets from the PC chip development and not including fab development. The 5 year old Atom is competitive, but not really a world beater. My bet is that "Silvermont" is the next "Conroe", and I wouldn't want to miss the ride up on Intel (and potentially the ride down on ARM) when it becomes clearer to everybody else.
Disclosure: I am long INTC, AMD, QCOM, IBM. I wrote this article myself, and it expresses my own opinions. I am not receiving compensation for it (other than from Seeking Alpha). I have no business relationship with any company whose stock is mentioned in this article.
Additional disclosure: I am short ARMH