Actionable Items:
Highest Positive Spread: Nuveen Mortgage Opportunity Term Fund (NYSE:JLS)
Focus Stock: LMP Real Estate Income Fund (NYSE:RIT)
Last Week's Focus Stock: ASA Gold and Precious Metals (NYSE:ASA)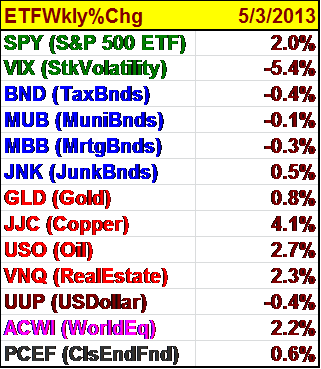 ECB cuts its rates: The European Central Bank (ECB) will cut its benchmark rate a quarter-of-a-point to 0.5%.
Why? The European Union's official statistics agency Tuesday said the rate of unemployment across the 17 countries that share the euro rose to 12.1% from 12.0%, the highest level since records began in 1995. The unemployment rate was highest in Spain at 26.7%, followed by 17.5% in Portugal, while the unemployment rate was lowest in Austria at 4.7%, followed by Germany at 5.4%.
Now for U.S. Unemployment: The Federal Reserve will apply $85 billion (more or less) to the mortgage markets to rebuild constructions and the sales of homes. However, construction employment was basically flat after 10 months of reasonably strong growth. Manufacturing employment was also level.
But the biggest job gains were in lower-paying fields, such as hotels and restaurants, which added 45,000 jobs, and retail, which added 29,000. Temporary help firms gained 31,000 positions. The average workweek for private-sector employees declined 0.2 hour to 34.4 hours, but average hourly earnings rose 4 cents to $23.87.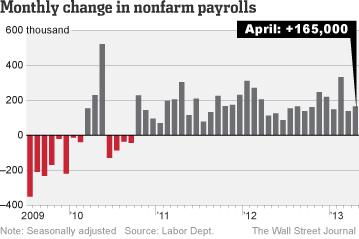 Slim Volume: The 165,000 jobs in the U.S. dropped unemployment from 7.6% to 7.5%. This was good news for equity markets. However, the rate of discouraged workers increased to 13.9% from 13.8%.
The monthly change in nonfarm payroll tells a cautionary tale. Typically, about 75% of the 145,000 employers surveyed submit their responses in time for each month's initial report. The response rate usually rises to about 95% for the third and final estimate.
The change from month to month may be more revealing.
The ETFs: The ETF sectors are arranged year-to-date (YTD) in order as of 5/3/13. Healthcare, Consumer and Mid-Cap were leaders, replacing Utilities at number three. Natural Resources, Pacific/Asia and Commodities were laggards.
Gold (NYSEARCA:GLD), Oil (NYSEARCA:USO) and Copper (NYSEARCA:JJC) were up this week: 0.8%, 2.7% and 4.1%, respectively.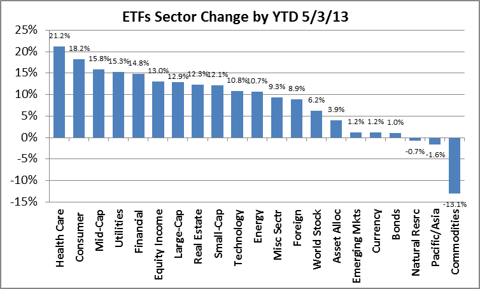 CEF Weekly Fund Type Performance: This week saw price rises for GenEqFnds (2.0%), WrldEqFnds (1.9%) and USMrtgBndFnds (1.4%). The laggards were the LoanPartFnds (0.3%), InvGrdBndFnds (0.0) and OtherFnds (0.1%). There appears to be modest negative for PrcNAVSprds for LoanPartFnds and ConvtSecFnds (see below).
Highest Spread and Stock for the Week: Nuveen Mortgage Opportunity Term Fund was ahead by a price increase of +4.8% and NAV per share was up by +0.1%. The PrcNAVSprd was +4.6%%. (A positive number may mean a future decline in share price). The annual monthly distributions per share are 7.0% yield (a fairly high yield). The net assets are $511 million with 16.0% structural leverage. The premium is 5.3% which is a 52 week average. On May 1st, the monthly distribution was even at $0.1725 per share. Term debt is 70.4% away from 20-24 years "call".
Lowest Spread and Focus Stock for the Week: LMP Real Estate Income Fund was our "High Positive Stock" for the week (positive PrcNAVSprd means its price per share may decline). For the week, RIT's share price was negative -10.2% and its NAV per share was a positive +2.3%. Its PrcNAVSprd decline was -12.5%. The discount is 1.8%, but still above its 52 week average discount. The yield is 5.1%. The assets are $202.1 million with a 21.0% total debt.
Focus Stock & High Price for Last Week: Last week's "Focus Stock" for the week was ASA Gold & Precious Metals ; its gain was 1.2% for the week. The "Highest Positive Stock" for the week, LMP Real Estate Income Fund, declined -10.2%.
Disclosure: I have no positions in any stocks mentioned, and no plans to initiate any positions within the next 72 hours. I wrote this article myself, and it expresses my own opinions. I am not receiving compensation for it. I have no business relationship with any company whose stock is mentioned in this article.